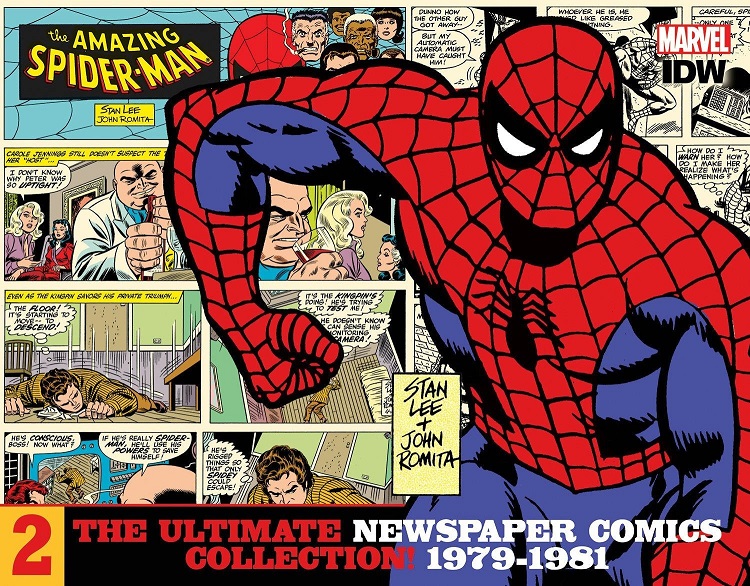 The trouble with a daily serialized story is how long it takes for anything to happen. Thanks to IDW's continuing collections of notable comic strip runs, that trouble has been eliminated. Here in one handy book is two full years of Spidey adventures, notable not just for its complete stories but for its top-notch contributors: Spidey co-creator Stan Lee and Marvel legend John Romita.
Lee spins a web of memorable tales here, but the real hero is Romita due to his masterful output of fantastic daily artwork for four years, starting at the strip's inception in 1977 through most of 1980. The daily grind eventually took its toll on him, especially in light of his ongoing comic book output, forcing him to make way for a new artist to close out this volume: Lee's brother Larry Lieber. While Lieber's art is more than passable, it's not on par with Romita's assured linework and seems to mark the start of the strip's decline.
Lee's format for the strip was to have Spidey face off against one member of his rogue's gallery for lengthy arcs, generally a few months of dailies. The first arc finds the imprisoned Kingpin still calling the shots from behind bars (mirroring a certain current Netflix series), segueing to a dangerous cult determined to convert Spidey's girlfriend, Carole Jennings, to their criminal shenanigans. Later, Spidey faces off against old foe Kraven the Hunter, a villain determined this time around to prove to the masses that Spidey is a space alien. OK, so Lee's ideas aren't all winners, but they're inventive.
Actually, he's a bit off for the rest of the collection, with the next baddies up to bat being the forgettable Prowler, followed by the Protector. I'd never heard of either of these lesser villains before, and after reading their subpar tales, I hope I don't hear of them again. Still, Lee always keeps the wall-crawling action moving and peppers in fun celebrity cameos like Richard Nixon, Muhammad Ali, and even Yasser Arafat. He also keeps Spidey's love life interesting, as Mary Jane Watson enters the scene right about the time things are going off the track with Carole.
As usual for the IDW comic strip publications, the book is beautifully designed, printed on high-quality paper, and sturdily bound to withstand repeated readings. It's a fine addition to the library of any comic strip fan, and sure to be a treat for Spidey, Lee, and Romita connoisseurs.