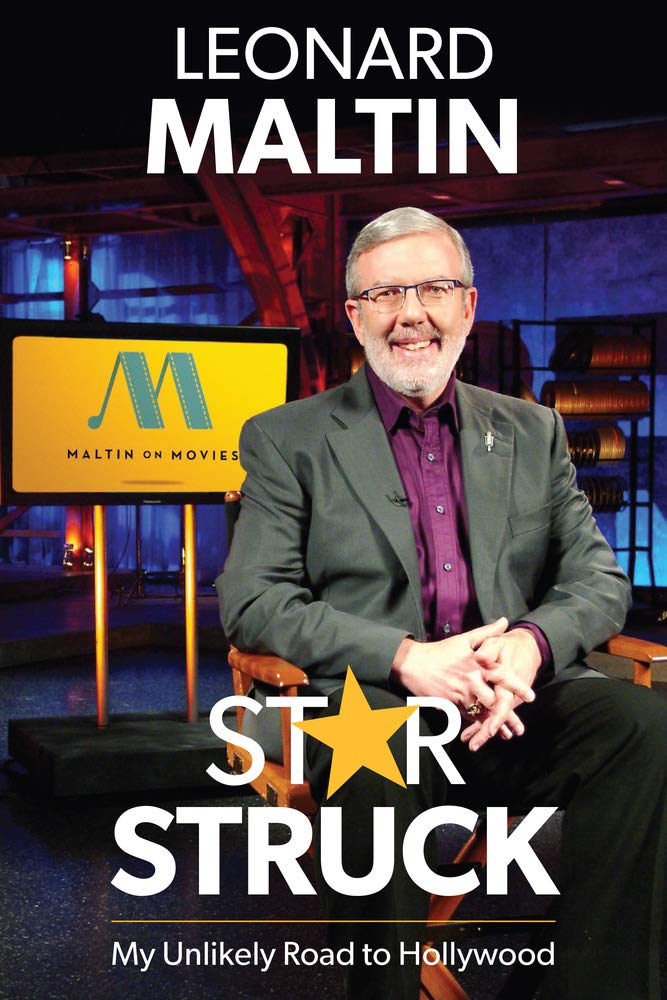 He has covered the entertainment industry since he was 13 years old. At some point, maybe even right now, his presence has graced your home through one of his books, a pull quote on a movie you own, or during one of the numerous television programs in which he appeared. Now, film critic Leonard Maltin has come out with his memoir – detailing how he got started, the people from whom he sat across for interviews, and what have been the greatest and craziest experiences thus far in his career.
Starstruck: My Unlikely Road to Hollywood (hereafter Starstruck) is a delightful insight into Maltin's career, with every word coming from the man himself. What could have been a book that consists of nothing but name drops and boasts turns into something more with Maltin's conversational, easy-going and elegant approach. From his first venture into celebrity encounters – when he met Buster Keaton – to getting his first contract and all the wins and shortcomings that came and continue to occur, Maltin's style comes across as if you're conducting an interview with him about his life story. And he's just giddy and humbled to tell you all the details about every single part of it.
Whether it's having soup with Katherine Hepburn, his friendship with legendary filmmaker Mel Brooks, or having Will Smith introduce himself to Maltin, there are many fun and insightful stories to read in his memoir. Of course, Maltin acknowledges all of the people who have helped him along the way. The most important person being his wife, Alice, who now works alongside him and makes sure things are done the way they're supposed to. One particular moment about an argument they had turned into something that has benefited them both, all because Alice knew better how to handle it. And Mr. Maltin himself acknowledges that.
Even those who unexpectedly helped develop him into the journalist he is today. In one chapter, he discusses how a popular New York radio host he was interviewing asked him, "Is this [interview] about you or me?" And from that moment on, Maltin has made sure to make it a point that his interviews focus on the person he's interviewing and shies away from injecting himself into the interview.
Many movie lovers remember Maltin for his 30-year stint on Entertainment Tonight as well as his Movie Guide that ran from 1969 through 2014. Then there are the other aspects of his career that include the film class that he teaches at the University of Southern California (USC), the Maltin on Movies podcast that he hosts with his daughter Jesse, and the film festival he launched in 2019 with his daughter called MaltinFest. They had plans to run it again in 2020, but the pandemic has put those to the side for the time being. But the Maltins do hope to bring it back in the near future.
It should be noted that, for this review, an advance reader's copy (ARC) was sent out in June. Since then, several updates have occurred. For example, Maltin discusses hosting his class via Zoom. That has since returned to in-person at USC.
Maltin has often been referred to as the human encyclopedia when it comes to his knowledge of a majority of the big stars. If someone has a question about a particular crew member's name that worked on a big movie, he can tell you without hesitation. When it comes to putting everything into his memoir, he notes how he didn't have to rely on any journals (he never kept one). It was mostly all from memory and with the assistance of his family in ensuring all the details were accurate.
Whether you're a casual fan of Mr. Maltin or you have been following his career since the beginning, Starstruck is a terrific memoir that is easily digestible and involving. It's also worth reading for those who have a knack for classic Hollywood. Maltin's personal account of his experiences with the A-listers in Hollywood, and even those who aren't as well known, are an absolute joy to read.
Editor's note: Read David's interview with Leonard Maltin.