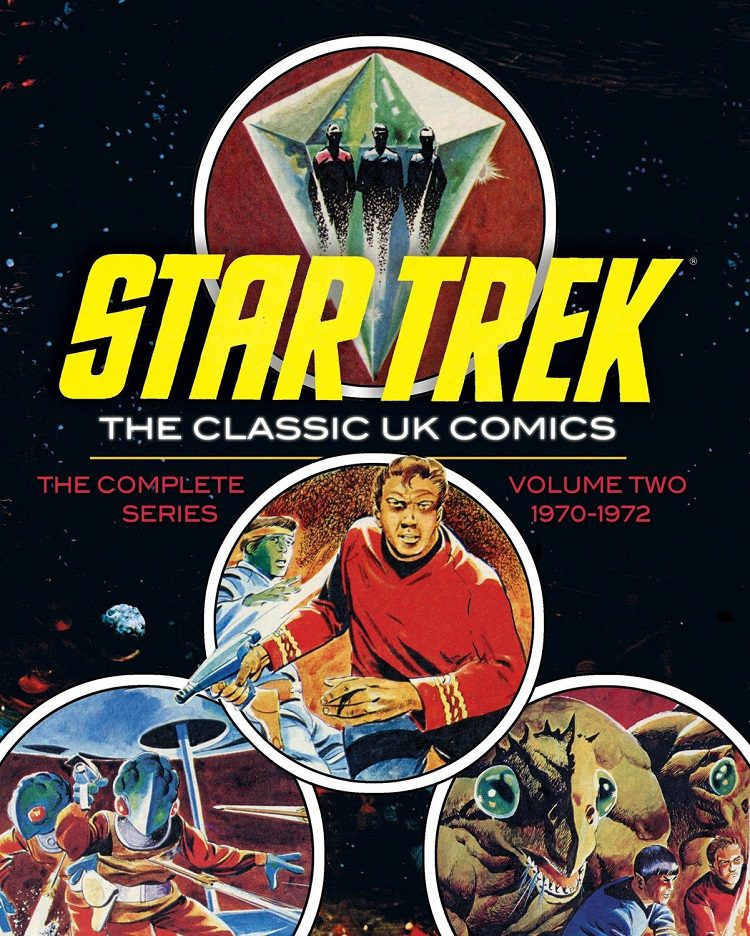 There are so many branches to the Star Trek universe: novelizations, movies, re-boot film series, animated series, magazines, television series, toys, games, etc. that even the most dedicated fan, Trekkie or Trekker, might have trouble keeping up. The original series (TOS) first aired on American television in September of 1966. It included its now immortal cast of characters – Captain James T. Kirk (William Shatner), his Vulcan first officer Mr. Spock (Leonard Nimoy), ship's doctor Leonard McCoy (DeForest Kelley), communications officer Lt. Uhura (Nichelle Nichols), helmsman Lt. Sulu (George Takei) and Ensign Chekov (Walter Koenig). That key crew accompanied its charismatic leader Captain Kirk on 79 adventurous episodes until the series was cancelled in January of 1969.
Star Trek's popularity and influence was not limited to the United States. The show may have been cancelled in 1969, but the next year in England, before the series had even premiered on British television, a series of comic strips appeared in weekly television magazines. Star Trek: The Classic UK Comics, Vol. 2 is the second in a series of three volumes collecting and reprinting these comics. These compilations may offer the first time these comics may been seen and read in the U.S. The British Star Trek comics ran for five years, longer than the original show.
Fans will recognize all of their favorite characters, at least by appearance. The artists, mostly uncredited, do a good job of capturing the likeness of Kirk, Spock, McCoy, et al. While readers might blanch at seeing Kirk wear a red shirt in the first group of comics in this volume, halfway through the first captain of the U.S.S. Enterprise appears in his familiar gold shirt. Slightly more off-putting is hearing Mr. Spock frequently refer to Kirk as "Skipper" and utter such exclamations as "What the blazes?" throughout the strips. Not the cool and analytical Vulcan science officer we know and love.
Kirk in the comics impractically joins his ground crew for missions just as frequently as in the television series. The comic Enterprise crew encounter a series of friendly and hostile aliens – Ancient Romans, giants, and even cat people. And it does, on more than one occasion, not pay to wear a red shirt. The original series' arch villains, the Klingons, don't turn up until later in the book. All of the comic adventures are serialized, but some go on for just two or three pages, while others must have ran for many more weeks at a time.
Contributing editor Rich Handley includes a glossary that is fun for both Trek newbies and long-time devotees, which includes both a guide and explanation of all the Starfleet and alien characters that appear in the strips as well as terms such as GK-1500 (a two-person Space Federation pursuit-escort ship, which appears in Weekly Storyline #21), which could provide a lot of fun for Trek trivia buffs.
Star Trek: The Classic UK Comics, Vol. 2 was first published by the Library of American Comics in October 2016. Editor Dean Mullaney explains why the book and comics are laid out this way, with a split down the fold. He adds a caveat for comic enthusiasts who are reluctant to "crack the binding" .
Purists will have to accept that the Prime Directive (Starfleet personnel must never interfere with the development of existing alien civilizations) is abandoned in these British voyages of the starship Enterprise. That breach, and the much more casual take on Mr. Spock, however, should not preclude even the staunchest lover of all things Trek to enjoy these comics. Star Trek was one of the first American television series to feature a multi-racial cast, and Uhura and Sulu are front and center in many of these panels, too. The crew's encounters with beings different from ourselves is still as fun and fascinating today as it ever was.