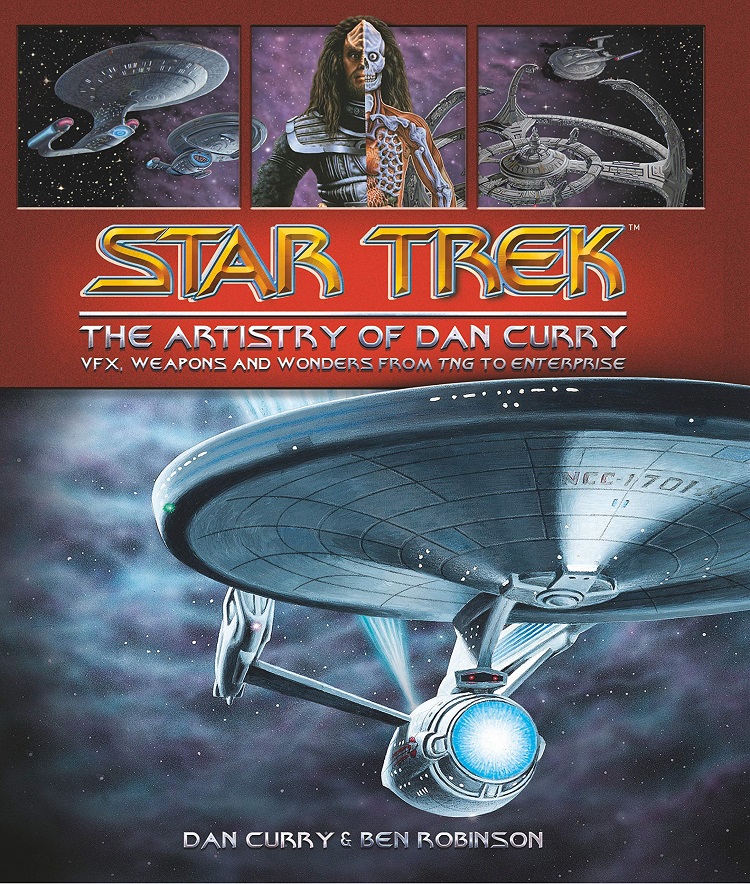 In Star Trek: The Artistry of Dan Curry by Dan Curry and Ben Robinson, the reader is constantly reminded that all of Dan Curry's work has been in collaboration with a dedicated and talented team; however, it is obvious very quickly that Curry has a singular, impressive vision that steers the ship. The effects and stories behind credits sequences, alien and alien weapons design, to complex set decorations, highlight Curry's intelligence, wit, and laser-like focus on adding realism and wonder to every storyline. Curry's genius shines from every page.
Some of the most insightful moments come in the form of interviews with cast members. Michael Dorn, who played Worf in The Next Generation and Deep Space Nine, describes how incredible Dan Curry's design was for a unique, original Klingon weapon called the mek'leth. "It worked exactly as advertised," Dorn says. "There was one scene where I was fighting Dennis Madalone. He was playing an alien in full costume with the full mask. I blocked his attack, and his sword slid alongside the mek'leth until it caught the hooked part at the back, which flicked out and sliced Madalone right across the face! Luckily, he was wearing the face mask, but he was blinded for about 10 minutes, so this shit works. It wasn't just some bizarre thing that Dan came up with out of nothing, this was a real weapon."
Scott Bakula, who played the captain on Enterprise, says, "Dan is super smart. He is unbelievably creative, and he is kind of non-stop. He is so quick, and really completely devoted to and immersed in whatever world he's creating in the moment. But what I really enjoyed about him was that he really was interested in the story and pushing it along with the effects. His mind is unlike most people's minds. He just comes up with wild and crazy stuff all the time, and it's unique." The entire book is filled with insightful, interesting comments from cast and crew.
Star Trek: The Artistry of Dan Curry is encyclopedic in its scope and a must-have for fans of Star Trek and special effects in any visual medium and tells the stories behind some of the most iconic visual effects in the Star Trek universe, from The Next Generation through Enterprise. There are more than 200 over-sized pages with hundreds upon hundreds of photos, drawings, details of sculptures, and in-depth, behind-the-scenes anecdotes. This book is a must-have for fans of Star Trek.