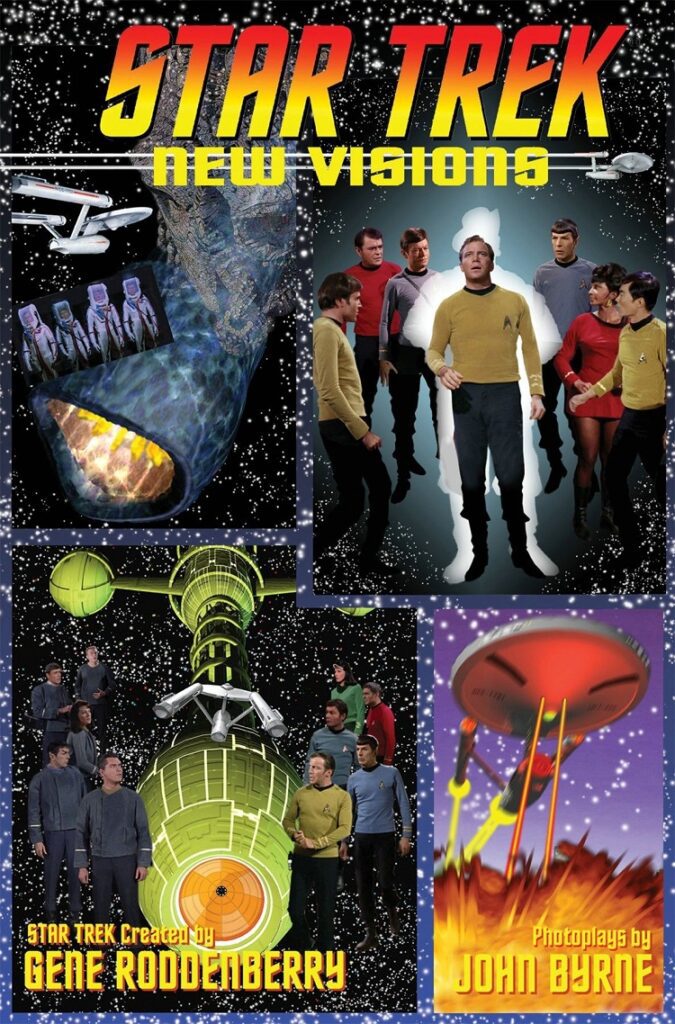 In Star Trek: New Visions, John Byrne tells of the lost missions of the starship Enterprise under the command of Captain James T. Kirk. Through the use of images from the Original Series combined with new material such as characters and dialogue, Byrne creates adventures that have an air of authenticity because we see the familiar faces of the actors. Volume 2 collects issues #3-5 and contains an all-new story with something for those who read Gold Key's Star Trek comics.
"Cry Vengeance" tells the origins of the Doomsday Machine from the episode of the same name. "Robot" is a mystery with a good twist and it was nice to see minor character/glorified extra Lt. Kyle be a main character in a story. "Made Out of Mudd" is packed with familiar faces. In addition to the title's obvious reference to Harry Mudd, (although Roger C. Carmel's likeness doesn't appear), we see Klingons who Kirk has encountered as well as a former Starfleet Captain. This story is followed by "The Great Tribble Hunt" where the Klingons attempt to make sure no one will have any more trouble with tribbles.
The next three stories find Byrne expanding his scope to great effect. "A Scent of Ghosts" is a joint adventure between different crews of the Enterprise as Spock and Scotty run into aliens they met while serving under Captain Pike. "Memorium" finds Spock at the time The Motion Picture on Vulcan as he is undergoing the kolinahr ritual. He encounters T'Pring and readers learn what became of the choice she made. "Eye of the Beholder" is amusing as Kirk deals with alternative universes, and one would be fun to see continue.
Byrne captures the spirit of the series with his writing in New Visions, and it's fun to see references to past episodes and storylines. However, the art is a mixed bag because some of the modern material stands out. The CGI objects and backgrounds look overly artificial, and new characters inserted into scenes rarely blend well, especially the ones that are CGI. But if you can move past those panels quick enough, the art don't hamper the overall experience.
TOS fans should definitely check out Byrne's Star Trek: New Visions. While there may be enough here for those new to the series to enjoy them, it would be best knowing the episodes many of the stories are based on.