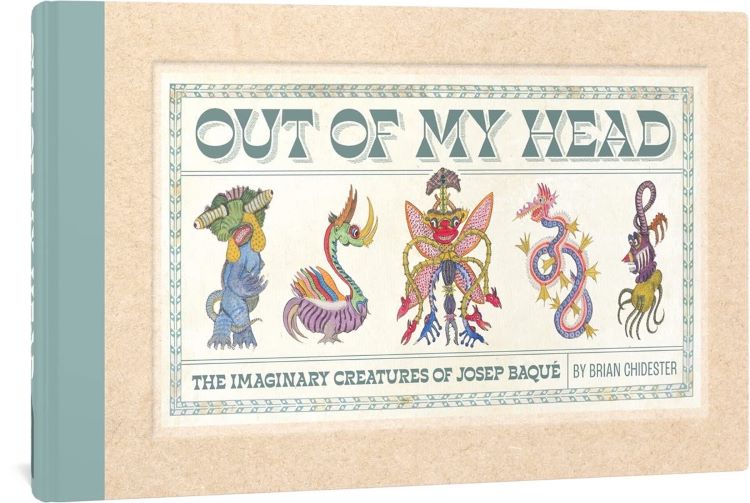 Josep Baqué was an artist with whom very few are familiar. His artwork went mostly unknown, as he never shared it with anyone. One must wonder why an artist would never share their work with others, especially those in their close circle. Brian Chidester's new coffee table book, Out of My Head: The Imaginary Creatures of Josep Baqué, examines the artist's bestiary, which consists of more than 450 pages of artwork that is fascinating, quirky, and seems to be the inspiration for other artists that have come after.
The biography portion of Baqué's story is about as in-depth as one could get with the limited information available. Most of it comes from his great-nephew, Esteve Freixa I Baqué. The artist Baqué never called himself that and served as a municipal officer when he was alive while the artwork was a hidden hobby. The great-nephew was able to supply some old photographs, driver's licenses, and other documents that give readers as much insight as possible. But even then, it mostly remains a mystery.
When going through the bestiary, it is easy to see where many artists may have been inspired by Baqué's artwork, or where the artist himself may have drawn inspiration. There's one page that compares Baqué's work to some of the creatures designed by H.P. Lovecraft but also comments that Baqué may not have been aware of Lovecraft at that time. Baqué had started his drawing hobby just a few years after Lovecraft's death, and it's a fair comparison – but also one that is not definitive.
As I was going through some of the pages, a lot also seemed to be what would go on to inspire movies such as Ralph Bakshi's Wizards. But Chidester doesn't mention if that is true. There is mention of some modern-day filmmakers such as Guillermo del Toro who possibly drew inspiration from Baqué for Pan's Labyrinth.
The bestiary is filled with 1,500 pieces of artwork that consist of unique interpretations of serpents, feathered animals, and other beasts. It's a fascinating book that one can't skip through and glance at the images. It demands us to look at Baqué's work and try to piece together what was going through his head as he created each character. The fact that his life and inspiration are so uncertain makes his artwork more interesting and worth examining for those who appreciate fantasy, horror, and strange-looking creatures.
We may never know if Baqué did this art as a hobby. We will also never know if he truly wanted to show it to the world and go down a different career path, but the fear of criticism crossed his mind too many times. But Chidester's book gives us a lot of creatures to look at and provides us with a sense of what was possibly going through his head as he came up with each character. It's a colorful and engrossing book to read.