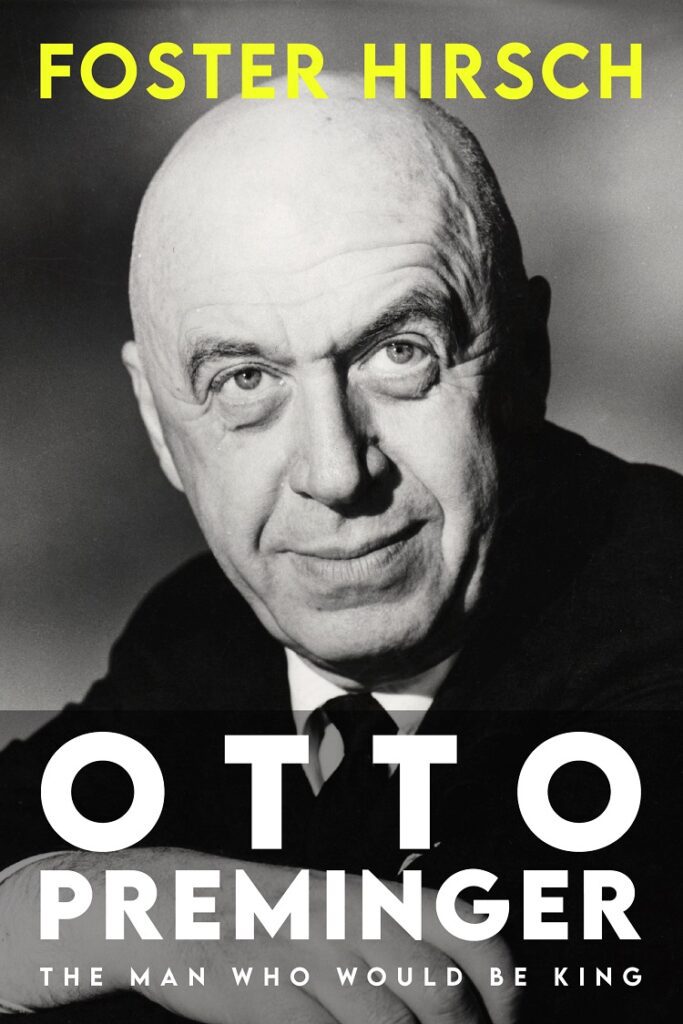 The legendary (for better and worse) Otto Preminger was one of the most influential and progressive people in Hollywood history. His fearlessness to bring provocative subject matter to the screen, made him a revered filmmaker during the 1930s through the '70s. However, as much as he was acclaimed, he was also hated and considered an extreme tyrant, especially on many movie sets and definitely towards his actors. In the updated edition of his book about the movie titan, Otto Preminger: The Man Who Be King, author and film historian Foster Hirsch crafts a first-rate biography on Preminger's early days as a stage actor (and later playing many screen villains) to his now-famous status as a groundbreaking filmmaker.
There are several facts about his life and privileged upbringing in a Jewish family, who later with them fled his country of Bukovina during the Great War. His father wanted him to become a lawyer, but his real interests were in the theater, which the book also talks about, in great detail. He made his debut at 17 in a production of Shakespeare's A Midsummer Night's Dream, and went on to produce some well-admired comedies in Vienna. He made his film debut in 1931, and a few years later directed his breakthrough with Libel, a courtroom stage drama. Because of this, Hollywood came calling, and the rest is history.
While the early parts of the book are interesting, it's the later sections that contain the most juice. This is when Preminger started being the man he is now known as: "Otto the Terrible". On the set of A Royal Affair, with Tallulah Bankhead and Anne Baxter, he did become good friends with Bankhead, especially because she was just as difficult as he was, and they both really disliked Baxter.
This would lead to more erratic behavior, where he treated actress Jean Seberg on the sets of both Saint Joan (1957) and Bonjour Tristesse (1958), the latter being more successful than the former, with much disdain and recklessness, to the point where she was really burned during her death scene as her character is burned at the stake. Besides her, Lana Turner was also an object of Preminger's wrath after berating her for being choosy with her costumes for her part as Laura Manion in what would arguably be his finest masterpiece, 1959's Anatomy of a Murder. Turner eventually hung up on him, and the part later went to Lee Remick, who made it famous. This behavior towards actors was just the tip of the iceberg of his unsavory persona.
Then there was censorship, which targeted many of his most popular films (including Anatomy). His approach to subject matter such as rape, racism, virginity, homosexuality (his 1962 drama Advise and Consent featured the very first scene of a gay bar in cinema), suicide, drug addiction, and suggested incest did not sit well with many people, but somehow he still managed to come out of top, especially with the several Oscar nominations he received during his five-decade career.
Despite all of this, he was really progressive as he broke down racier barriers, directing all African-American casts, in both Carmen Jones (1954) and Porgy & Bess (1959). Dorothy Dandridge in Carmen became the first Black woman to be nominated for a Best Actress Oscar. So, you have to give him that one.
He also had sheer eclecticism, dabbling in genres, from musicals to film noirs; war films to epics; romantic comedies to small-scale pictures. In this case, he was a Renaissance man who made his mark on cinema whether many liked it or not.
I recommend fellow film buffs to check it out, especially those who love Preminger and/or his brilliant body of work, despite his unhealthy and often unfortunate reputation. But in the end, his legacy stills remain etched in motion picture history and culture. A great and interesting read indeed.