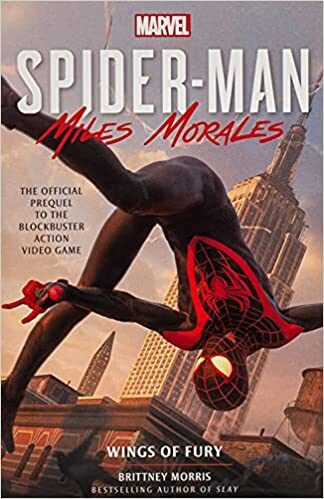 Marvel Spider-Man: Miles Morales – Wings of Fury by Brittney Morris is a prequel to the video game Marvel Spider-Man: Miles Morales released on both the PS4 and PS5. Wings of Fury opens with Miles reeling from the recent death of his father and a move with his mother out of Brooklyn to his Abuela's home in Spanish Harlem. This novel begins to move Miles out of the shadow of Peter Parker. It is a novel about coming into your own and tries to begin to answer two central questions: what does it take to be Spider-Man, and, the more important question, what is it like to be a person-of-color underneath the Spider-Man costume. Morris does a great job of showing that the fact that the costume covers your skin does not change who you are at your core.
Miles is still going to school, rooming with his best pal, Ganke, giving his spare time to help feed the homeless and working poor at F.E.A.S.T., and trying to stop crime in its many forms. With all that going on, he is also attempting to train with Peter Parker whenever he can find the time. Into all of this comes a recently escaped Vulture and his granddaughter, Starling, who also has a suit that helps her to fly. While Vulture was in prison, he was given an experimental cancer treatment by a corporation known as Terraheal. Vulture feels like he was used and hurt from the experiments conducted on him and he and Starling have a plan to take out their anger on the entirety of New York City.
Miles, Starling, and a minion of Vulture's named Steven are all struggling with being young adults who would like to get out from under their parents' and grandparents' shadows. Having the "good" guy and the "bad" guys struggle with the same conflicts has become a common trope in the Marvel Universe; however, it works in Wings of Fury, and is an excellent secondary conflict. This book is a slow burn (it takes nearly 100 pages for the antagonists to be fully introduced) that should appeal to Spider-Man fans; especially teenage Spider-Man fans and fans who identify as people-of-color.