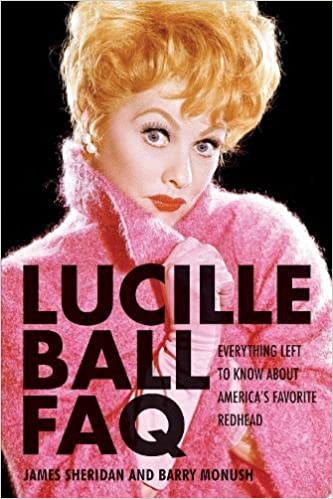 While Lucille Ball (1911-1989) made her name in television, she began her illustrious career in film. The movie was Roman Scandals (1933), and starred Eddie Cantor. She was later signed as a contract player with RKO Studios, which she would one day own. All of these facts and more are contained in a handy, one-stop tome titled Lucille Ball FAQ.
The Hal Leonard Company has been a leader in publishing sheet music, songbooks, and musical biographies for decades now. Their FAQ series has been enormously successful, although until now the books have been exclusively music oriented. Why they chose Lucy as their very first entry into the larger world of show business is not entirely clear. But one thing is certain, the career of Lucille Ball was a long and influential one. There was definitely no shortage of intriguing aspects of her life for authors James Sheridan and Barry Monush to discuss.
The book opens with a fairly succinct timeline of her life. This in itself is instructive, as Miss Ball's career path strayed from the typical Hollywood success story quite significantly. For one thing, although she started out at a relatively young age, Lucy did not really hit her stride until the age of 40, and the debut of I Love Lucy in 1951. By then she had already married Desi Arnaz twice. The first attempt lasted from 1940-1944. She then remarried him in 1949, which lasted until 1960.
Thanks to the very public nature of the Arnaz-Ball union, Lucy will always be paired with him in the public mind. But it was actually her marriage to entertainer/business manager Gary Morton that lasted the longest. Shortly after her divorce from Desi was finalized in 1960, Lucy married Gary and the two were together until she passed in 1989.
I Love Lucy was probably the most influential show in television history. And while Lucy gets most of the credit, Desi was something of a behind-the-scenes genius. He pioneered the use of the three-camera shoot and of recording the program before a live studio audience. For decades I Love Lucy was considered the greatest TV show ever made; it has only recently been usurped by Seinfeld.
An interesting fact from the book concerns the I Love Lucy movie that never was. When the show took off, there was talk of stringing three episodes together with a bit of additional footage to make a coherent story, and releasing it to theaters. This never happened however, as the pair filmed The Long, Long Trailer (1953) instead. The movie is practically a three-episode I Love Lucy story without the Mertzes. It is definitely a period piece and worth seeing for fans of Lucy and Desi.
When the show and marriage ended, Lucy went on to star in The Lucy Show (1962-1968). Then came Here's Lucy (1968-1974), which also featured her children Desi Arnaz Jr. and Lucie Arnaz. These later programs were never ground-breaking, but always amusing. Her final film appearance was in the title role of Mame (1974). In 1986 there was an ill-advised return to TV with the disastrous Life With Lucy. There was really no reason for doing it, and her strong resistance to the project proved to be prescient. Still, she gave it a shot, and wound up slightly tarnishing her legacy.
Then again, Lucille Ball could never really do any wrong in the eyes of her millions of fans. She had reached legend-status in Hollywood long before Life With Lucy, and that will never change. I remember the reaction to her death in 1989. It was treated like the passing of a head of state.
At 450 pages, there is a ton of information contained in Lucille Ball FAQ. For fans of the iconic performer, there is simply no better source for everything Lucy.