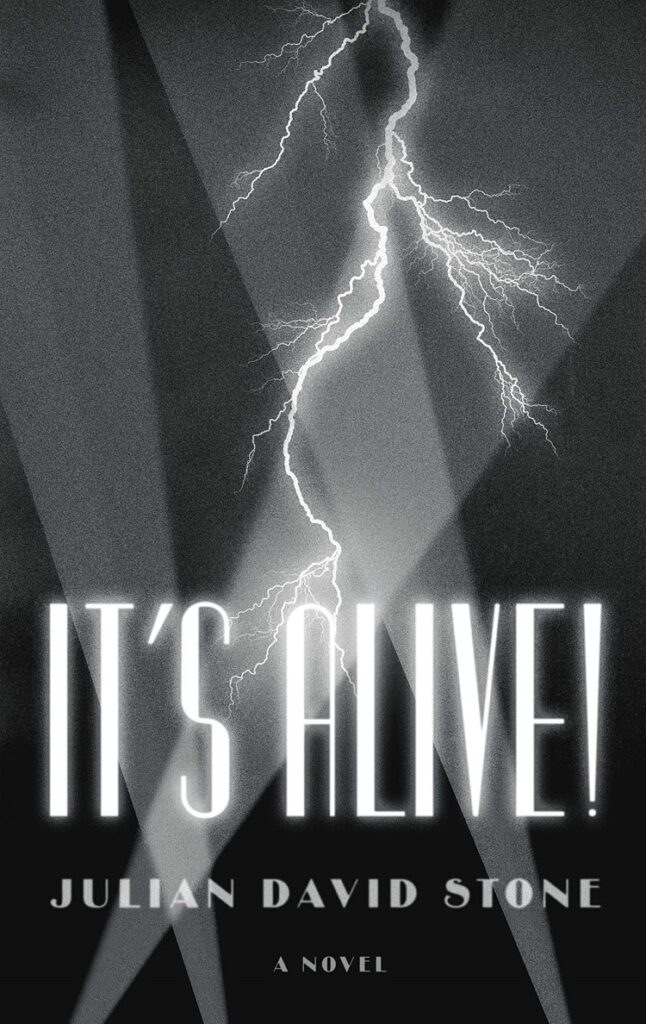 Inspired by true events!
It's Alive! is a fantastic, fictional account of the final days leading up to the filming of Frankenstein. Julian David Stone provides a fun look inside the old studio system through the lives of three of the major players involved with the film. Carl Laemmle Jr., Bela Lugosi, and Boris Karloff will all be impacted in a big way by the upcoming monster movie.
At the heart of this tale is father and son "Uncle" Carl Laemmle and Carl Laemmle Jr., known simply as Junior. With Frankenstein set to start filming in mere days, Junior still needs to make some final decisions from who's going to direct to who will star as the monster. Added to that Carl Sr. comes back to town to check on things and promote Junior to VP but with one condition. Now Junior's out to show that the silent film era is dead and that his ideas will lead Universal into the future of movies. Junior believes Frankenstein is the body of work that will carry the studio to the top of the castle. "Uncle" Carl however does not see it that way at all, casting doubt that the picture will ever be made.
Bela Lugosi has a decision to make as well. To play the monster or not to play the monster?  He's in. No, he's out. The director changes from James Whale to his pal Robert Florey. This lures Bela back in. Wait! Whale's back in the director's chair. He's out! Besides, this monster is no role for a star actor with such a charm and style. To hide behind all that makeup? No!
Enter Boris Karloff. Former truck driver and current B player on the Universal lot stuck being the heavy in gangster pictures. This could be just the break he needs to keep from going back to driving a "lorry" and daily counting the change in his pockets. Being the man behind the monster has its own charm, plus it pays the bills and keeps him doing what he loves most, acting. The great Chaney lived behind the makeup, bringing monsters to life. Why can't he?
Dotted throughout this lively page-turner are gossip columnist Louella Parsons, "It Girl" Clara Bow, and a bright canvas of stars whose names have been resurrected from the graves of the forgotten past. They are brought together to play their parts and help build the story this work of historical fiction tells so well. Author Julian David Stone brings to life the world of 1930s Hollywood as it lumbers out of the silent era and into the universe of sound. More than a retelling of bits of movie lore, It's Alive! is a story of a father and son, the choices we make and the paths we take.
For those interested, Antonia Carlotta, niece of Carl Laemmle has a great youtube channel filled with informative videos that further flesh out the lives of those players who star in It's Alive!