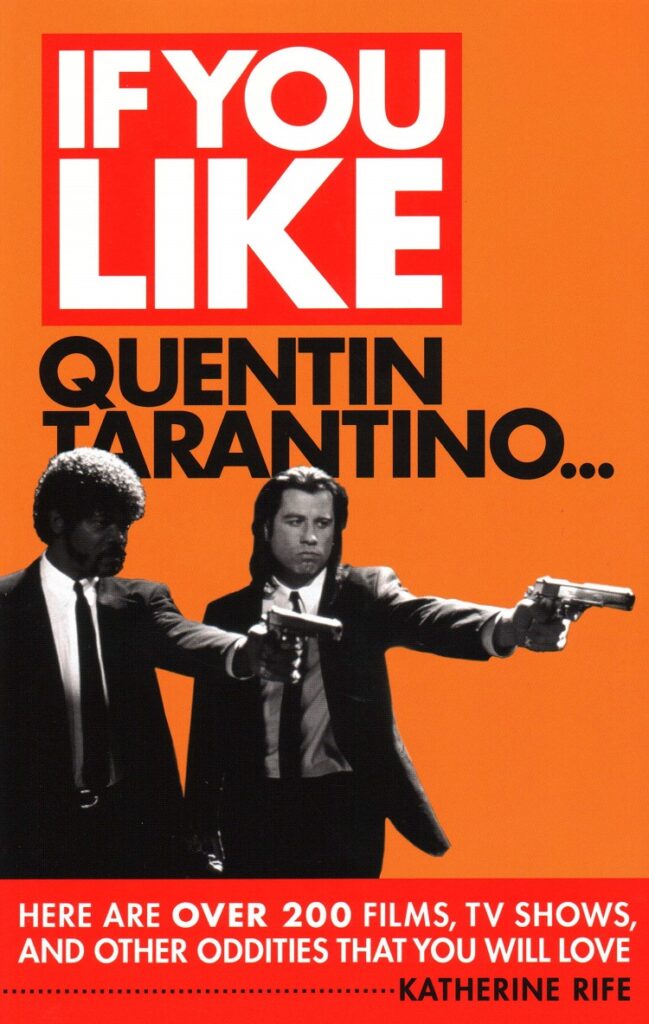 Written by Michael Nazarewycz
After opening to great reviews on Christmas Day (and presently flaunting an 80 on Metacritic after 39 critics' reviews), and fueled by controversy created by Spike Lee, Quentin Tarantino's Django Unchained grossed $77.8MM through New Year's Day, putting it third on the director's list of all-time box office receipts. The fact that the film is having this kind of success, even though it is Tarantino's first movie in over three years, is proof that the director – and his style of filmmaking – is as popular as ever.
So to feed the hunger of those who can't get enough QT (he's only made eight full length films in his career, after all) comes If You Like Quentin Tarantino …, a book by Katherine Rife.
The book is broken out into eight chapters (one for each film in QT's canon):
Reservoir Dogs: Gun Crazy
Pulp Fiction: Out of the Past
Jackie Brown: Big Bad Mama
Kill Bill: Volume 1: The Blood-Splattered Bride
Kill Bill: Volume 2: The Whole Bloody Affair
Death Proof: She-Devils on Wheels
Inglorious Basterds: From Hell to Victory
Django Unchained: God Forgives … I Don't
In each chapter, Rife highlights and reviews films similar to each of Tarantino's films, from a wide variety of eras and genres.
But the book's biggest strength might also be its biggest weakness. While Rife makes an interesting case for Billy Wilder's Double Indemnity (1944) to be considered the Pulp Fiction of its time, many of the films she connects to QT's work are obvious choices.
For Django Unchained, she suggests the Sergio Leone/Clint Eastwood Dollars trilogy. For Jackie Brown, she cites a long list of traditional Blaxploitation films. For Death Proof, it's Russ Meyer's Faster, Pussycat! Kill! Kill! And so on.
But I mentioned that this weakness is also the book's greatest strength. While hard-core film fanatics are aware of many, if not most of, Rife's choices, there are new generations of film fans who are getting their first exposure to Tarantino via Django Unchained. And while a quick trip to IMDb might offer that new QT fan a quick reference of his work, finding a formidable list of related films might be trickier to compile, even on the Internet. Rife's book is an excellent reference for those new fans who can't get enough of Quentin Tarantino.
Full disclosure: I received a copy of If You Like Quentin Tarantino … directly from the book's publisher, Limelight Editions, an imprint of Hal Leonard.