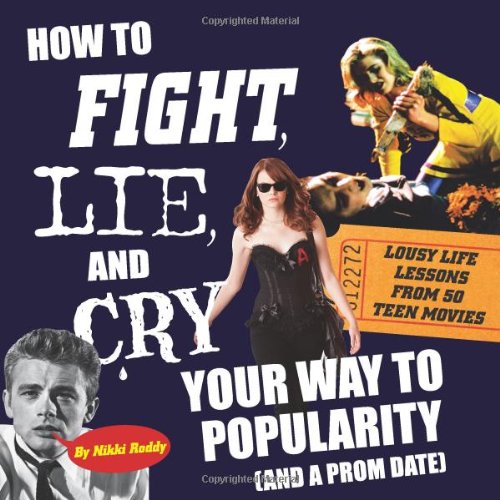 Written by Greg Barbrick
Not to put too fine a spin on it, but Zest Books cater to a fairly small, but an incredibly powerful niche audience – teen girls. Ever since the days of Frank Sinatra's "bobby-soxers," teenagers have been the major market for all forms of entertainment. The world of film is certainly no exception. Movies aimed at the teen market have been around for decades, and author Nikki Roddy has taken an interesting approach to them with her new book How To Fight, Lie, and Cry Your Way To Popularity (and a Prom Date): Lousy Life Lessons From 50 Teen Movies.
The lengthy title spells things out pretty well. Nikki Roddy has chosen 50 classic teen flicks for discussion, and the "lousy life lessons" in each. The first entry is Rebel Without A Cause (1955). The format is a pretty simple two-page affair. On the first, she spells out the basic plotline in a couple of paragraphs. Below that is the "Life Lesson." In the case of Rebel, here is the lesson; "If you win a knife fight and a dangerous drag race in one day, you'll go home with a brand new girlfriend. (Your trigger-happy friend might die, but no big deal.)"
Page two features a classic frame from the film, plus a "Sound Bite." The piece of dialogue Roddy uses for Rebel is this:
Judy (after knowing Jim for one whole day): "I love you Jim, I really mean it."
Jim: "Well, I'm glad."
The final bit is a multiple choice question based on the film in question. I will use the one from Rebel Without A Cause again to illustrate:
Question: "Which of the following common problems does Jim face on his first day at a new school?"
A. He's late to homeroom.
B. He can't figure out his locker combination.
C. His new school's cafeteria sucks.
D. He accidentally walks into the wrong classroom.
Answer: "None of the above. He's too busy playing with knives, cars, and chicks."
Although the author should be commended for reaching all the way back to 1955 for her first entry, the real action begins in the eighties. If there were ever a king of teen films, it would have to be John Hughes – and he is well represented here. Hughes' classics Sixteen Candles (1984) The Breakfast Club (1985), Pretty In Pink (1986), and Ferris Bueller's Day Off (1986) are all featured.
My favorite eighties teen movie has to be Fast Times At Ridgemont High (1982). I probably would have chosen a different "Life Lesson" from it than Roddy did, but here is hers; "To appreciate the nice guy who won't take advantage of you in your bathrobe, get impregnated by his jerk of a best friend."
The basic tally is 15 movies from both the eighties and nineties, 16 from the years 2000 to 2010, and four "early" (pre-eighties) entries. The year 1999 is the big winner, with a total of seven movies discussed, including American Pie, and 10 Things I Hate About You.
How to Fight, Lie, and Cry Your Way to Popularity makes no claims at being "serious" film criticism. It is a lot of fun however, and Nikki Roddy obviously knows her intended market quite well. I think teen girls will really like this one, and their parents might even enjoy it too.