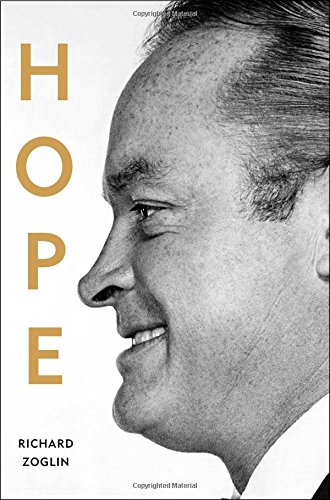 In 1993, the legendary entertainer Bob Hope and his wife Delores welcomed TV viewers, and some celebrities of the time, into their home to share some memories of the many Bob Hope Christmas specials in a show entitled Bob Hope's Bag Full of Christmas Memories. The show would later be edited down to an hour and released on DVD as Hope for the Holidays. The editing was somewhat merciful in that Hope, at ninety years of age, had little participation in the special due to his limited eyesight and hearing. In 1995, a musical release Hopes for the Holidays featured Christmas songs by Bob and his wife Delores.
Now, more than ten years after his death, there is once again "Hope" for the holidays. On November 4, Simon & Schuster released the hardcover Hope: Entertainer of the Century by Richard Zoglin, and it will make a wonderful Christmas gift for that person who is hard to shop for.
At more than five hundred pages, this can be intimidating for some in today's fast-paced society, but Zoglin paints an endearing word picture in the introduction that creates a desire in the reader for more of the life of an immigrant who came to the United State and redefined the word "entertainer." Bob Hope did just that.
From being the funny kid to the Vaudeville stage, from radio to the big screen, from television to entertaining troops all over the world, Bob Hope conquered every entertainment medium available and Zoglin takes us along for the ride and allows us to watch Hope climb every mountain even when that meant first making his way out for the ditch he had dug for himself.
Yes, the choice to delve so deeply into Hope's genealogy, and yet gloss over what could be considered dirty laundry in the closet, are obvious points to take shots at in a critique, but the writing style of Zoglin does make the reader not only care about where this entertainer came from, but create a desire to protect the legend. This desire grows as we get to know a man who was arguably not the most talented comedian, actor, singer, dancer, or host, but the most determined and business savvy man to hit show business, or any business for that matter, in our lifetime. Bob Hope was a pioneer who may have tried to hang on too long, but Zoglin covers the latter part of Hope's career with the same grace he provides to the darker side of his personality.
Recommendation: This book may be a hard sell for those in the latter part of the Baby Boom generation and beyond who are more in tune to the free styles of comedians of their era, and who may recall Hope as the comedian who read his jokes to the audience. It is much more than the story of an entertainer. Richard Zoglin does an amazing job of telling us the story of a flawed man with a charitable and loyal heart, who gave audiences what they often didn't even know they wanted for almost a century. The personal stories and anecdotes are not just for fans, as they are sure to make fans out of those who read this insightful biography. Bob Hope was one of the hardest working men you are ever going to want to read about and he instinctively knew what it would take to be a success. He knew it would take hustle, and you should hustle out to the nearest book store and get Hope for Christmas.