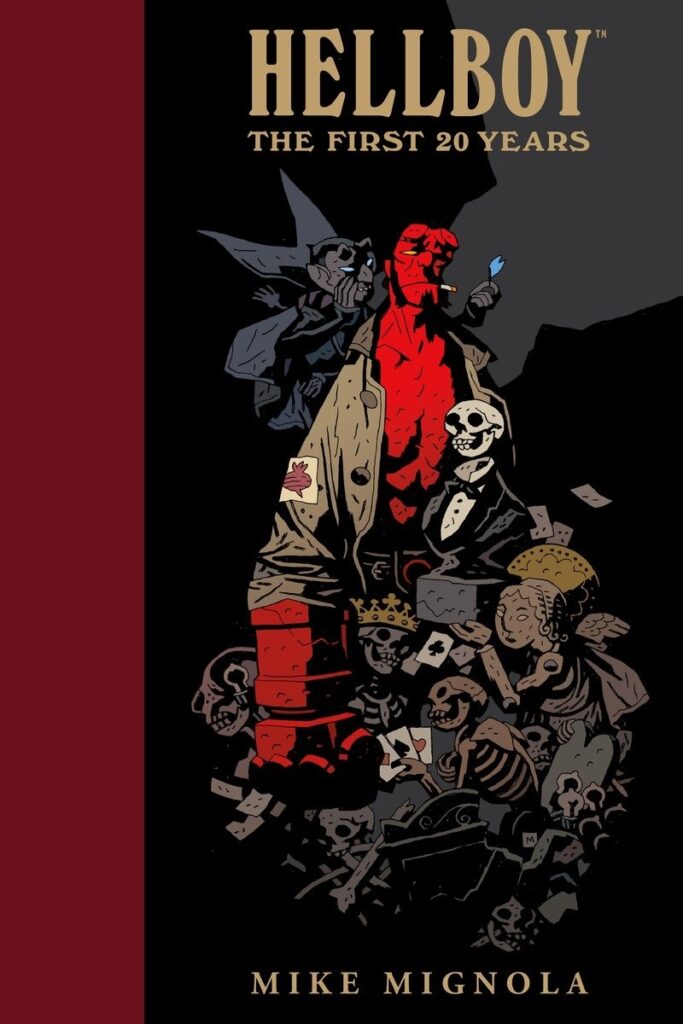 Hellboy: The First 20 Years is a celebration, not necessarily of the character, but of the artist and writer who created him, Mike Mignola. It is an art book that shows how intrinsic Mignola's sense of character design and color are to making the character work.
Because it is a character that probably should not work. In the context of comic books, the notion of a boy from Hell who fights against the paranormal isn't too outlandish, but even from the beginning Hellboy wasn't quite what one would expect from the high concept. He's not very devilish, and he has those weird humps on his head (before I'd ever read any Hellboy, I didn't understand that he had horns he regularly sheared off – I thought for some reason he perpetually wore opaque red goggles on his forehead.) Being in your seventies and still called Hellboy can't be fun. For a broad-chested superhero type, he's got kind of a sad sack look. He droops.
This powerful sense of design is highlighted in Hellboy: The First 20 Years, which consists of numerous pieces of art from over the comic's (and its spin-offs) run. The lion's share of the book's content is made up of covers, sometimes just Mignola's line art with the completed cover on the facing page.
That so much of the art is from covers make sense for Mike Mignola, since those have been his most consistent visual contribution to the on-going Hellboy franchise he created (with most of the interior art done by other artists since latter part of the last decade.) Nearly every cover of Hellboy, and a high percentage of covers from the spin-off BPRD, have been done by Mignola. His blocky shapes and highly selective sense of detail is the source of the visual language of the series. To look at his uncolored artwork, one senses at the same time how much of the aesthetic is already present, and how important colorist Dave Stewart is to completing that vision. He doesn't complicate Mignola's flat designs with too much shading. Their collaboration has been on-going since the 14th issue of Hellboy, and since then he has colored every issue of that series, and nearly all of the larger BPRD run.
The book also contains some line art from inside the comic, a few colored pages, and a number of preliminary sketches. What there is not is some form of narrative history. There is an amusing two-page introduction by Peter de Seve, a one-page foreward by Mignola, and that's it as far as textual support. No commentary, no history, just an index at the end saying where everything came from. Whether or not this is an essential purchase for a Hellboy fan depends on how much one likes art books. As Mignola's foreward states, there art inside Hellboy: The First 20 Years focuses more on later years (and, again, more on covers) because the earlier released Art of Hellboy volume covered a lot of that stuff.
Hellboy: The First 20 Years can't be considered essential for the casual fan of Hellboy, or even for the avid fan unless they like what art books can give them. It's 132 pages of pretty pictures with some "behind the scenes" sketches and preliminary drawings. If that's what you need from something about Hellboy, this may suffice.