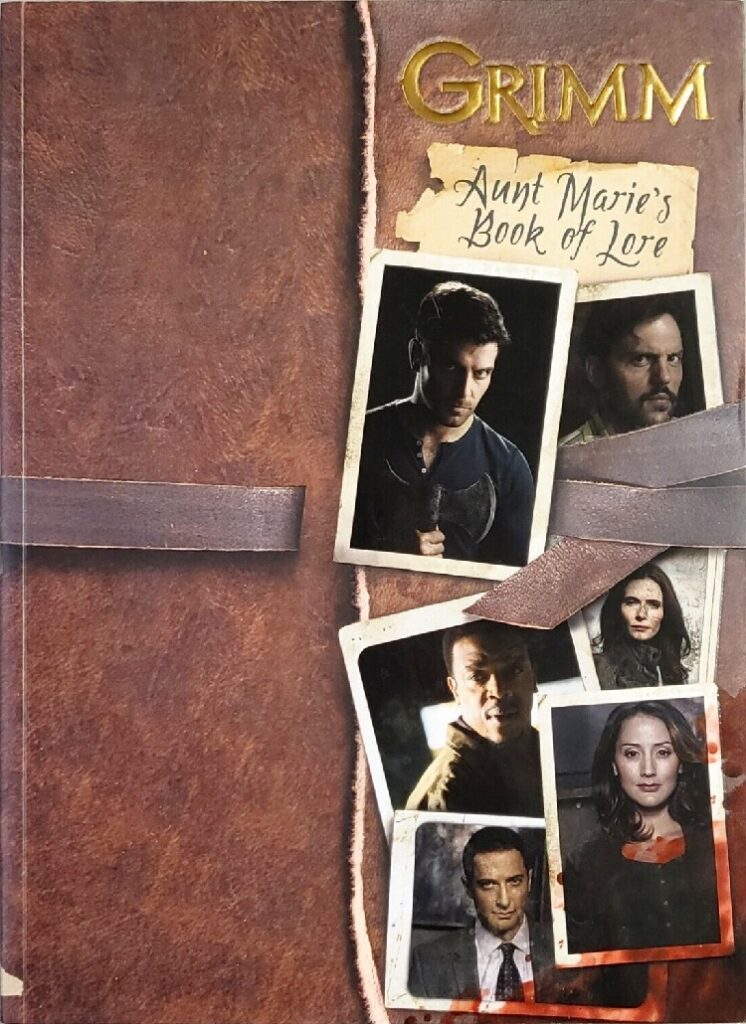 Based on the Grimm's Fairy Tales, the TV series Grimm follows Nick (David Giuntoli) as he finds out about his Aunt Marie (Kate Burton), who leaves him a trailer full of old books, strange weapons, and odd ingredients for potions. Along with the trailer, he inherits the knowledge that he is a Grimm and it is his responsibility to carry on the family traditions.
The Grimm family has a long history of hunting down Wesen, creatures that have the ability to disguise themselves as humans and live among us, but during times of emotional stress, a Grimm can see through the façade. Unlike his ancestors, Nick is a cop who doesn't kill every Wesen he runs across. He has a sense of justice, and as long as they have committed no crimes, he is content to let them live in peace.
Aunty Marie's grimoire is a book left to him that is a bestiary of all the different Wesen that have been encountered by the Grimm family. There are personal accounts of their experiences, mentions of rumors, and stories surrounding the Wesen that include hand-drawn sketches, lists of strengths and weaknesses, and sometimes ways of killing them.
This is one of Nick's most important tools as he has had no training or experience with these beings since he was suddenly thrust into this world upon the death of his aunt. One of his other important tools is his Blutbaden (roughly translated as werewolf) friend Monroe (Silas Weir Mitchell), who is fluent in several languages and helps him translate a lot of what has been written.
Just like the book used in the show, the one being sold to fans contains a lot of the same information. It looks like the pages were replicated straight from the original source material.
I showed my copy to a few other people who were fans. They thought it was an interesting novelty and liked looking at the sketches, which brought back memories of the various episodes.
Unfortunately, a novelty is all that it is. Most of the writing is difficult to read even when it's in English, which a lot of it is not. If you enjoy trying to read with a magnifying glass, then you might appreciate it more. It does lend itself to being more authentic by reading it that way. But for me, unless I am really trying to figure out how to kill a monster and save lives, I'm probably not going to go to all the trouble of reading the book but instead just glance at the sketches and overall appearance.
The idea of making this book is still a nice idea for the fans, but that's where the appeal is going to end. It's going to be a very select group of individuals that will be interested in purchasing this book. But even for the true hardcore fans they would probably want something closer to the actual prop used on television. A nice thick hardbound tome with rough paper pages and an embossed cover is what they would be looking for as opposed to the slick, glossy-paged paperback version.