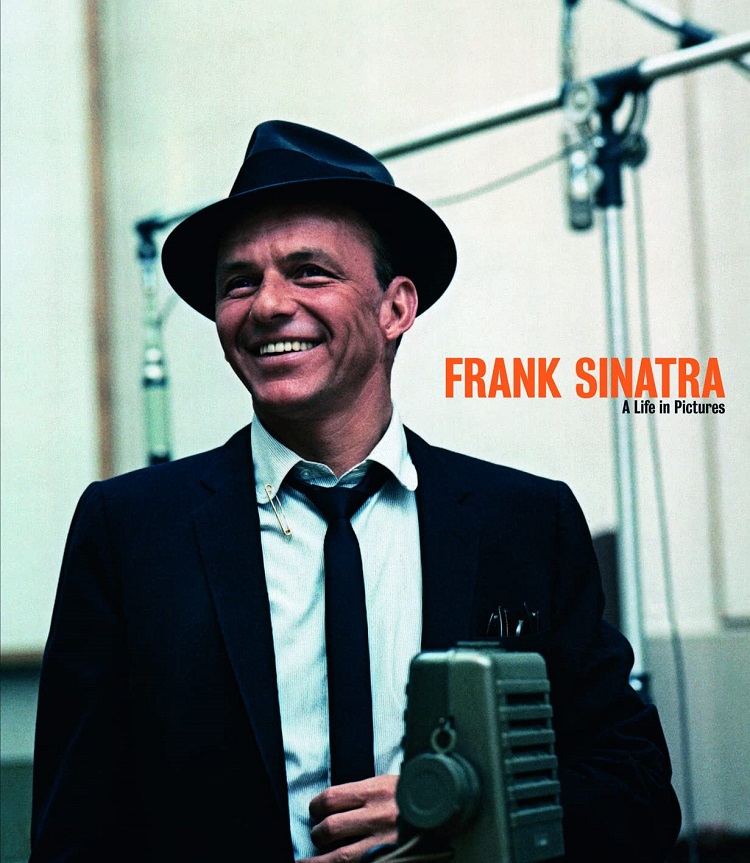 Say the name "Frank Sinatra," and one conjures images of more than simply a superb singer and occasional actor. Over time he has become an icon, a larger-than-life image of machismo, elegance, and just plain coolness. Often sporting his fedora and a trench coat draped casually over one shoulder, Sinatra's voice and style live on, even 14 years after his death. While numerous tomes have attempted to capture his life on the page, few have concentrated on photographs rather than simply text. Frank Sinatra: A Life in Pictures, edited by Yann-Brice Dherbier, opts to take this different approach by telling Sinatra's story through photographs from childhood to about 1984. Chiefly a collection of publicity shots, the book also includes some behind-the-scenes photos from some of Sinatra's films. In fact, it is the retelling of Sinatra's at times overshadowed movie career that proves most interesting.
After a relatively brief overview of Sinatra's life, A Life in Pictures begins with a few images from his childhood, quickly moving on to his first big break: becoming a vocalist for the Harry James Orchestra. Numerous portraits from this early period portray Sinatra as the wide-eyed, nattily-dressed young man who made teenage girls swoon. Clearly staged shots from his first marriage, which painted him as the consummate family man, completed the picture of the clean-cut kid from Hoboken, New Jersey. Curiously his earliest films are missing from this book, such as Anchors Aweigh, It Happened in Brooklyn, and Take Me Out to the Ball Game. However, the original poster from On the Town (1949) is reproduced here.
By the early '50s, Sinatra suffered from a career slump. Sensing that the crooner needed to reinvent himself, then-wife Ava Gardner championed him for a supporting role in 1953's From Here to Eternity. A picture from the set shows Sinatra laughing with actors Burt Lancaster, Montgomery Clift, and Ernest Borgnine, his military uniform and slightly drawn face miles away from the baby-faced singer who made the so-called "Bobbysoxers" (a nickname for his young female fans) scream. After winning the Best Supporting Actor Oscar in 1954, Sinatra continued his edgier makeover through films like The Man with the Golden Arm (1955), where he played a musician struggling with drug addiction. Moody shots of a haggard Sinatra on the set further illustrate his changing image. He never completely abandoned musicals, however; his appearance in High Society (1956) teamed him with his own idol, Bing Crosby. Photos of Sinatra smiling with Grace Kelly makes one wish to have been a fly on the wall during that movie shoot.
Other images spotlight often overlooked Sinatra films such as Never So Few (1959), a drama that paired him with stars such as Gina Lollobrigida and Steve McQueen, with whom Sinatra reportedly clashed. Fun shots of the "Rat Pack" during the filming of the 1960 classic Ocean's 11 reveal the deep friendship he shared with peers Dean Martin, Sammy Davis, Jr., and Joey Bishop. He would appear in several more films sporadically until 1984.
The last part of the book focuses mainly on Sinatra's recording career, and in-studio photographs with Count Basie and a young Quincy Jones demonstrate how he worked with only the best talent. While his personal side is represented through images taken at his home and at his 1966 wedding to Mia Farrow, it is the pictures of Old Blue Eyes on stage, clad in a tuxedo and clutching a microphone, that leaves the most memorable impression. One senses that while he enjoyed partying with friends and spending time with family, his true home was on the stage.
One image best summarizes the strengths and drawbacks of Frank Sinatra: A Life in Pictures: Sinatra at his Palm Springs home in 1965, casually leaning against his front door, standing on a doormat that reads "Go Away." His smile and seemingly easygoing demeanor often hid a more complex personality that both attracted and frustrated friends and family. Fans could only get so close to the legend, as even onstage he created the persona of someone who cared little whether the audience loved him or not. Listeners mostly loved him, of course, but he somehow demanded that people come to him; he would not plead for acceptance or approval. It is this air of mystery and aloofness that prevents biographers from peeling back even the outermost layers of his personality. Therefore, do not expect a complete picture of Sinatra in A Life in Pictures; sometimes the captions under the photos do not include enough details, and large periods of time are glossed over. However, fans looking for a general overview of his film and recording career packaged in a handsomely designed coffee table book will find much to like in Frank Sinatra: A Life in Pictures.