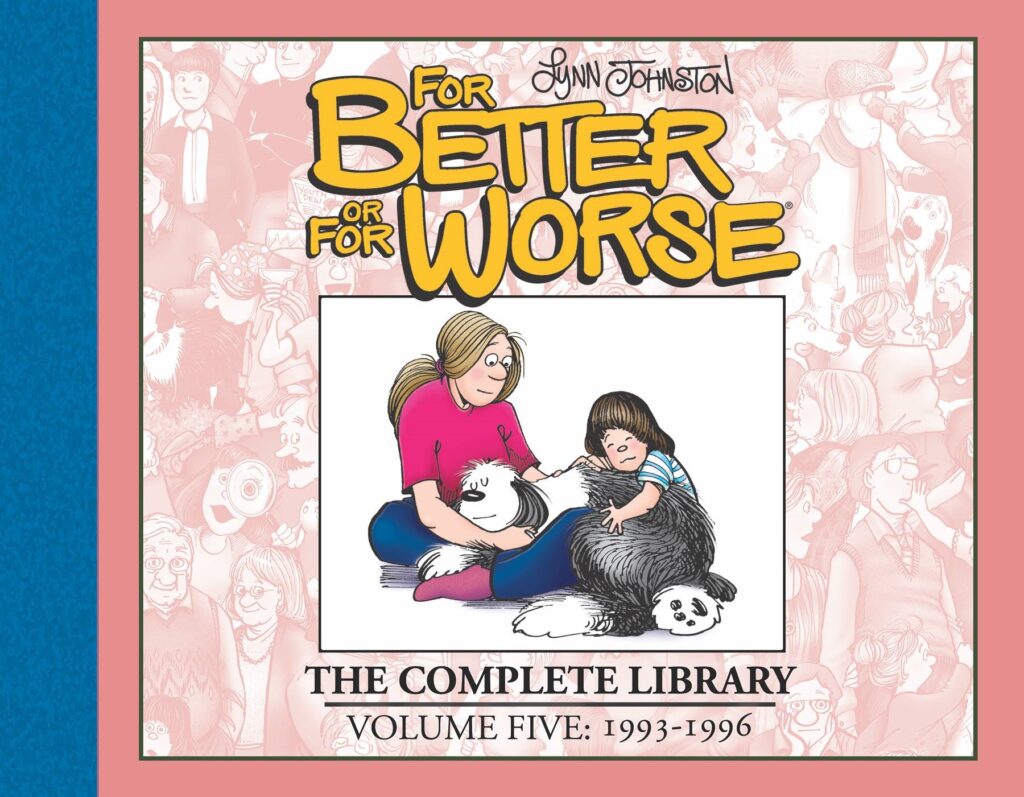 Written by Chad Derdowski
In 1995, I was a senior in high school and Michael Patterson was just starting college. While I wrote for my school paper, Michael was studying to become a journalist. We were both rightfully ridiculed for our burgeoning attempts at facial hair and we both had a friend named "Weed" (mine being somewhat more metaphorical). We both had sheepdogs! But while I lived in a small midwestern town in Michigan, Michael was a fictional character living in Canada. I have to rely on old photographs and fading memories to relive my youth, but Mike's life, along with the lives of his family and friends, can be recalled with stunning clarity in Lynn Johnston's For Better or For Worse: The Complete Library, Volume 5 (1993-1996), collecting comic strips from April of 1993 to August of 1996.
In addition to this being the fifth volume in the series released by IDW and the Library of American Comics, it's also the fifth volume that I've reviewed. And each time, I find myself connecting with one or more of the characters on a personal level, which seems to me to be sort of the whole point of this strip. Chronicling the lives of the Patterson family and their circle of relatives, friends, and acquaintances for the better part of three decades, Lynn Johnston built a realistic world that reflected the world outside our window, often weaving in aspects of her own experiences for both humor and pathos. Throughout this collection (as with the others), Johnston has added little blurbs in which she reveals the thought process that went into a particular joke or story, discusses the mail she received from passionate readers of the strip, and relives many intimate moments of her life that took place while crafting these stories. And of course, I did the same while reading it – my family grew up reading the daily "funnies" in our local newspaper and For Better or For Worse was always a favorite, because it was always relatable and it always felt real. If I may paraphrase the text on the back of this collection, Johnston successfully toes the line between soap opera and situation comedy. I don't know that I can think of a better way to describe real life.
This volume marks the halfway point of Johnston's landmark strip and as usual, we see a lot of growth and change in the Patterson family. Eldest son Michael finishes his senior year of high school and leaves for college while his younger sisters Elizabeth and April navigate the treacherous realms of high school and pre-kindergarten, respectively. Venerable matriarch Elly turns 45, experiences menopause, gets laid off, finds a new job, and even cuts her trademark hair while her husband John develops a deeper friendship with one of Michael's high school chums. The more that Michael and Elizabeth change, the more they stay the same: the siblings become closer, yet remain antagonistic, as all siblings should. And all the while, April, the youngest member of the Patterson clan, becomes a wellspring of adorable gags and sentimental moments, proving that a youthful addition to a series need not be a Cousin Oliver.
This collection features the famous story in which Farley, the family dog, passes away after saving April's life during a particularly nasty storm. I'm going to be completely honest with you here, folks – I'm not going to say any more on the subject because the tears in my eyes are blurring the computer screen too much to type. It was hard reading it when it was published in my local newspaper when I was a teenager and possibly even harder reading it now, with the benefit of 25 years and the loss of friends, family, and beloved pets of my own. But that's what happens when you have a skilled cartoonist at the top of their game – you get stories that are, as I've already said and will no doubt repeat before I'm through writing this, relatable and real.
And that's exactly what we have here. Lynn Johnston was already great when she started For Better or For Worse in 1978, but by the time we reach the grunge era, she's at the top of her game. There is so much expression and movement in her art, with emotions conveyed perfectly through facial features and body language. Johnston's style feels effortless and she always seems to manage to find the right combination of image and punchline and strikes a perfect balance between drama and humor. A fine example is the series of strips that follow the death of the family dog – as in real life, humor gets us through tough times.
In this collection, Lynn Johnston uses For Better or For Worse as a vehicle to find subtle ways to express her concerns about the social issues like environmentalism or cuts to education funding, comments on journalistic integrity, and imparts some of the wisdom she has gained in life upon her readers. She gets a lot of mileage out of the children's love lives and April being a precocious youngster. She reuses a couple of old gags in which the kids tease the parents about being old and out of touch, but brings a different approach, keeping a timeless joke fresh (and to be honest, if I hadn't been reviewing these collections and reading the strips so close together, I likely never would've noticed). And through the series of recently written blurbs that accompany many of the strips, we gain insight into her creative process and relive some of her fondest memories. We also find out that after finishing up the strip in 2008, she continued the characters' lives in her imagination. Over time, it seems that the Pattersons became her friends just as they became ours, and apparently she couldn't quite let them go. Can't say that I blame her.
I noticed that there were a lot more sentimental and reflective moments in this collection than in previous ones, which makes sense, as the family ages and moves through life. Big moments and life-altering events tend to lead to strolls down memory lane in the comics, just as they do in real life. Again, it's real and it's relatable.
As I mentioned before, I've reviewed the previous four volumes in this series and as it moves on, I worry that I'm repeating myself. I'm pretty sure that I've repeated the terms "real and relatable" in more than just this piece. But like the family traditions that Lynn Johnston and the Patterson family share with us throughout the series, some things bear repeating because they hold up and stand the test of time. For Better or For Worse: the Complete Library, Volume 5 is no exception.