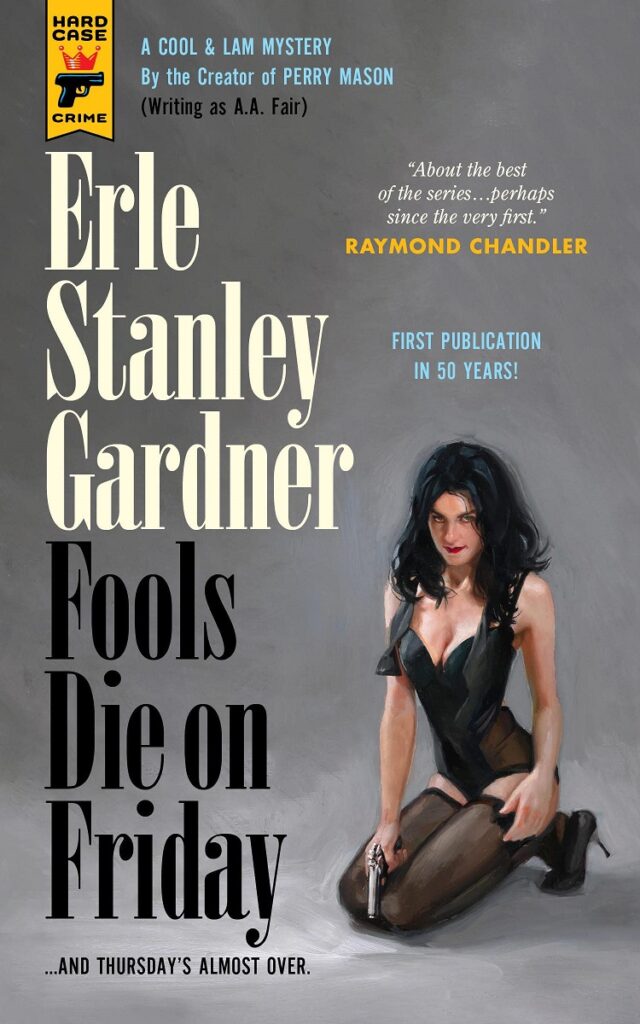 Donald Lam knows the girl's a phony. He knows from the second he sees the monogram on her cigarette case doesn't match the name she gave at the office. Even though she was now his client, his first instinct is to have her followed, find out where she goes.
His partner, Bertha Cool, thinks he's crazy. As long as the client is paying, they should let her get what she wants. And what she wants is to keep Daniel Ballwin from getting poisoned. How they're supposed to do that when she doesn't even want them to know where he lives doesn't bother Bertha. But it bothers Donald. He finds it convenient to take money from clients but it less interested in serving their interests than uncovering the truth.
It's a classic pulp story scenario and set-up, and Cool and Lam are a classic pulp fiction duo. Written by Erle Stanley Gardner (writing as A.A. Fair), the Cool and Lam series was his second-most prolific creation, with 30 novels written between 1939 and 1970. Of course, his most famous creation is the dogged defense attorney Perry Mason.
Cool and Lam are a detective agency. Cool cares about money, Lam cares about the case. Which makes him very free with the money. So, he spends it. In Fools Die on Friday, he spends it on a case of anchovy paste, to fuel a cockamamie story that he's an ad man for the anchovy paste company and wants to star Ballwin's wife in a set of ads. Lam thinks this publicity will squelch any imminent plans for Daniel's murder.
Unfortunately, only hours later, Daniel is caught ill with arsenic poisoning after having some anchovy paste on crackers, fed to him by his wife. She disappears…and is only found hours later, in a hidden bathroom in their house. Only she's poisoned, too.
Daniel recovers, but she does not. Lam's best suspect dead from apparently her own poison, he has a big row to hoe to find out exactly what was happening in the Ballwin household.
The mystery plays out, with Lam either at odds with or working with the police. Cool breathes down his neck about finances. Lam sympathizes with a girl. She's the secretary of a dentist having an affair with Mrs. Ballwin. Only she incriminates herself by not listening to a word Lam says. It's all standard pulp stuff. And it's standard because it's damned satisfying. An odd case (how does the client expect Lam to stop a poisoning when she doesn't want him near the expected victim) gets odder and more complicated as it goes on.
Erle Stanley Gardner does not have an expertise in prose. He did not have Raymond Chandler's gift for metaphor (though Chandler was a fan and praised this book as "best in the series.") What he was good at was plotting, and drawing characters up simply, but completely. There's about a dozen characters in the story, and while none are terribly complex, they're all distinct, without becoming caricatures.
And though the story has the breakneck pace of a pulp, it moves quickly and is meant to be read quickly. But it still takes the time to draw out some interest not completely related to the plot. There's a long suffering secretary at Ballwin's real estate office, who clearly has a better grasp on the market than any of Ballwin's salesmen but is constantly overlooked.
And Ballwin's ex-brother-in-law has a bizarre system for playing the ponies. It should be a minor point, but it takes up an extraordinary amount of attention from several characters and goes into exquisite, even excruciating detail.
That's part of the fun of this kind of pulp story, properly written. The plot is heavy, and mechanical, and satisfying, but it has room to breathe and have real life. Fools Die on Friday is the sixth Cool and Lam story reprinted by Hard Case Crime. It's a testament to the ability of a pulp writer like Gardner to layer intricate plotting and action with a world that feels real. It's not tawdry, but it does not mind approaching tawdriness. And it's damn fun.