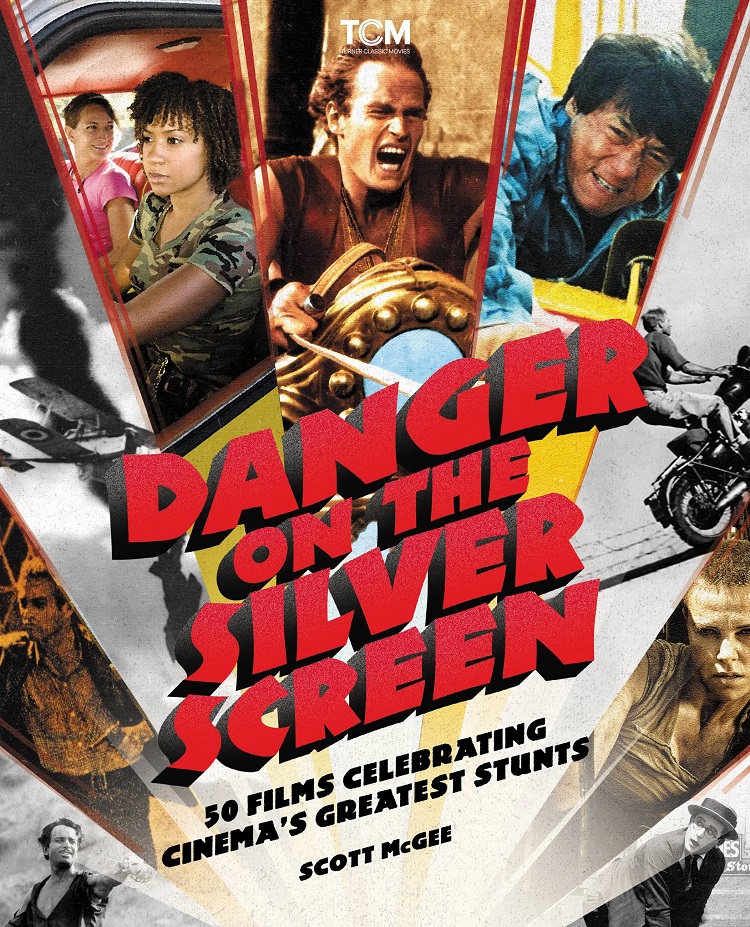 Relive some of motion picture's most exciting moments through action-packed, full-color photos in Danger on the Silver Screen: 50 Films Celebrating Cinema's Greatest Stunts. You'll thrill and delight to high-speed car chases, daring plane rides, exhilarating action, death-defying falls and leaps from the highest heights. Scott McGee brings it all to life with informative text and clear, sharp photos. He takes us there and back again in 288 breathtaking pages.
Starting with silent classics like Way Down East (1920), Safety Last (1923), The Great K&A Train Robbery (1926), Steamboat Bill, Jr. (1928) and The Black Pirate (1926) to name a few, McGee gets us going full steam ahead. Explaining that in the beginning many stars did their own "gags" as movie stunts would come to be called by those courageous souls now called stuntmen. In those days, stars like Lilli-n Gish were expected to do such things as float on ice drifts down nearly frozen rivers, it was all part of the glamorous, movie-making life.
There were, of course, some folks such as Harold Lloyd, Tom Mix, Buster Keaton and the always dashing Douglas Fairbanks who actually enjoyed these feats of "derring-do" and became quite good at them. Picture Lloyd hanging off a clock in mid air; Fairbanks climbing walls like those human flies that were all the rage in the 1920s; Keaton's famous falling house gag; Mix leaping from moving horses to trains and jumping across a wide ravine on his "wonder horse," Tony, in Three Jumps Ahead (1923). This particular stunt may or may not have actually happened as the film is considered lost but it is still much debated to this very day. 
With horses and trains in mind, this brings to the fore the first of the full-time, truly legendary stuntmen, the one and only Yakima Canutt, who pioneered many of the stunts we see all the time while watching those classic westerns. The "Runnin W" is the stunt that sees horse and rider stop hard and tumble forward head first; that one's now been outlawed and Yak himself agreed with the ban, as very few could perform it right causing no real injury to horse or rider. Yak was also responsible for that fabulous scene in Stagecoach (1939) where the team and coach dragged him a bit before thundering over him. He invented a special rig that kept the horses spread far enough apart so they'd pass over him with enough distance to keep him safe. Steven Spielberg used a variation of this gag during the truck chase scene in Raiders of the Lost Ark (1981). 
No list would ever be complete without a plethora of action-heavy films. There are plenty listed among the 50 greatest: The Great Escape (1963), Remo Williams: The Adventure Begins (1985), the Mad Max movies, and of course, the Bourne and Bond movies. On Her Majesty's Secret Service (1969) is mentioned as the Bond film that would set the standards for the franchise in years to come. Noting that the fast-paced action here was wonderfully shot and edited to include the vast and beautiful scenery as part of it all. McGee also mentions some of the later Bond films that starred Roger Moore, Timothy Dalton, Pierce Brosnan, and Daniel Craig, and lists how each one would up the ante on the previous Secret Agent outings.
McGee continues his tour of danger with hard-charging cars that speed through cities and all over the nation's freeways and highways as they dodge the law and a variety of generally bad dudes. We're introduced to Carey Loftin and Hal Needham, former stuntman turned director whose relationship with star Burt Reynolds is said to be the inspiration for Quentin Tarantino's characters in Once Upon A Time In Hollywood (2019). Behind the wheel of these high octane rides, we get a closer look at movies such as Vanishing Point (1971), Smokey and The Bandit (1977), Hooper (1978) with the titular character being a stuntman, The French Connection (1971), and Steve McQueen's Bullitt (1968). It's also around this time, through these films that the "fall guys" start to gain some recognition and a little fame outside of the Hollywood backlots. Their popularity soared as their stunt scenes began to be featured everywhere from TV shows and comic books to action figure playsets and lunch boxes. 
There are plenty of fights, falls, explosions, and people on fire to pack and round out this thrill ride through cinema stunt history. Modern classics like John Wick (2014), the Matrix movies and the Mission:Impossible blockbusters make their way to the pages of Danger on the Silver Screen. Those later titles are able to seamlessly blend old and new as they bring advanced safety technology and CGI to the table. Clever directors and second-unit directors continue to take the action to dizzying new heights while making movie magic even more grand and exciting. 
McGee makes mention of not only these huge action bonanzas but also movies where we may not think of the gag's impact until we stop and look again. The Blues Brothers (1980) for instance has a great car smash up, not to mention the destruction of an entire shopping mall. All the numerous falls we see on the big screen like The Man Who Would Be King's (1975) epic rope-bridge scene. Once again, Spielberg pays tribute to this gag in his Indiana Jones and the Temple of Doom (1984). McGee helps point the spotlight on all those movies and more in ways we don't often notice as we're swept up in the epic story. Speaking of epics, Ben Hur, both silent (1925) and sound (1959) versions need mentioning due to the scope and impact that their chariot races had on the stunt world; that chariot race would evolve into the massive car chases and crashes orchestrated and caught on camera by Hollywood's best and brightest. 
McGee takes great pride in honoring the ladies who love danger as well. Zoe Bell and her breathtaking work in Death Proof (2007) is a must for sure, but before her there was Polly Burson, whose credits include Niagara (1953) and True Grit (1969) to name just two films on her resume. "Aunt Polly" would double for many famous leading ladies in her long career as "stunt queen of the silver screen." Also of note is Jeannie Epper, who comes from a dynasty of stunt performers; she's doubled many popular ladies and a few men in films such as Romancing the Stone (1984), RoboCop (1987), and Roadhouse (1989). 
McGee also does a great job at highlighting those stars that love to do their own stunts as often as insurance allows. Notable names include Tom Cruise, Keanu Reeves, Burt Lancaster, Charlize Theron, and a surprise to me, Barbara Stanwyck, who was known to have said she doesn't mind the black and blue marks as they eventually turn green and she "likes green." McGee doesn't count out or forget the legendary Jackie Chan. He changed the game in regards to what could be done on screen as he took his dance-like fight choreography to places no one could have imagined possible. Chan and old Tom Mix could probably spend hours talking about broken bones and near-death experiences. 
Danger on the Silver Screen is a fascinating and insightful, photo-filled look at some of Hollywood's greatest stunt movies. Focusing on the men and women who take the falls: where they come from, how they started, and where they can best be seen on screen. Some were rodeo riders; some were hardcore gear heads whose love for cars and planes led them to go faster and higher in pursuit of driving/piloting mastery; others simply loved the thrill of it all, whether fighting, falling or crashing. 
Scott McGee pays loving tribute to the stunt men and women of the silver screen who fearlessly take the hits and falls for our amusement, be they behind the scenes directing the second-unit shots or on screen taking the tumbles, jumping horses and buildings, or throwing punches and flying around at top speeds in planes, on trains, or in automobiles. McGee puts us in the driver's seat and behind the camera using first-hand sources and candid photos to illustrate how some gags were accomplished and how it felt to be watching it all go down for film's sake.