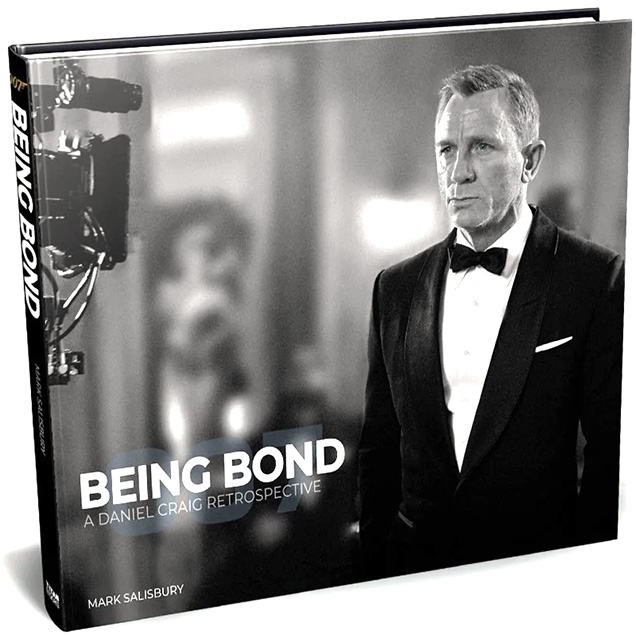 Daniel Craig's final outing as James Bond in No Time to Die reminded us all how much of an impact the actor made on the role and how his presence will be missed. Craig's take on Bond was a different approach than what Sean Connery, Pierce Brosnan, and others have brought to the role, in that Bond was more broken and human than an agent with cool gadgets and any woman he wants. Whoever is cast to be the next Bond or 007, depending on the direction the series goes, will have big shoes to fill.
With the new coffee table book, Being Bond: A Daniel Craig Retrospective, author Mark Salisbury goes deep into the history of each Craig-led Bond film, starting with Casino Royale and ending with No Time to Die. The 250+ page book is filled with great interviews from Craig, who shares some incredible stories about what it took to get him to accept the role of Bond and his experiences with each film. There are moments of humor and sincerity that make the book a worthy read.
Salisbury doesn't just go to Craig for his perspective on working on the film. Others that are interviewed include producers Barbara Broccoli and Michael G. Wilson, actresses Judi Dench and Lea Seydoux, directors Sam Mendes and Martin Campbell, and screenwriters Paul Haggis and John Logan. That's just a small list of names who contribute their time to share what it was like to work on each of the films they helped bring to the big screen.
Being Bond also doesn't hide the fact that James Bond fans didn't initially want Craig to take over the iconic role for a variety of reasons. One of those included him being blonde when Bond primarily had black hair. Oh, the joys of fandom. It also discusses how, after Spectre, there was a controversy around Craig saying that he'd rather "slash [his] wrists" than play Bond again. The book breaks down how Spectre had a long, grueling shoot – and how Craig was tired. He confesses in the book that he was actually interested in playing the role again, just not at the exact moment the reporter asked him.
Those who are die-hard James Bond fans will want to pick up Being Bond for their collection. It gives great insight into the making of each Craig-led Bond film and has a lot of beautiful imagery of the behind-the-scenes moments, concept art, and scenes being filmed. Before the coverage of each film, the book begins with a gorgeous two-page spread of a scene from the movie. Readers will get lost in the outstanding imagery on each page but will also be amazed by the stories that are told by those who worked on the films.
Salisbury's ability to bring some great stories and quotes from those he interviews is impeccable, and the writing about each film will make it feel like you are on the set and experiencing what is talked about. Being Bond: A Daniel Craig Retrospective is a terrifically detailed and photographed book that will fit perfectly in the homes of Bond and movie fans. It's certainly worth the $50 price tag.