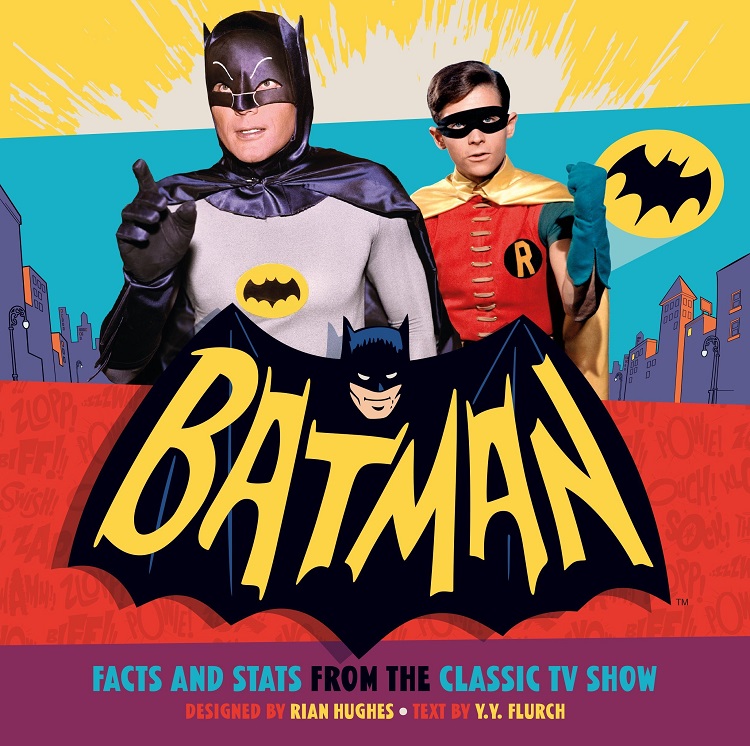 Written by Chris Morgan
This year marks the 50th anniversary of Batman, the TV show based on the popular comic book character. Batman is the best of all the Batman properties. Adam West is the best Batman. The movie starring him is the best Batman movie. Part of what makes the show so good is that it's a humorous take on Batman. It's campy and fun and a real funny parody of superhero entertainment from decades before such a parody was necessary. Now, Rian Hughes and Y.Y. Flurch have combined for the book Batman: Facts and Stats from the Classic TV Show.
The book has facts about the TV show. They are very basic facts. If you have any familiarity with the show, the book likely won't inform you much. If you own the TV show on DVD, or have seen it at all recently, there is not much to be gleaned from the book. It's not a book designed to inform except in the most simplistic of senses. I did not learn anything new from the book, except maybe a few number facts, and I found one (minor) fact that was wrong. However, I also love the Adam West Batman, as previously established.
So does the book have anything to offer? Yes. Quite a bit, actually. The book is very pretty. Much like the show, it's incredibly colorful and cool to look at. Also, it's jam packed with images from the show. There are tons of stills jammed into what is a fairly slim book. Every major character, and even some minor villains, are featured. The selection of photos is good, too. There are a lot of funny ones. That's another thing the book has going for it. It's pretty funny. It's not as funny as the show, and a lot of the humor is piggybacking off the show's humor, but you'll get a few smiles out of it. It's written in the tone of the show. This includes aping the style of the show's narration, but the writer is clearly in tune to the spirit of the show. There is a quote from The Big Lebowski and the phrase "cunning linguist" is used.
Batman: Facts and Stats from the Classic TV Show is a coffee table book, if I understand what a coffee table book is. It's got a lot of purdy pictures and it's a fun, if slight, read. You pick it up and flip through it when you have a couple minutes, and you'll likely enjoy it, if you like Batman at all. So if you aren't overly serious about the Caped Crusader, this is a book you might want to pick up, if you favor style over substance. What style, though!