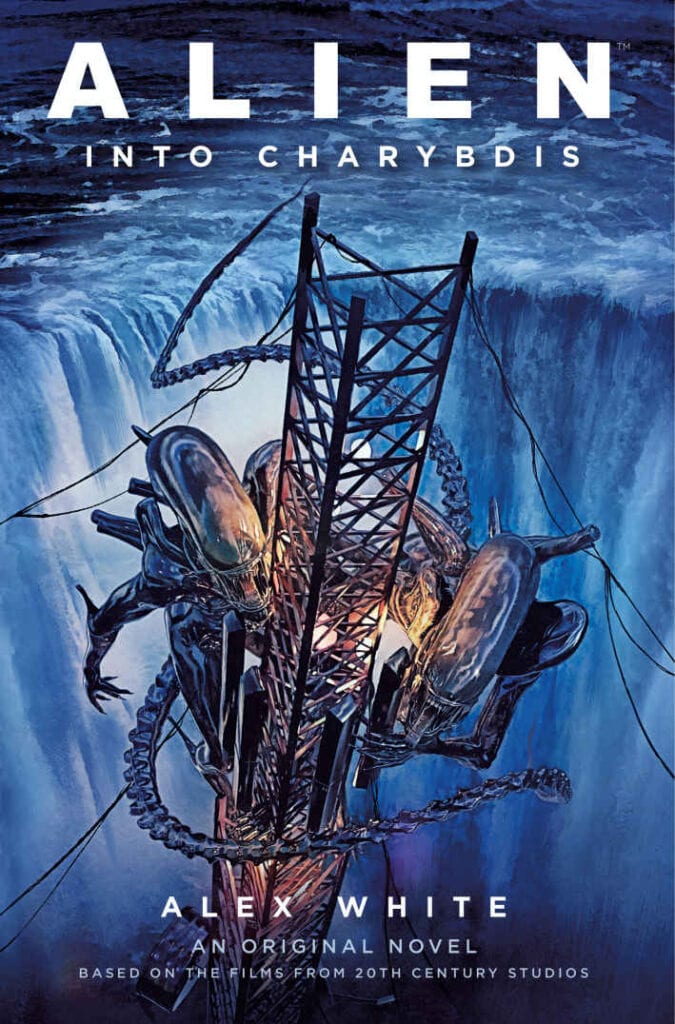 There's a tendency in the Alien universe for humans to try to tame/control the chitinous ebony extraterrestrial monsters, and it never works out well for Team Terran. Alex White's Alien: The Cold Forge started in this direction but made some memorable deviations. His latest book — Alien: Into Charybdis — takes this idea to a new high with techniques for polished containment, capture, and extraction of the bugs, and brings forward elements of Cold Forge to make for a few really interesting twists along the way.
Things start out as a crew of American contractors are en route to a data storehouse on a remote world under the control of the Iranian government. Political tensions appear almost immediately, but everyone tries to fulfill their parts of the contract and get the work done. When an unexpected ship lands near the settlement, questions and tensions arise quickly — are the Americans spies? Who is on the ship? Where did it come from? Why is it here? Getting those answers proves dangerous in a number of ways, revealing the hidden nature of the settlement itself, and before you know it, aliens are on the loose yet again. What is done about it is where things really get interesting. Saviors turn out to be monsters, and vice versa. There is a definite connection to Cold Forge, but it's not necessary to have read that book first as the key details are explained within Charybdis. If you're inclined to get the back story first, though, Cold Forge is a solid read, though you will come away from it a bit drained — some truly awful things and people appear there. That tradition continues in Charybdis.
Throughout the story, we're given interludes to provide additional context for characters and settings. Characters and subplots are introduced with unexpected outcomes, and while a lot of people meet their demise throughout the story, it's reasonably unpredictable how that all shakes out. That helped keep things fresh until the very end. It's always fun to make predictions who will be alive at the end of an Alien story, and I admit, I was miles off with Charybdis. White also has a flair for being descriptive with death and suffering. It might be a little heavy for some, but I was particularly relieved when he thought better of going into detail regarding what an alien did to a child here.
This is the longest Alien book I've read yet, 542 pages in hardcover. There were several scenes and larger plot elements explained out of order and chapters regularly completely shift perspective, presumably to keep the reader guessing. Sometimes I thought I'd missed something when all I really needed to do was get to the next paragraph. There were a few moments where I thought a little less detail would have sufficed, but that's entirely subjective. There's certainly nothing out of place or that overstayed its welcome. There are also several quotes taken straight from the movie Aliens and put into the mouths of various characters throughout that I appreciated seeing.
The hardcover itself is a nice production. The cover has a reflective print of the title, author, and publisher on the spine. The dust jacket has a layered texture, giving a shine to the aliens and other standout details that helps them pop off the page.
Alien: Into Charybdis is easy to recommend to Alien fans with a strong stomach and some time on their hands to consume its heft. I'll be interested to see whether White produces another story keeping the thread running that started with Cold Forge.