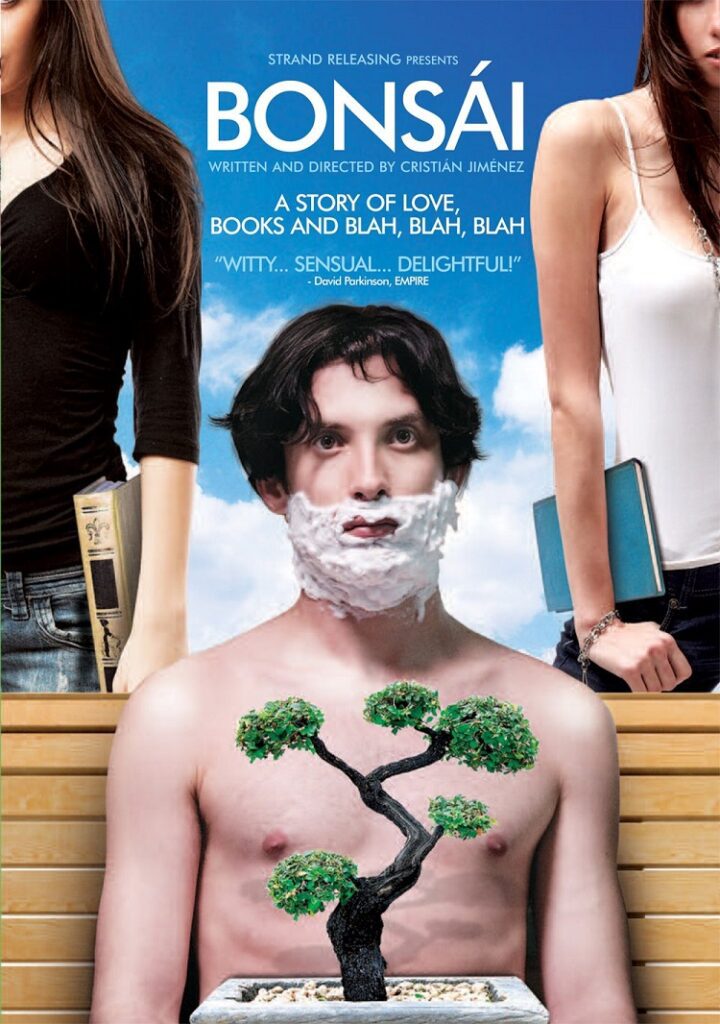 Directed by Cristián Jiménez and based on a novel by Chilean writer Alejandro Zambra, Bonsái is an affectionate film about the passage of time. The movie uses relationships as pivots, but centres on a young writer (Diego Noguera) as time moves over and through him. His existence – and evolution – draws from two points and is defined by the love he shares with two very different women.
Jiménez has crafted a very special picture. It is romantic and comic, but unlike conventional genre pictures it treats its characters with respect. The people of Bonsái are layered without being convoluted, cultured without being pompous, and adoring without being melodramatic. It helps enormously that the performers devotedly inhabit their roles.
Noguera stars as Julio, a young writer finding his way through life. He is the sort of person who, in Jiménez's words, "prefers to let himself be dragged along by events." He is inert, "transfixed" as he is in his mystification. He is also unemployed, so when an eminent author (Hugo Medina) wants him to transcribe his latest work he jumps at the chance. Unfortunately, the job falls through.
Julio is wrapped in a "sort of" relationship with his neighbour, the pretty Blanca (Trinidad González). He doesn't tell her that his job has fallen through and takes to writing his own novel, pretending he's actually doing the work the author asked of him. This intricate operation somehow works and Julio uses the events of a past relationship with the stirring Emilia (Natalia Galgani) as fuel.
Jiménez structures his story sensibly, using chapters to illuminate Julio's life. He jumps back and forth in to periods that are eight years apart, representing the ups and downs through headings that refer to a literary backdrop. The first chapter is named after Proust, the author both Emilia and Julio possibly lied about reading.
Using this construct, Jiménez clarifies how Julio has come to be who he is. The relationships contrast, with the more grown-up relationship between the protagonist and Blanca rear-ending the dreamy college-level honey dripping between Julio and Emilia. The latter bond is dotted with rock concerts and boyish confidence, like how the doting couple reads to each other. When Blanca learns of this incidentally, she denounces the twosome as "stuck-up kids."
At the outset of the picture, much like in Zambra's book, we learn that one character lives and another dies. This means little at inception because we don't know who they are, but as the story develops the admission drifts over the tale of contrast. In knowing that there is an end, the emotional weight and ultimate culmination crash and add colour to Julio's saga.
Bonsái tells us that what lies among the death (and life) of its characters is fiction. This suits Julio's flaccid dance with life and we find our character repelling life's thrust, moving through it without much to show for himself. As eager as his love for Emilia is, his drive is actually exposed in the arms of the real-world, aloof Blanca.
Jiménez's Bonsái is wisely nurtured and pared, much like the titular shrub. The performances are cunning and the cinematography is magnificent, illustrating slight details and touches of desktops, teacups and rich soil. The film is respectful of its audience, providing more than visual extravagance with its intelligence and wit.
In the end, Bonsái is a warmly satisfying motion picture. Jiménez is a gifted filmmaker and his project is a prudently measured and dexterously human (and humane) film, one surprisingly low on the "blah, blah, blah."