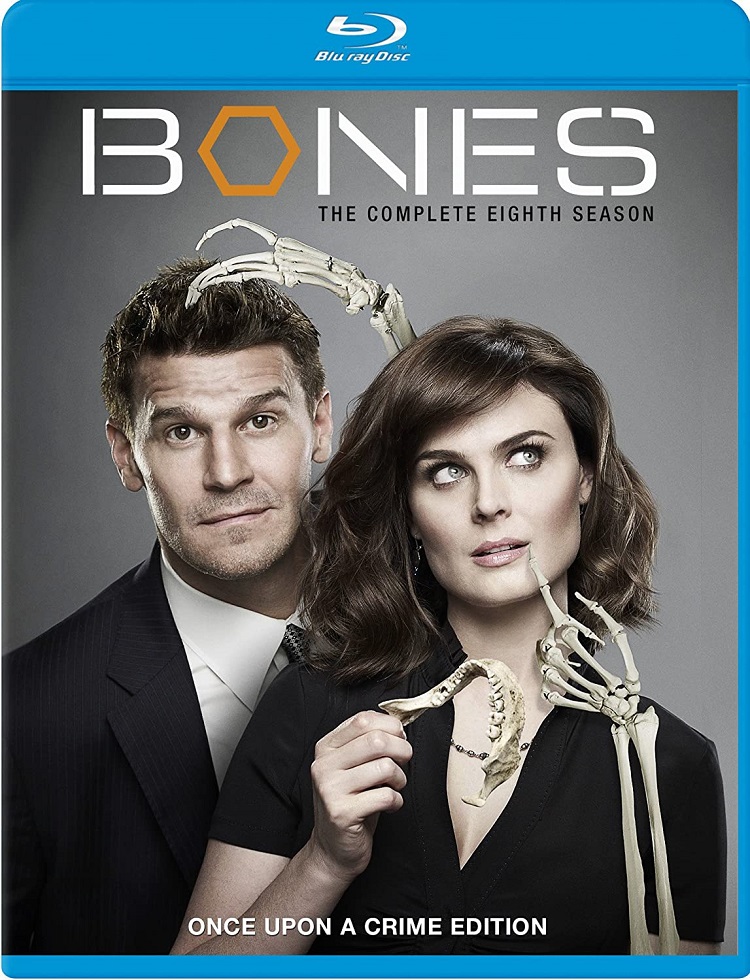 Bones is the TV equivalent of comfort food. You know what you're getting, you know you won't be challenged in any way, and you're ok with it because, hey, it makes you feel good. In this eighth season set, the show is generally operating on cruise control, as is the relationship between Brennan (Emily Deschanel) and Booth (David Boreanaz). They have a kid together, they're living together, and there's nary any strife in their harmonious work and personal lives. Yawn.
Brennan is still the smartest "squint" working at the Jeffersonian (basically an elaborate DC crime lab), applying her vast knowledge to solve murders by examining the skeletal remains of victims. Booth is her partner from the FBI, a dumb jock with a devoted heart who provides Brennan with firepower and protection in the field. They're ably assisted by other returning squints at the Jeffersonian, as well as rotating interns who seem to have nothing better to do with their time than wait for their next shot in the rotation.
To inject some small element of danger into the season, the producers bring back a brilliant and devious serial killer named Christopher Pelant who is dead set on causing trouble for our happy couple. Unfortunately, the actor appears to be neither brilliant nor devious, vastly decreasing the impact of his limited appearances. Still, he does bring a certain spark to the season as the Jeffersonian crew is left somewhat on edge wondering when he will strike next.
Although the vast majority of episodes follow the show's well-established formula of self-contained and light-hearted murder investigations, two episodes thankfully break out of the mold with some originality and end up being among the strongest of the show's entire run. In the first, "The Patriot in Purgatory", Brennan puts most of her rotating interns on the case of identifying the remains of a 9/11 victim. It's a real treat to see the usually isolated interns working together, and while the 9/11 angle is overwrought it does bring some serious weight to the episode. In the second, "The Ghost in the Machine", the entire episode is filmed from the perspective of the skull being investigated, which results in a bit too much camera jerkiness but offers a refreshingly unique approach. Frankly, the series needs more of these creative risks, even as it settles into its twilight years.
The Blu-ray image and sound quality are spectacular, suitably highlighting the show's high production qualities. Bonus features are fairly sparse, with just a perfunctory gag reel, one deleted scene, and a featurette where cast members answer viewer questions. Unfortunately, a couple of fan-made videos are also included, the apparent winners of an ultimate fan contest that are both terrible. The season is spread across five discs and housed in a standard-sized case.