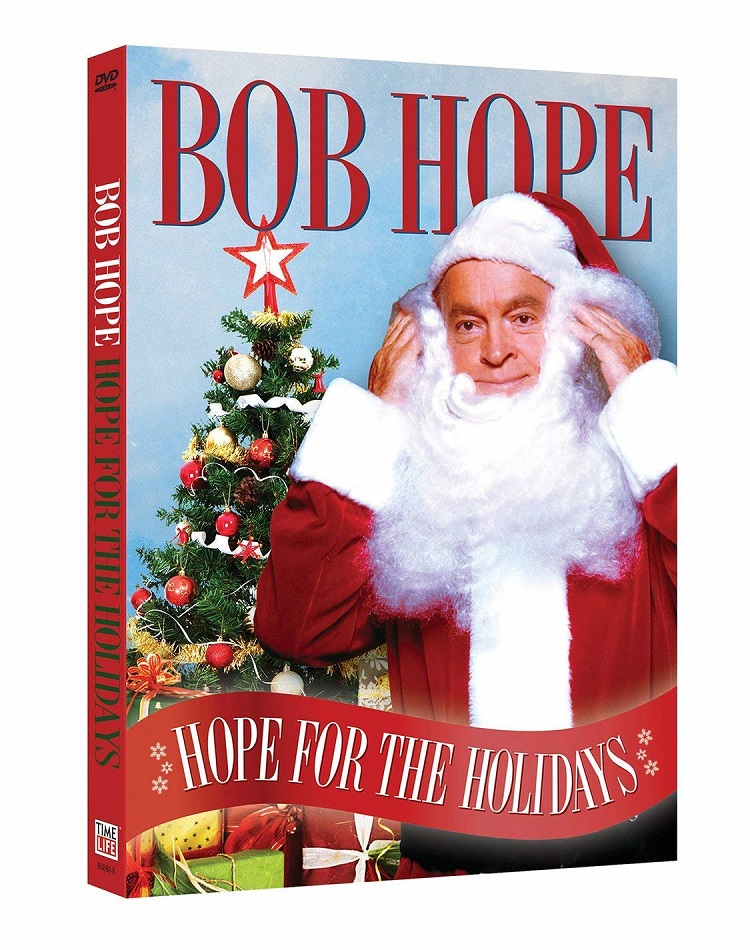 As the DVD menu reveals, Hope for the Holidays is actually the fourth disc from the 11-DVD set titled Thanks for the Memories: The Bob Hope Specials, which is not to be confused with the previously reviewed 6-DVD set of the same name. This single disc presents two Xmas specials: Bob Hope's Bag Full of Christmas, which first aired on December 15, 1993, and The Comedy Hour, which first aired on December 15, 1950.
Using an Xmas party at Bob and Dolores' home as a framing device, Bob Hope's Bag Full of Christmas is a compilation special presenting old sketches and monologue montages alongside new material. An odd assortment of people attend the party, from Bob's kids and grandkids, to celebrities such as Loni Anderson, football player Lynn Swann and his wife, and Joey Lawrence.
The sketches find Bob paired up with the likes of Red Skelton, Redd Foxx, Jack Benny, Phil Silvers, Lucille Ball, and Bing Crosby. The jokes are corny, but the scenes are funnier when the actors flub or ad-lib. Over the years, Bob frequently performed for U.S. troops during the holidays, which is shown during another montage.
There a couple of musical interludes back at the house starting with the Judds performing "Beautiful Star of Bethlehem." Bob and Dolores sing "Silver Bells," written for Bob's The Lemon-Drop Kid, and the videotransitions into a montage showing the times he sang it previously on his specials with different female guest stars.
The Comedy Hour is Hope's first Christmas television special. It's not a star-studded affair, but that doesn't make it any less entertaining and it's an interesting snapshot of what audiences were watching in the early days of television. The all-male Choir of the Cathedral Church of St. John the Divine sings "O Come All Ye Faithful" and "It Came Upon the Midnight Clear." Opera singer Lily Pons performs a scene from Lakme, Robert Maxwell plays the harp, and Betty Bruce tap dances Actor Robert Cummings joins Bob in a funny sketch about men on the subway who work as Santas. New York Mayor Vincent Impelliterri greets Bob with a Christmas message and wish for peace and the show ends with Eleanor Roosevelt reciting George Washington's 1776 speech to the country.
The quality of the picture certainly shows its age. There are white and black marks throughout, with black vertical lines running through the frame during the Santa subway bit. The grain is very noticeable, and the brightness fluctuates within the frame. It's in rough shape but allowances should be made because TV programs this old are rare.
Hope for the Holidays should be enjoyed by fans of Hope and the era as well as those curious about both. It presents two pop-culture relics from a bygone era that are worth seeing.