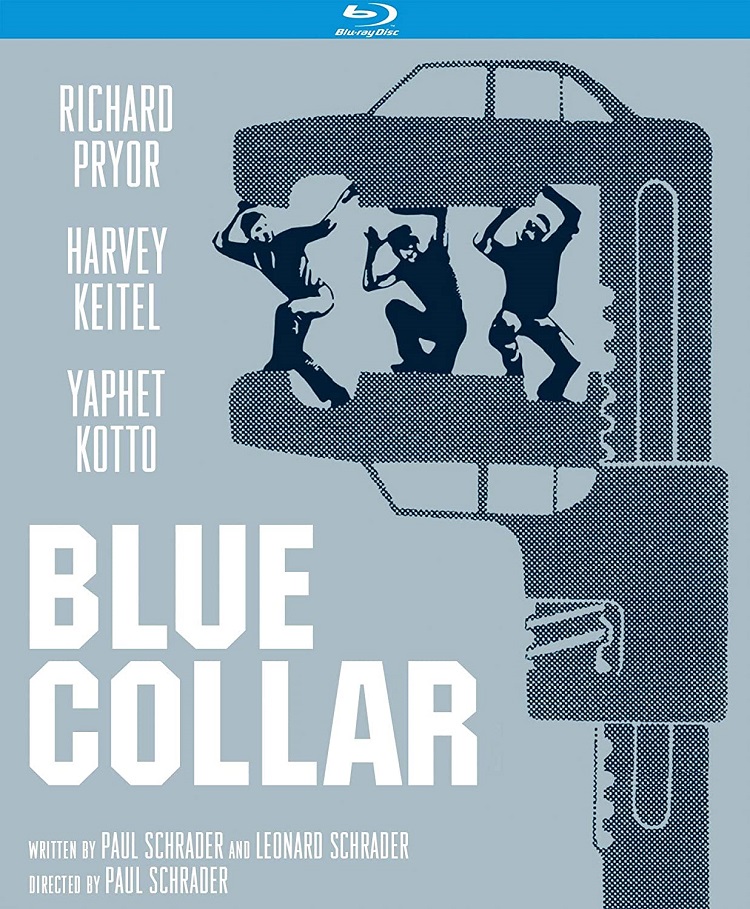 After finding great success as a screenwriter on such movies as The Yakuza (directed by Sydney Pollack), Taxi Driver (Martin Scorsese) and Obsession (Brian De Palma), Paul Schrader had the clout to demand the ability to direct his own scripts. His first film as director was Blue Collar, a down and dirty drama about three guys working on an assembly line at an auto plant who decide to rob their own union and find themselves over their heads. It is a realistic portrayal of the lower middle class and how big business and big unions can grind a person down until there is nothing left.
The three guys are Zeke (Richard Pryor), Jerry (Harvey Keitel), and Smokey (Yaphet Kotto). Zeke and Jerry are family men, trying to do right by their wives and kids but struggling to stay afloat. Zeke is single and likes to party. He's been in prison before and knows the score, but he too is caught in the machine, playing an unwinnable game.
For the first act of the film, we see these three men working hard on the job while the floor supervisor constantly gives them crap. After work, they stop by the bar for a few beers to relax and then go home to find the bills piling up, the taxman banging at the door, and one of their girls has wrapped paper clips around her teeth to fool her classmates into believing she got the braces she desperately needs. The union, which is supposed to be helping them, doesn't do a damn thing. It is a desperate situation of which there seems to be no escape.
While Zeke is visiting the main union guy, he notices a big vault with hardly any security attached to it. This gives him the idea that the three of them can rob the place, giving them each a nice little stack of cash, and if not an actual new life, then at least room to breathe. But when they enter the vault, all they find are papers. The safe has a few hundred bucks but nothing like the thousands of dollars they were expecting. Later, Zeke begins reading the notebook he took out of the safe and finds notes that detail the illegal loans the union has been making.
The three of them must decide whether to give it back, take it to the newspapers and expose the corruption, or use it as blackmail. They quickly find themselves in way over their heads, entangled in a nasty web that involves the FBI, a mob enforcer, and a union ready to commit murder to keep the status quo. The pressure, the constant squeezing from all sides, breaks apart what was a wonderful friendship between the three.
Schrader adeptly mixes workplace drama, crime caper, 1970s style paranoid thriller, and comedy into a film that I'm surprised isn't talked about more. Kotto and Keitel are terrific but it Pryor who really shines. This was made in 1978 right at the height of his comedic fame so it's quite a surprise to see him so good in what is a very dramatic role. The marketing of the film pushed Pryor's fame as a funny guy which is probably while the film did so poorly at the box office.
Schrader has had a very mixed career as a director but films like Blue Collar go a long way to showing what an insightful writer and wonderful director he could be. In the audio commentary included on this disk, he notes that he wasn't trying to make a political film, but rather wanted to tell a story about working-class guys robbing the union that was supposed to be helping them. One can't help but think Schrader is being a little sarcastic as this is one of the more radical films of the '70s. It cuts to the heart of the corruption of both big business and big union.
Kino Lorber presents Blue Collar with a 1080p transfer and a 1.85:1 aspect ratio. Extras include audio commentary from Paul Schrader and journalist Maitland McDonagh and several trailers for other Kino Lorber releases.