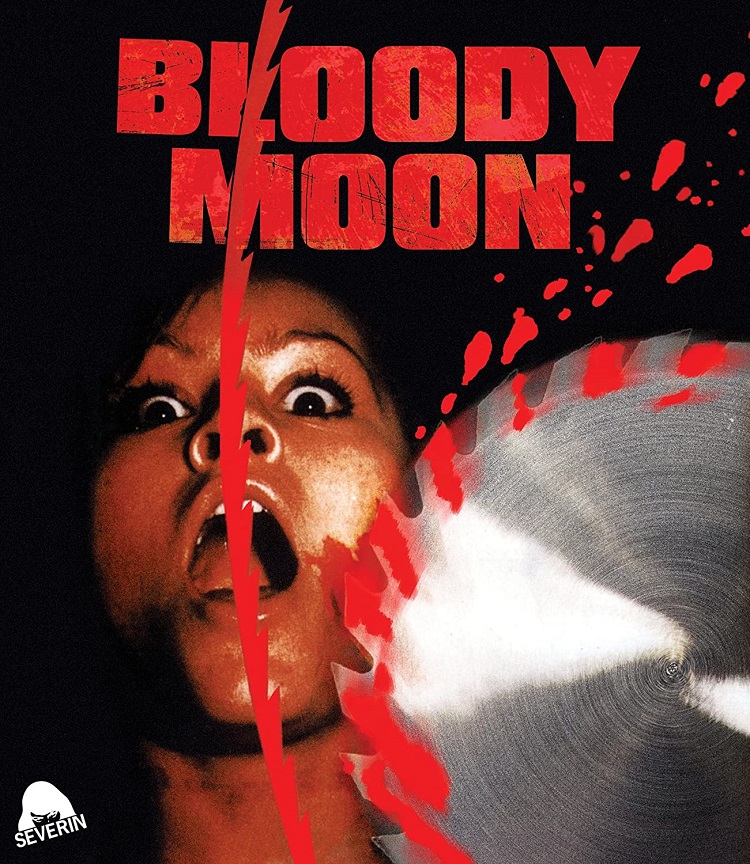 Several years ago, back when I first started writing for the now defunct dvdinmypants.com, a Severin Films release landed on my doorstep one day that I was literally only able to repeatedly refer to as "heinous." The film in question was Jess Franco's Bloody Moon – a 1981 German slasher flick wherein the late Spanish director was cunningly (or perhaps "conningly") lured in by some rather shady producers who promised him the dark side of the moon – or rather, the men behind the The Dark Side of the Moon themselves, Pink Floyd, as the composers of the finished work. The fact of the matter was, naturally, that they had no current open lines of communication with the famous British group – nor any intention of establishing such.
After flat-out being lied to, Franco's trust in the backers behind Bloody Moon dwindled that much further after the film made its premiere – usually butchered or altered in one form or another, depending on which country it wound up being released in. Of course, as a director who himself made multiple versions of movies – sometimes splicing in hardcore sex scenes with obvious body doubles to already-sleazy Euro-made thrillers just to make a title more marketable in certain regions – I don't think Uncle Jess could have been too terribly surprised. On the flipside of the coin, any first-time viewer of Bloody Moon will no doubt be very surprised over how wacky and bizarre this killer-on-the-rampage giallo/slasher hybrid ditty truly is.
The story here centers (well, kind of) on a disfigured man named Miguel (Alexander Waechter) who starts his dirty deeds in the very beginning of the film, immediately dropping any possible suspense of our guessing who the murderer may be. After a stay in a funny farm, Miguel goes to stay with his sister Manuela (Nadja Gerganoff), whom he once had an incestuous affair with, which we attribute as being part of his present unbalanced state (you think?). But it's time for Miguel to move on, obviously, and he instantly starts stalking a young lady named Angela (Olivia Pascal), whose friends soon start to die in various, gory (and often whilst nude!) ways. A jaw-dropping slow-motion beheading by a lumber mill saw is just one of the unbelievable highlights in this outrageously dubbed affair that was appropriately entitled Die Säge des Todes (The Saw of Death!) in its semi-native Germany.
Presented in a new High-Def transfer, Severin's Blu-ray of Bloody Moon is a rather beautiful-looking transfer, which is perhaps even more shocking than the subject matter itself. Several of the bloodier scenes were culled from other sources (like I said, the movie was butchered and altered several times over) and, while those instances are noticeable, they ultimately add to the heinous grindhouse-ish fun. A decent DTS-HD MA Mono 2.0 soundtrack (enter the outrageous English dubbing) suffices admirably, delivering the terribly-delivered strange dialogue and godawful synthesizer score by somebody other than Pink Floyd. The same brief interview with the late director from the original Severin DVD (produced while both Franco and his longtime partner, Lina Romay were still alive and kicking) is included here, as is a trailer for the film.
Keeping things in a relatively bloody manner, we now move onto another slasher film from 1981, the American-made killer kiddies title, Bloody Birthday. Produced with what looks like could have been the same size budget as the previous cheapo affair, Bloody Birthday is a much-better (in my opinion) film, as it not only has a slightly better sense of suspense – though we know darn full-well who the killers are right off the bat in this one, too – but is one of the few films in history to feature child actors who don't annoy the piss out of you. Not only that, but it's your only chance to see Downtown Julie Brown get fully nekkid (thank you, God) as well as the sight of Jose Ferrer and Susan Strasberg degrade themselves sufficiently for the sake of a quick paycheck. (The former I can understand, but the daughter of Lee Strasberg?!)
The brainchild of writer/director Ed Hunt (who also brought us the mind-numbing Canadian sci-fi embarrassment fest, Starship Invasions), Bloody Birthday begins with Mr. Ferrer popping up for his first of two cameos just long enough to inform viewers that three children from different households were all born in the same hospital at the same time during a solar eclipse. Ten years later, the three kids – as played by Elizabeth Hoy, Billy Jayne, and Andy Freeman – just sort of decide it's time to go on a killing spree, starting out a couple making out in the cemetery and then Hoy's own onscreen father, who happens to be the local sheriff (Bert Kramer), who you think might be our main investigator prior to his own daughter planning his demise.
Instead, the honor of "Halloween Babysitter-Type Character" goes to actress Lori Lethin, who manages to get into one slasher movie predicament after another along with her little onscreen brother (K.C. Martel, Eddie on Growing Pains). While the premise and – more specifically, the characters – are considerably dumb here, the final outcome of Hunt's oddity is a rewarding (and somewhat creepy) one. Boasting a decent (but not overly terrific) A/V transfer, Bloody Birthday gets a Blu-ray debut with the same special features from the 2011 Severin DVD, including an audio interview with Ed Hunt, on-screen interview with Lori Lethin, a featurette about slasher movies (also included on Severin's 2011 DVD of Nightmares), and two promotional trailers culled from low-resolution sources.
Now, while Bloody Birthday is arguably a better film than Bloody Moon (though they're both fun), the final entry in this grisly trio – 1973's The Baby most assuredly takes the cake as the most bizarre (and bizarrely fulfilling) title out of the lot. Of course, describing The Baby in mere words is not an easy task, especially if one has no intention of revealing any major spoilers or utilizing the oft-tired phrase "mindfuck" in the process. Further frustration arises when one attempts to convey the fact that The Babyis, in fact, one of the few unforgettable horror films to somehow earn a PG rating by the MPAA – the members of which were undoubtedly asleep at the wheel or high.
But then, perhaps when the MPAA was examining Ted (Beneath the Planet of the Apes) Post's now somewhat revered (but still nowhere near as well-known as it should be) cult classic over forty-years ago, they were keeping an eye out for more red flag-worthy materials such as nudity, sex, and/or gore. Surprisingly, The Baby features nary a one of those aspects, delivering its thrills in the much-harder-to-do psychological manner, and keeping any of the aforementioned crowd pleasers in the back of your mind. And so, uncertain as to what the heck we're really watching throughout, The Baby relays the story of a social worker (television actress Anjanette Comer) who takes on an unusual case.
Mrs. Wadsworth (Strangers on a Train's Ruth Roman) is the domineering mother of "Baby", a nameless 21-year-old man (David Mooney, aka David Manzy) who has never surpassed the mental of an infant, and who is thus treated like a baby. However, if Baby somehow steps out of line, a cattle prod is on standby, and his sadistic older sister Alba (Susanne Zenor) is ready to use it. A delightfully deranged-looking Marianna Hill (a graduate of Lee Strasberg's acting studio, incidentally) is the eldest offspring of the sinister Roman, and cult fave Michael Pataki appears in one scene as a whacked-out sleazebag (his usual role). Once again, Severin re-releases a 2011 title in a decent (though not exceptional) A/V transfer, with lengthy audio interviews with director Post (who died in 2013) and co-star David Mooney (Manzy) and the movie's original theatrical trailer (which gives away far too much of the movie in an attempt to sell it as something it's not) accompanying.
Wrapping things up, Severin Films has done a nice job of upgrading these sleazy gems from the horror subgenre(s), and I personally believe the Blu-rays are worth purchasing again should you have already picked up the SD-DVD versions. I can only hope Blu-ray upgrades of some other Severin titles, such as In the Folds of the Flesh or the now out of print The Psychic will find their way to shelves soon.