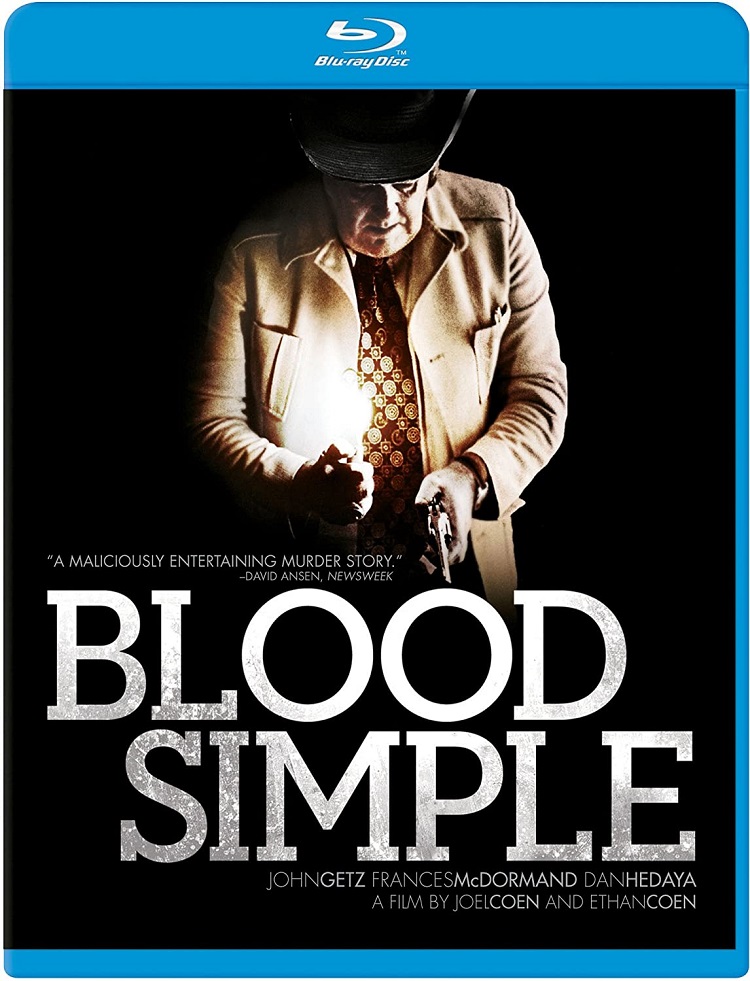 After a brief introduction (HD, 1 min) from Mortimer Young of Forever Young Films, where he explains the film has been "digitally enhanced and tastefully restored" and even had the boring parts taken out (this Director's Cut of the film has three minutes cut from the theatrical release), Blood Simple gets right into familiar noir territory. Bartender Ray (John Gatz) has run off to spend the night in a local hotel with the wife (Frances McDormand in her feature debut) of his boss, Marty (Dan Hedaya). Marty knew she was up to something and had them tracked by a P. I. Loren Visser (M. Emmett Walsh), who provides photographic evidence, which was more than Marty wanted. Marty pays Visser $10,000 to kill the twosome. This sets off a well-plotted series of events as characters knowingly and unknowingly turn the tables on one other.
The Coen Brothers along with first-time feature-film director of photography Barry Sonnenfeld, who would also work with them on Raising Arizona and Miller's Crossing engage the viewers throughout with the choices and execution in their camerawork. Carter Burwell, who makes his own debut alongside the Coen Brothers and will go onto the score all of their at the time this review is published, uses synthesizers in the score that places the film as having been made in the '80s.
The video has been given a 1080p / MPEG-4 AVC encoded transfer displayed at an aspect ratio of 1.85:1. Colors are bright and blacks are well rendered, though occasional instances of crush appear. Grain can be thick. Frequently, the focus is soft, causing objects to lose their clarity, but then in other frames, objects and textures can look sharp. The audio comes in DTS-HD Master Audio 2.0 and delivers the soundtrack adequately. Dialogue is clear and is mixed well with music. The LFE has little involvement in the proceedings.
Aside from the Mortimer Young, the other special feature is an audio commentary by Forever Young Films artistic director Kenneth Loring (Jim Piddock reading material written by the Coen Brothers). It's a brilliant spoof on the solemnity and seriousness some commentators deliver. His statements are so amusingly ridiculous at times even someone who didn't care for Blood Simple should enjoy it.
Considering the careers launched by the Coen Brothers' own debut Blood Simple, it deserves better treatment than this rush-to-market Blu-ray that MGM has invested so little in. Yet even their greed-driven haste and lack of awareness about the film's significance in the medium's history doesn't diminish the pleasure derived from watching this low-budget, modern-day film noir.
The Criterion Collection gave the film that better treatment.