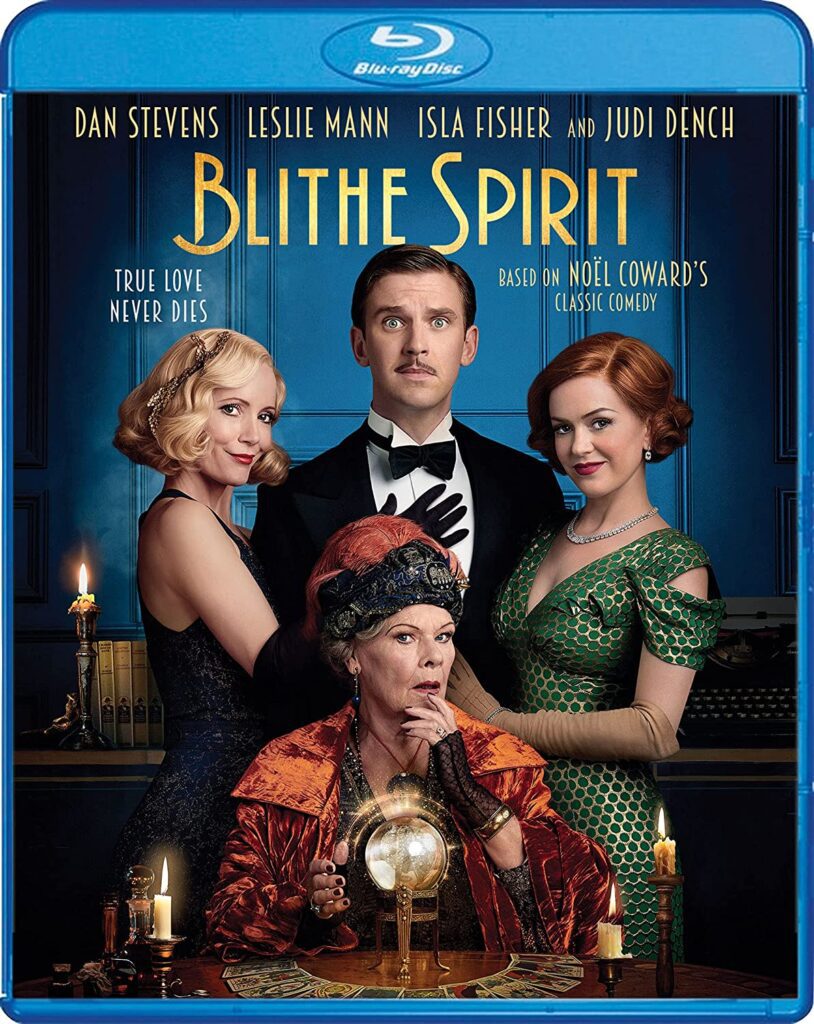 Noel Coward's play has been adapted for the screen multiple times dating back to 1945, but it's been long enough since any recent attempt that someone had to make another run at it. While the cast is strong, the conventional direction by Edward Hall is uninspired, making this a fairly unspirited take on the Coward classic.
Dan Stevens stars as an untalented novelist named Charles who rose to fame and fortune thanks to the secret contributions of his now deceased wife, Elvira (Leslie Mann). That's pronounced El-vee-ra, not like the Mistress of the Dark. He's happily remarried to a charming new wife named Ruth (Isla Fisher) who wants him to leave London to pursue a career as a Hollywood screenwriter, but he's suffering from writer's block since he no longer has Elvira's valuable input. When Charles and Ruth encounter an eccentric mystic named Madame Acarti (Judi Dench) and get her to perform a séance in the hopes of inspiring his writing, they get more than they bargained for when Elvira's spirit returns to comedically haunt them.
The film is anchored by standout performances by Mann and Fisher, delightfully employing their understated comedic chops as they fight over their man. Dench's role is little more than a glorified cameo, so she doesn't make much impact. Unfortunately, Stevens veers too far into slapstick, getting bug-eyed and over-animated as he tries to appease his dead and living wives. Just look at his expression on the cover, it tells you all you need to know about how he plays this role. The film would have been stronger if he played the role a bit more dramatic, as it's hard to care about his fate here when he's over-exaggerating his actions. The film really just isn't very funny thanks to Hall's bland direction, so while Stevens seems to have shown up for a broad comedy, his director and castmates put in more grounded efforts. It also doesn't help that the main exterior set in this circa-1940s story looks more like the sleek, modern hillside mansion from the helicopter shootout in the first Lethal Weapon than a proper English country estate.
The Blu-ray is presented in 2.39:1 aspect ratio with DTS-HD 5.1 Master Audio. There's really no reason for the epic ultra-wide aspect ratio for what is at its core a stage play, but the infrequent charming English countryside exteriors are pretty enough to help fill some of the space. The only bonus feature is a perfunctory making-of featurette including interviews with Dench and Stevens. Since the film doesn't have the backing of any major U.S. studio, there's no digital copy, and there's also not a DVD, just a Blu-ray disc.
The film seems to have just appeared on our shores without any substantial theatrical release, apparently another victim of COVID based on its 2020 copyright date. In more traditional times, it likely would have enjoyed a modest theatrical art house run before its bow on home video, but at least it hasn't skipped us completely, even though the major streamers reportedly passed on it. While the direction is about as by the numbers as possible, and Stevens hams it up too much, it's a pleasant enough diversion watching Mann and Fisher get strong roles and make the most of them.