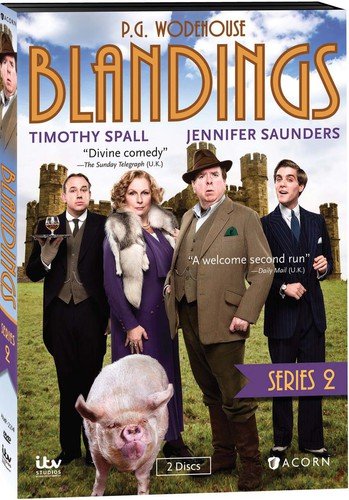 I can't remember when I first heard of P.G. Wodehouse.  He seems to just always exist in my memory.  I do remember the first time I read one of his books – I wasn't particularly impressed.  His writing was good and there were lots of funny parts, but nothing very much really happened.  The plot was as light as a puff pastry just out of the oven.  This threw me at first, but after reading a couple more I learned to just let go and enjoy the wonderfulness of his prose.
The thing to me about Wodehouse is that he's not usually laugh-out loud funny.  When I read somebody like David Sedaris, I bust a gut laughing. I have to periodically stop and wipe my eyes from the tears of joy. I have to guard myself while reading in public as to not freak everybody out.  You get the picture.  Wodehouse isn't like that.  Sure, a few times I'll titter with audible mirth, but mostly I can read and leave everybody in peace.  That's not to say that he's not funny, but that his humor is ingrained into his prose coming out of the characters reactions to ridiculous situations.  I don't necessarily laugh at his humor but I completely enjoy every sentence.
I've now read a good dozen of his books and loved everyone.  I'm also a huge fan of the Stephen Fry and Hugh Laurie take on his Jeeves stories.  When I heard they had made a television adaptation of his Blandings stories, I was very excited. I remain so even if our own Kent Conrad gave the first season a fairly tepid review.
I imagine it is difficult to give the beauty of Wodehouse's prose its due on the small screen (and I'm a little concerned that the review notes a fair amount of potty humor tarnishing his stories) but I'm certainly wiling to give Blanding a try.  Here's hoping my making Blandings, Series 2 the Pick of the Week is not regretted later on.
Also out this week that looks interesting:
The Walking Dead: Season 4:  Who would have though a graphically violent zombie show would be such a hit?  I always find it strange that my friends who normally complain about how degenerate television has become love this show.  I've still not made it through the second season, but I keep thinking I want to.
Sons of Anarchy: Season 6:  I'm only two episodes into this one but now that I've got Netflix back I'll probably speed through it soon.
Love Punch:  Pierce Brosnan and Emma Thompson star in this romantic caper flick about a man and his ex-wife trying to track down some corporate thieves.
Welcome Back, Kotter: The Complete Series:  I loved this show as a kid and would sit and watch the reruns every afternoon.  I haven't seen it since then and I expect it doesn't hold up well, but this is a nice set.
Double:  Jesse Eisenberg stars in this drama about a timid young man whose life is being taken over by a confident, charismatic man who just took a job in the same company.  Being directed by Richard Ayoade (better known as Moss in the IT Crowd) makes it extra interesting to me.
Masterpiece: Breathless:  A new medical drama set in London in the 1960s.  Period pieces are all the rage, and I'm all on board.  Especially with Masterpiece involved.
Queen Margot:  My wife says this French drama about the young queen trapped in an arranged marriage amidst a religion war is "disturbing."  That's enough to make me interested.
All That Jazz (Criterion Collection):  Bob Fosse's critically acclaimed musical has never seemed all that interesting to me.  But Criterion just might make me give it a shot.