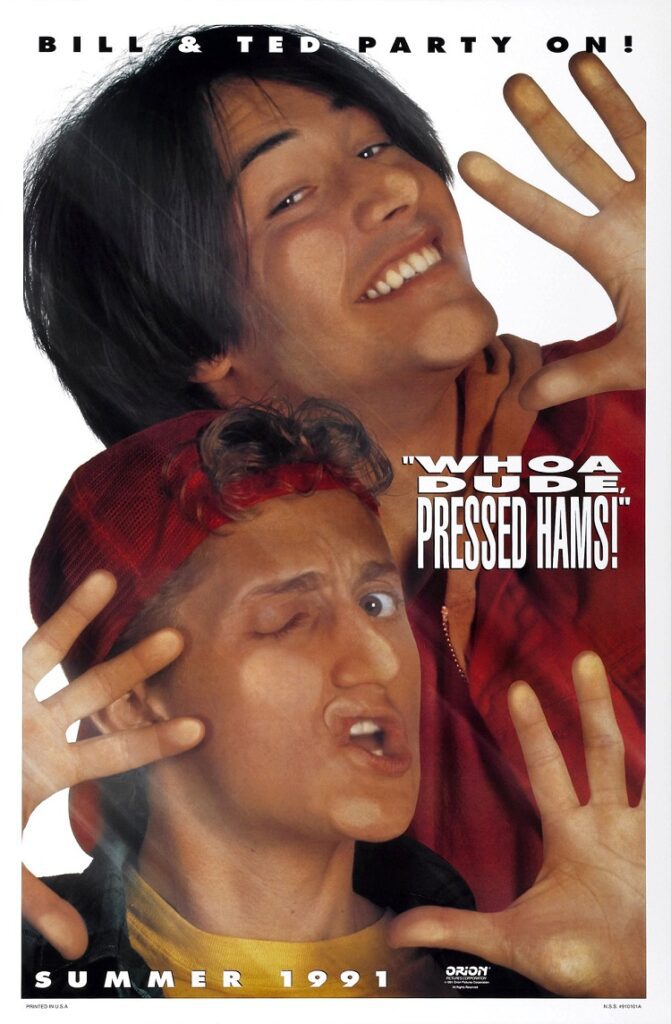 The 26th Century utopia based on the music of Wyld Stallyns is threatened when Rufus's (George Carlin) former teacher, the villainous De Nomolos (Joss Ackland), sends look-alike robots back to the past to kill Bill (Alex Winter) and Ted (Keanu Reeves) after the events of their Excellent Adventure, and alter the future.
Rather than simply repeating the story from the original film, returning screenwriters Chris Matheson and Ed Solomon offer audiences something different with this sequel. Instead of more time-traveling silliness, Bill and Ted have a metaphysical adventure as the robots are successful in killing them early on. The robots disrupt our heroes' lives while their souls are left to try and save the day with help from Death (William Sadler), whom they initially escape by giving him a "melvin" and defeating him at a game in a nod to Bergman's The Seventh Seal. And because that's not weird enough, there are martians.
After unsuccessfully trying to communicate with Ted's dad (Hal Landon Jr. in a hysterical scene where he acts and speaks like Ted), Missy (Amy Stock-Poynton), who is now Bill's ex-step mom and Ted's current step mom, sends them to Hell during a séance. Getting equal time, they also go to Heaven, before returning to San Dimas to battle their counterparts and other bands. (Keep an eye out for a quick cameo by Primus.) How the timeline proceeds is very funny and plays out during the closing credits.
Previously available from Shout Factory in Bill & Ted's Most Excellent Collection, the sequel Bill & Ted's Bogus Journey is now a stand-alone release in a limited edition steelbook.
The video has a 1080p/MPEG-4 AVC encoded transfer are displayed at an aspect ratio of 1.85:1. The colors are strong, from natural hues to bright day-go neon costumes of the future that pop off the screen. Blacks are inky and whites are bright, contributing to a strong contrast. Fine texture details can be seen on objects.
Film grain and occasional dirt are evident. Also evident is the artificialness of some of the CGI effects. The audio is available in DTS-HD MA 5.1. Dialogue is clear. Effects are well placed around the soundscape. David Newman's score also fills the speakers as do the rock sounds on the soundtrack. The track has a good dynamic range, and the bass supports the music and effects well.
Bonus features from 2016 include
Audio Commentary with actor Alex Winter and producer Scott Kroopf
Audio Commentary with writers Chris Matheson and Ed Solomon
"Bill & Ted Go To Hell (HD, 52 min) – Revisiting A Bogus Journey" actors Alex Winter, Keanu Reeves, and William Sadler; producer Scott Kroopf; production designer David L. Snyder; composer David Newman; and others discuss the making of the film.
Theatrical Trailer
Bogus Journey is a delightfully goofy comedy that succeeds in large part because of the two lead performers, who infuse a sweet charm at the core of their dim-witted characters. Fans should be delighted to see the boys back for another adventure, but if one didn't like their first outing, not sure this sequel will be any more appealing. The Shout Factory Blu-ray delivers a pleasing high-def experience that makes this journey worth taking.