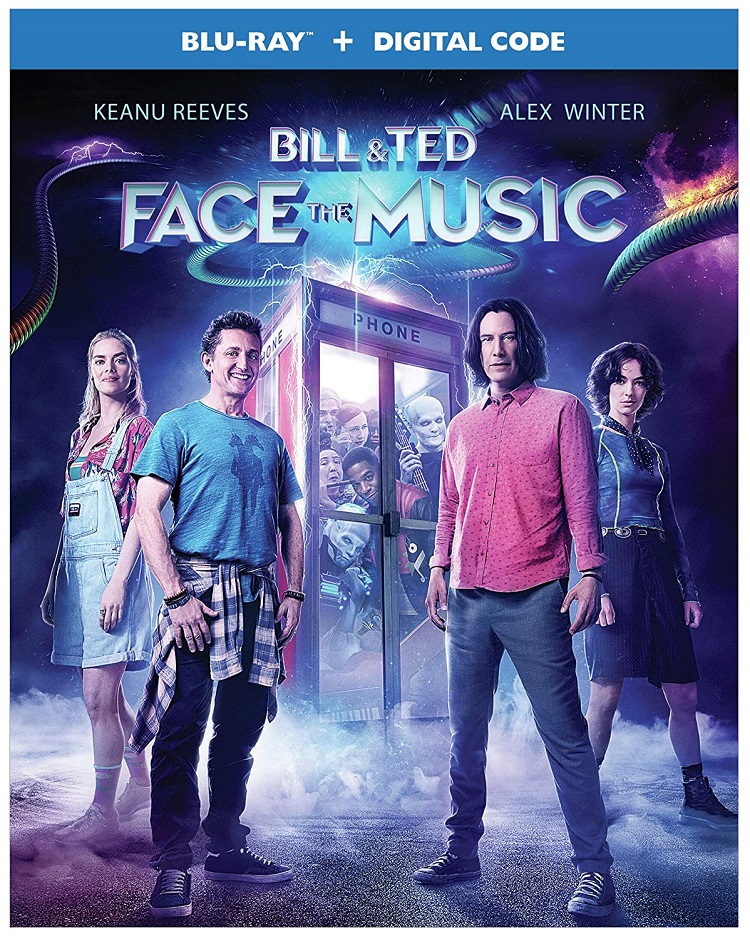 The Bill & Ted film franchise has now become a trilogy with the long awaited Face the Music unleashed 29 years after they took their Bogus Journey. It's a worthy addition because the property and its fans are treated with respect as screenwriters Chris Matheson and Ed Solomon created a story worth telling about the characters and the time we live in.
In the future, the Great Leader (Holland Taylor), Rufus' widow, is concerned because William "Bill" Preston, Esq. (Alex Winter) and Theodore "Ted" Logan (Keanu Reeves) have yet to fulfill the prophecy about writing a song that would unite humanity. That's not a surprise once it's revealed their band Wyld Stallions is no longer the sensation it once was. The men are given a deadline, which if not met will lead to the end of space and time as we know it. (No pressure.)
Unable to come up with the song now, the fellas realize they must have written the song in the future. Rufus' daughter, Kelly (Kristen Schaal), allows them to use her phone booth in order to timehop to their future selves to get the song. However, not only do they come up short each jump, but their future selves are increasingly angry at the state of their lives, blaming present-day Bill and Ted. One instance, leads to the police being called out, led by Ted's brother and father, Officer Deacon (Beck Bennett) and Captain Jonathan (Hal Landon Jr.).
While Bill and Ted are focused on finding the song, their daughters, Theodora "Thea" Preston (Samara Weaving) and Wilhelmina "Billie" Logan (Brigette Lundy-Paine), realize they need to put together a band to play with their dads. In a nod to Excellent Adventure, they get their own phone booth and travel back through time to assemble an impressive collection of musicians, including Kid Cudi (playing himself), who is well versed in time-travel theory.
As the film progresses, the Great Leader loses faith in Bill and Ted. She sends a robot assassin (Anthony Carrigan) to kill them, which she thinks will restore order. Not sure if I missed her explanation, but I don't understand her reasoning at all. How could Bill and Ted uniting humanity behind a song or their deaths lead to the same outcome?
However, what this plan lacks in clarity is more than made up for by the benefits of the robot's inclusion. At first, it ups the stakes of the story as it proves lethal to those who get in its way. The robot causes Bill and Ted to reunite with Death (William Sadler), who they fell out with because of creative decisions within the band, in a funny sequence. Once the robot determines it can't complete its mission, it has a complete personality change. Carrigan becomes a scene-stealer as the robot desperately, and hysterically, tries to fit in for the remainder of the film.
Bill and Ted have a deep bond of friendship, which shines through in the performances of Winter and Reeves. Even as Bill and Ted's lives are shown growing progressively worse and their future selves resent their present-day selves, the two remain tight with each. Granted, this puts a strain on their relationships with their wives, but the families grow stronger as a result of this episode.
This bond extends behind the scenes as well. It is wonderful that the screenwriters were able to expand the universe yet still the characters played by Sadler, Landon Jr., and Amy Stoch, who as Missy has moved on to yet another new husband. In a nice touch that was surely intentional, Rufus' daughter Kelly has the same name as George Carlin's daughter.
While Bill & Ted Face the Music has a lot of laughs, screenwriters Matheson and Solomon, along with director Dean Parisot, do a marvelous job striking the right balance in the film's tone as its themes of kindness and people uniting around a common goal are what resonate, especially nowadays. This delightful film should please fans of the previous films and even though it is the third installment, the story and characters are accessible for new viewers.