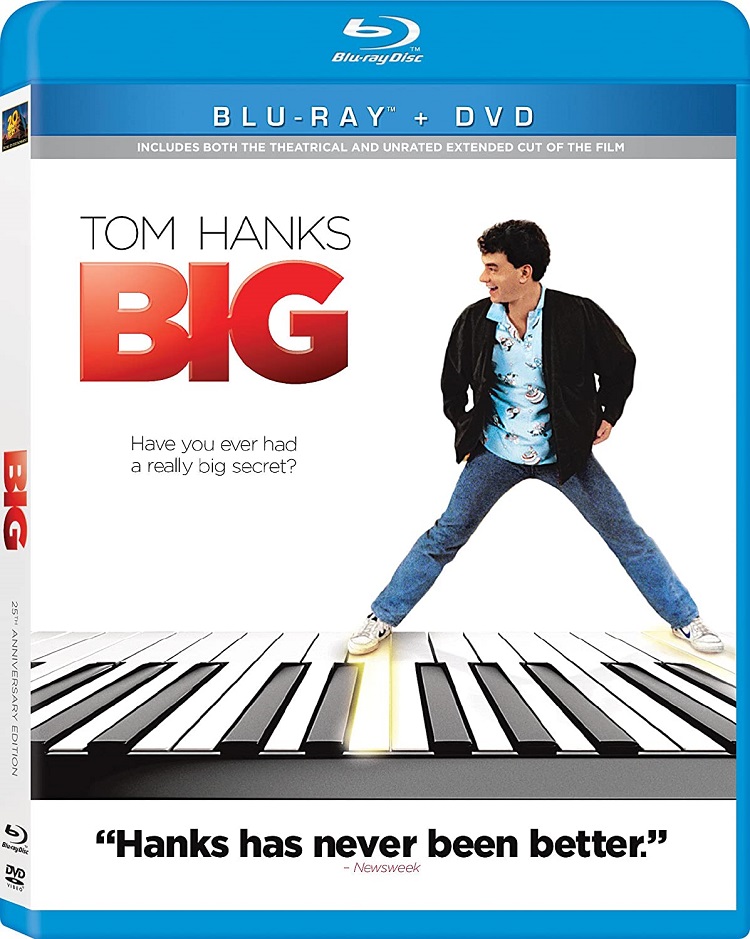 Big is one of those movies that I thoroughly enjoyed when it was released but haven't seen or thought about it since. In celebration of its 25th anniversary, there is a new Blu-ray/DVD combo edition. Being 40 years old now as compared to 15 when it came out, I appreciate a lot more of the story's depth and thoughtfulness rather than just finding it funny and cute.
Twelve-year-old Josh Baskin (David Moscow) is a normal kid who enjoys spending time with his best friend Billy (Jared Rushton) and playing on his computer. While at a carnival with his parents, Josh tries to go on a ride to impress a girl he likes, but after being turned away because he is too short, he makes a wish on a fortune-telling machine to be big.
To his surprise, the next morning Josh wakes up transformed into a 30-year-old man (Tom Hanks). When he returns to the park, he finds the carnival has packed up and left town. With Billy's help, Josh learns that it will take about six weeks to track down the fortune-telling machine. He finds a place to live and with his computer knowledge gets a job at a toy company. As Josh gets more and more absorbed into his adult life, made more complicated by a promotion to toy tester and a budding relationship with co-worker Susan (Elizabeth Perkins), he has to decide if he really wants to be a kid again.
The Blu-ray disc offers many special features including trailers, deleted scenes, an extended version of the film, and the theatrical version along with an audio commentary by writers/co-producers Gary Ross and Anne Spielberg. "Big Beginnings" showcases the writers' creative process and how James L. Brooks became involved as producer. "Chemistry of a Classic" is a behind-the-scenes featurette on the making of the film offering interviews with cast and crew. "The Work of Play" highlights real-life working in the toy business. "Hollywood Backstories: Big" is a documentary from the AMC television series. "Carnival Party Newswrap" covers the premiere of the film. The Combo Pack also comes with a DVD and three "Zoltar Speaks" cards with fortunes on them. It is housed in a slipcase that plays the piano music from the movie.
Big is a splendidly touching film and that holds up to the test of time. Not only does it deliver lighthearted humor but also noteworthy life lessons, such as what is really important in life. Tom Hanks deservedly earned his first Best Actor Oscar nomination for his performance. He is enchanting and believable in letting the spirit of a 12-year-old shine through while struggling with growing up too fast. Perkins holds her own as the serious adult learning to be more like a child. Her transformation is just as impressive, showing that we can all learn from being a child at heart and seeing the world with wonder and delight. Big had me laughing and crying with its perfect blend of fun, intelligence, charm and romance.