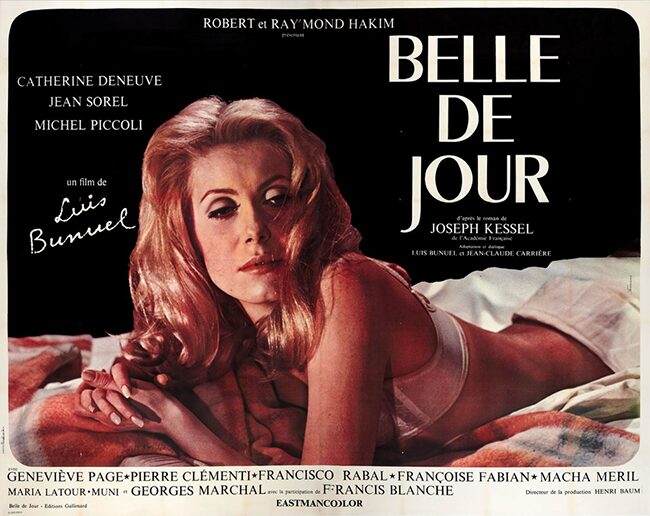 My wife is a Francophile, that is to say she is a great lover of all things French. She learned to speak the language when she was a teenager, has been taking classes in it ever since (she's a dissertation away from earning her PhD in French linguistics.) She's lived in French-speaking Quebec twice, in France for a year, and spent some time in the French-speaking part of Belgium a couple of times. She also collects anything she can find in the language or having to do with the culture. She has a bunch of little Eiffel Towers, replicas of Monets, stacks of books I can't read, accordian-filled music, and lots and lots of French films. Its that last one I really rather enjoy.
I was something of a fim buff before I met my wife and as such had already seen a number of French films, but with her added interest in the type we've collected quite a number of French flicks and do enjoy watching them. As such the name Catherine Deneuve gets me all a-tingle. In case you don't know she is a very successful, award-winning French actress who also happens to be quite delicious. Belle du Jour is but one of the many classic films she has starred in over the years. For reasons I can't quite explain (especially considering we own a copy) I've never seen the film, but this will not stop it from being my pick of the week.
The Criterion Collection has given Belle de Jour the high definition treatment with new subtitles and lots of extras, such as an audio commentary, documentaries, and interviews.
Also out this week of interest:
Ides of March: George Clooney is one of my favorite modern actors but his output as a director has been pretty spotty. Still, I'll watch pretty much anything with him in it and the political drama angle of this one sounds intriguing.
Mysteries of Lisbon: I've never heard of this one this one but its getting comparison to the works (and movies based upon) of Charles Dickens and the ratings appear to be pretty good.
The Color Purple (Blu-ray): A modern classic gets what appears to be a good Blu-ray release.
Project X: I won't begin to argue that this is a great film, but I remember it very fondly from my childhood and I'd love to own a copy.