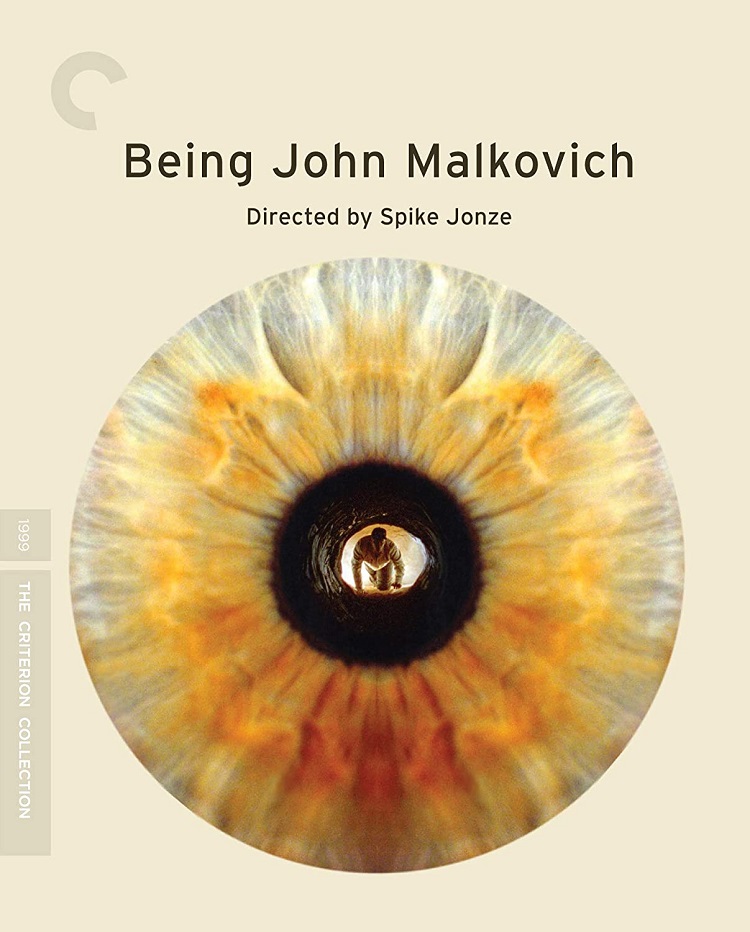 In Being John Malkovich, the brilliant feature-film debut of screenwriter Charlie Kaufman and director Spike Jonze, an unhappily married couple creates a whole new meaning to the idea of finding happiness in someone else.
With his wife Lotte (Cameron Diaz) wanting a baby and his dream of being an artist alluding him because "nobody's looking for a puppeteer in today's wintry economic climate," Craig (John Cusack) Schwartz takes a file clerk job at LesterCorp, which is located on the 7½ floor of the Mertin Flemmer building. There he discovers Maxine (Catherine Keener), who works on the floor. He becomes infatuated with her, but she doesn't find him attractive. More importantly, he discovers a secret door that allows anyone to enter the mind of actor John Malkovich (John Malkovich) for 15 minutes before they are spat out onto the side of the New Jersey turnpike. In order to impress Maxine, Craig shows her the door. They decide to create a business selling the experience of being John Malkovich for $200, which Craig does to be close to Maxine.
Lotte eventually meets Maxine, which leads to Lotte questioning her gender identity because not only does she also find herself attracted to Maxine, but she also feels great when inside of Malkovich. Maxine is smitten with Lotte but the only when Lotte is inside Malkovich. In order to be together, Maxine enters Malkovich's life and they begin to date.
He grows suspicious, especially when she calls him "Lotte" during sex, and follows her to the 7-½ floor. After going through the portal himself, in a hysterical scene that adds to the already-opened "metaphysical can of worms," Malkovich demands they stop. But neither Craig nor Lotte wants to, as it's their only way to be with Maxine. The love quadrangle gets even more complicated when the original plan for the Malkovich portal is revealed and is about to be put to use.
Being John Malkovich succeeds because an unbelievable story is made believable by director Jonze and the extremely talented cast, especially John Malkovich who not only plays a fictional version of himself but variations of that version when inhibited by someone. The screenplay for reveals Charlie Kaufman's tremendous imagination. The plot is refreshingly unpredictable, yet it all makes sense as it leads to its satisfying conclusion. There's humor, drama, a love story, and as Craig says it "raises all sorts of philosophical-type questions, you know… about the nature of self, about the existence of a soul."
According to Jonze's liner notes, the 1080p/MPEG-4 AVC encoded transfer, which is displayed at 1.85:1, was "supervised by director Spike Jonze and cinematographer Lance Acord, this new digital transfer was created in 4K resolution on a DFT SCANITY film scanner from the original 35mm camera negative. The data was then color corrected on a DaVinci Resolve at Company 3, with colorist Stefan Sonnenfeld, who recently cut off his ponytail of twenty years…Thousands of instances of dirt, debris, scratches, splices, and warps were manually removed using MTI's DRS while Image Systems' Phoenix was used for small dirt, grain, jitter, flicker, and noise reduction."
The film's muted color scheme comes through in dull, consistent hues, but blacks can be slight. There is noticeable depth but there are spots of softness that pop up throughout, though some is intentional, such as around the edges of the POV when someone is being John Malkovich.
The liner notes also state, "the 5.1 surround soundtrack was created from the original 6-track magnetic master. Clicks, pops, etc., were removed using Pro Tools HD and then translated into foreign languages and redubbed to our original soundtrack master. Crackle was attenuated using AudioCube's integrated workstation."
The actors can all be clearly heard on this dialogue-heavy track, including when the voices are moving through the channels and effects have been added to create the sense of being John Malkovich. There are mild ambient effects heard in the surrounds, such as when Malkovich and Maxine first meet for dinner at a restaurant.
The disc is loaded special features. Spike Jonze's friend, director Michel Gondry delivers a "Selected-scene Commentary" (58 min), which is a misnomer as "scene commentary" indicates someone talking about the scene on screen. What may have seemed like a great idea is an excruciating experience as Gondry rambles on about different subjects, occasionally referring to the film. He calls Jonze roughly halfway through. On the previous Criterion DVD release, it was throughout the whole film, and it's easy to figure out why it was edited down.
"All Noncombatants Please Clear the Set"(1080i, 33 min) is a behind-the-scenes look shot by Lance Bangs. Shot for the Blu-ray, "John Malkovich and John Hodgman"(HD, 28 min) offers an engaging and informative analysis of the film by the two Johns as they discuss the ideas the film explores. Jonze talks about the creation of the film while showing "Spike's Photos" (HD, 15 min). The video material the characters watch is available: "7 1/2 Floor Orientation" (1080i, 2 min) and "American Arts & Culture Presents John Horatio Malkovich: "Dance of Despair and Disillusionment" (1080i, 4 min). "An Intimate Portrait of the Art of Puppeteering (1080i, 7 min) offers a serious look at puppetry with Phil Huber. The film's marketing can be seen in four one-minute TV Spots (1080i): JM Inc., Tunnel, Spithead, and Vesselis Humanus. There is also a trailer (HD, 2 min) and a booklet that includes abizarre conversation between Jonze and pop culture critic Perkus Tooth.
While "the idea of becoming someone else for a little while. Being inside another skin – thinking differently, moving differently, feeling differently" is what motivated Craig and Lotte and what motivates many others in real life, it's a false pursuit because that contentment can only be found within, yet screenwriter Charlie Kaufman, was able to tap into the common desire to tell an amazingly creative story.