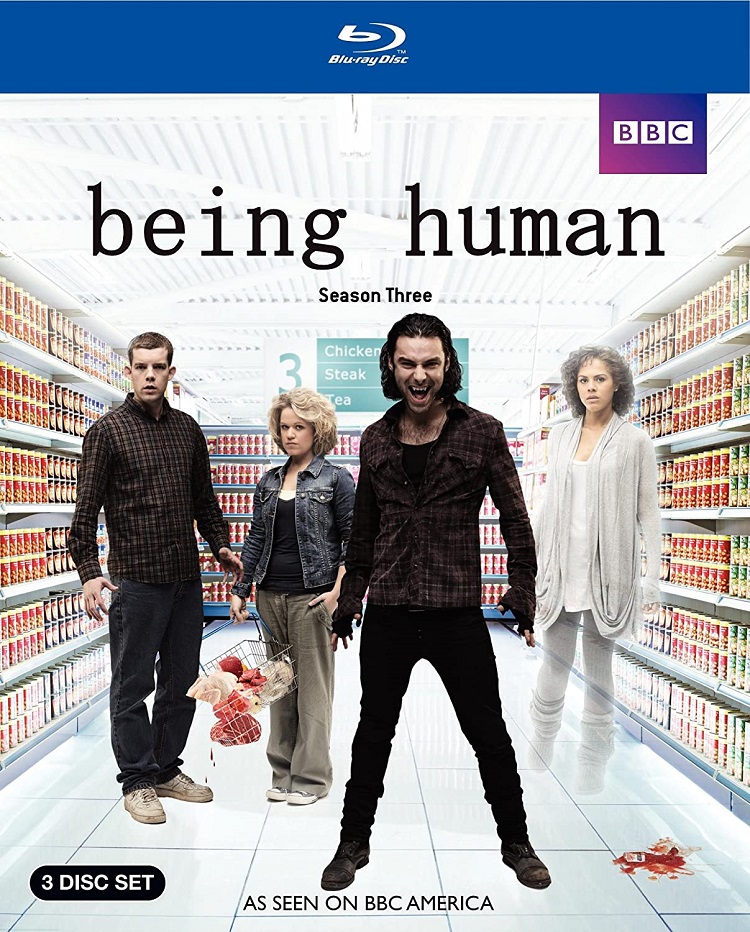 Giving good-looking vampires their own shows has become standard practice in television these days, so with Being Human, the Syfy Channel have upped the ante a bit. The program is a melting pot of the supernatural and celebrates the differences of the multi-cultural paranormal world. In addition to studly vampire Aidan Waite (Sam Witwer), the show originally featured a lovely ghost by the name of Sally Malik (Meaghan Rath) and the buff werewolf Josh Levison (Sam Huntington). The series has just begun its fourth season, and for those looking to catch up, Being Human: The Complete Third Season is now available on Blu-ray.
The Syfy Channel's version of Being Human is an American adaptation of original BBC series of the same name. When the series debuted in January 2011, the trio of Aidan, Sally, and Josh lived together as roommates in Boston, like some sort of bass-ackwards Three's Company for the 21st century. The title Being Human refers to their efforts to live as "normal" humans, but things have changed over the past three years.
For one thing, Josh has been joined by his werewolf gal Nora Sargeant (Kristen Hager). In the season three opener "It's a Shame About Ray," we learn that by killing one of his tormentors, Josh is no longer a werewolf. He and Nora are attempting to break Sally out of "Limbo" through the services of a witch named Donna Gilchrist (Amy Aquino). Meanwhile, Aidan has been underground in his coffin, which has provided him immunity against a deadly virus that has decimated the vampire community. For someone who has not seen the first two seasons, this may be a bit confusing at first. But the strange events begin to make their own kind of sense over the course of the 13-episode season.
Sally is reanimated, but this is not good news for people who knew her before she went into Limbo. When she sees someone from her past life, they die. The vampire-killing virus is harmless to the humans who carry it, so Josh must visit Boston's "clean blood" black market to get a fresh supply. In the sixth episode "What's Blood Got to Do With It?" there is a flashback scene in which we are shown how Aidan became a vampire. It happened in the Revolutionary War, but like all vampires, Aiden remains remarkably well preserved. I guess there is no such thing as ugly or overweight vampires.
Romance is always alive in this decomposing world, and the big question of the penultimate "Always a Bridesmaid, Never Alive" is whether Josh and Nora will be married, or if the forces colluding against them will stop it. I will refrain from spoiling that particular plot point, but will reveal that the season closes with Nora desperately searching for him. Tune in to the Syfy Channel to see how these attractive twenty-something ghouls are doing today.
The four-disc Being Human: The Complete Third Season contains four bonus features. The first of these is a "Behind the Scenes Featurette" (47:34). The piece includes interviews with cast members such as Sam Huntington and Meaghan Rath, as well as executive producer Anna Fricke about the characters, storylines, stunts, and effects.
The "Comic Con 2013 Panel" (49:22) is also a very substantial segment, and the panel includes Fricke, Huntington, Rath, Kristen Hager, and Sam Witwer. The panel begins with a look back at the highlights of the third season, then the questions begin. The self-descriptive "Bloopers" (2:40) is fun, and finally we come to "Cliff Hangers" (1:32) in which the final scene is discussed by Huntington, Witner, and Rath.
As Being Human shows us, there is room for everyone in the land of the undead. At least that is my take on it. Actually it is an excuse for some very attractive people to act crazy, in a world where plotlines do not have to make sense. If I were a 16 year-old girl I would probably love it, but I am quite a ways away from that demographic. Still, it is well done, and if good-looking monsters are your thing, then by all means check out Being Human.