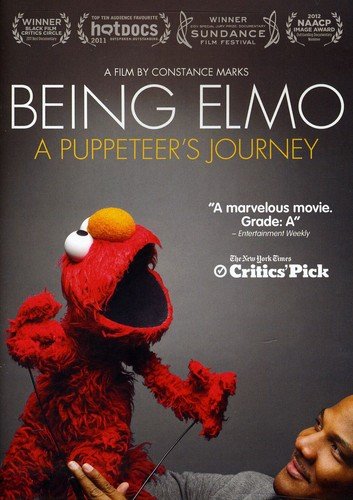 Since nearly the moment she was born my daughter has loved Sesame Street. She's entranced by it. For the longest time I could turn on any other show or movie and she wouldn't pay any attention to it at all. She'd keep playing with her toys or study the ceiling or do whatever else babies do which often meant get fussy and cry. Especially if I got out of eyesight. Which meant I had to stay close. All the time. Except when Sesame Street came on. For about an hour a day (and sometimes more as it streams on Netflix), she'd sit watching Big Bird, Oscar the Grouch, Elmo, and the others, and I could get up and wash dishes, check my e-mail, or write a DVD column, and she was perfectly content to let me be.
You can't begin to imagine how much I love Sesame Street. Truth be told, sometimes I still like to just sit with her and watch it. Like millions of others, and now my daughter, I too loved the show as a kid and now it makes me nostalgia hard. It is also very clever and funny and nearly as enjoyable to me now as it was when I was a kid. The old characters are my favorite of course since I remember them from way back when, but the new characters are cute and fun too (even if some of them are computer generated, which seems like a sacrilege, but I can forgive them since my daughter doesn't seem to mind.)
Elmo has his own segment now and it comes at the end. He's not my favorite, not by a long shot, and I can see now why some of my friends like to complain about him with his unbearable cuteness, but I don't mind so much. He's a real puppet and well done and there is a certain gentle soothingness to the way in which each of his segments is almost exactly like all the rest.
All of this put together makes Being Elmo: A Puppeteers Journey my pick of the week. The documentary details the life of Kevin Clash – the man behind (or under and inside) that world-famous puppet. It also includes back scenes footage of Sesame Street, which fascinates me all the more. Extras include thoughts from the filmmakers, a Q&A session with Kevin and the filmmakers from the Sundance Film Festival, an interview with John Tartaglia and the film's trailer.
Also out this week that looks interesting to me:
War Horse: Steven Spielberg's drama looks a bit cheesy to me to get too excited over, but it got some good reviews and in the end I always watch Spielberg and so it will be for this one. It comes in a variety of versions the biggest and baddest being a four-disk Blu-ray/DVD/Digital Copy combo. Extras include a whole bunch of features on nearly every aspect of the film.
We Bought a Zoo: Again the plot of this one (grieving widow moves to the country to get away from his loss and buys a manor that also stipulates he must run a wildlife preserve) sounds too cheesy for my tastes, but I like Cameron Crowe a great deal which means I'll wind up watching it sooner rather than later.
Chinatown (Blu-ray): Roman Planski's beautifully brutal neo-noir is a true masterpiece and one that surely deserves a grand high-definition upgrade. Extras include audio commentary from writer Robert Towne and director David Fincher, several features about the making of the film, and the film's trailer.
Madonna: Truth or Dare (Blu-ray): I'm a child of the '80s and so Madonna is very much a part of my growing up. I wasn't allowed to watch this documentary of the superstar on tour but its infamy remains a part of my psyche. At the time she was one of the biggest singers on the planet, and the film made quite a bit of splash when it came out. There were lots of boyish rumors that it got very explicit, which only made me want to see it more. Now that I can see it I probably won't but for anyone still in love with the star you can now watch it in high definition, though there aren't any real extras to speak of.