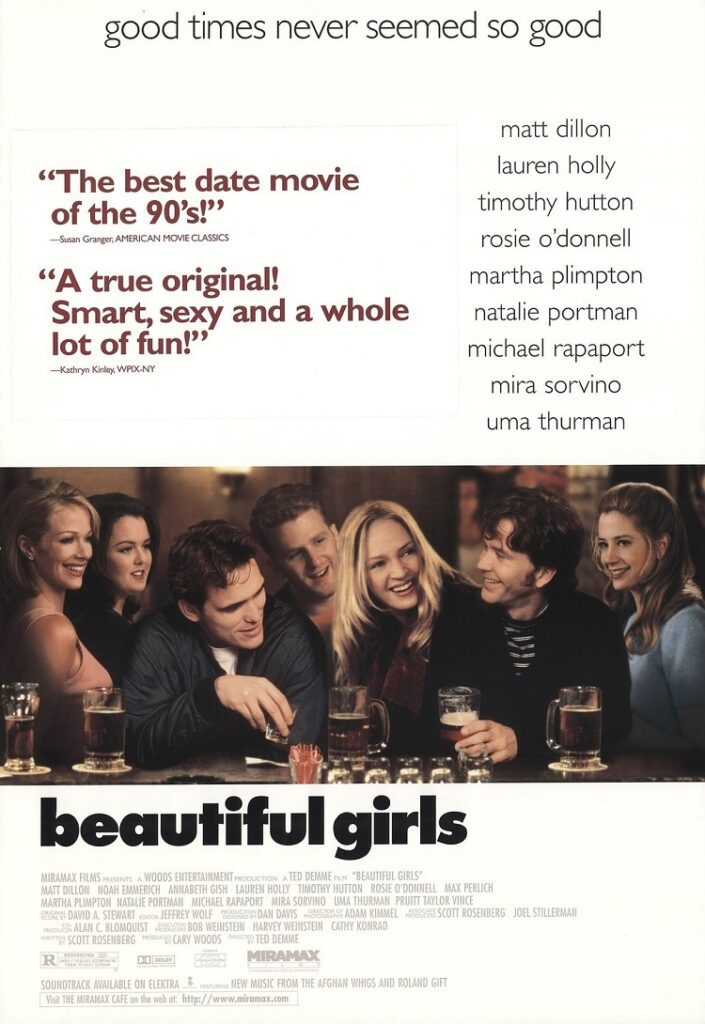 Miramax is releasing 1996's Beautiful Girls on digital for its 25th anniversary on February 9 and DVD on February 23. The film, directed by Ted Demme (The Ref, Blow), features an all-star cast including Timothy Hutton, Matt Dillon, Uma Thurman, Mira Sorvino, Rosie O'Donnell, and Natalie Portman.
The laid-back film is told through the viewpoint of Willie (Timothy Hutton), a Manhattan jazz pianist who heads home to Massachusetts post-winter holidays for his ten-year high school reunion – and also to regroup after losing his latest gig. We follow Willie as he reunites with a group of high school friends who treat him as a conquering hero. But Willie is just as confused and stuck as his townie friends who are all questioning their lives and goals on the cusp of turning thirty.
Willie's hometown is one of those movie towns where everyone works at the local mill, or in construction, or at the beauty salon, bar, or diner. We immediately know where we are as we listen to everyone still obsessing about their high school glory days, wondering why their lives haven't panned out exactly as they imagined.
Willie's best buddies are all in different stages of their love lives. He can't help but watch them and wonder if he and his girlfriend (Annabeth Gish) could end up like one of them. Ex-football star Tommy (Matt Dillon) is involved in a messy love triangle between former high school sweetheart and currently married Darian (Lauren Holly), and his gentle and fragile long-suffering girlfriend Sharon (Mira Sorvino). Brash Paul (Michael Rapaport) is obsessed with supermodels and allergic to committment, but surprised and enraged that such behavior would drive away his long-term girlfriend (Martha Plimpton). And Mo is happily married, but clueless about how to handle his kids.
The most interesting person that Willie meets is the girl who lives next door, Marty (Natalie Portman). Willie and Marty have an instant rapport, full of clever banter. There's only one problem. Marty is thirteen. Portman effortlessly steals the movie from everyone, playing a wise-beyond-her-years self-described "old soul," whose friendship with Willie manages to just stay clear of becoming icky. This is due to the great dialogue from screenwriter Scott Rosenberg and Portman's winning performance. Marty also manages to sum up Willie's character dilemma fairly soon after meeting him.
Although Portman steals the show, everyone in the cast has some great moments, Standouts include Uma Thurman and Rosie O'Donnell, who both have great speeches that put the testosterone-fueled girl-centered guys in their place. Willie may look to his friends to help him decide what to do about his relationship, but it's when his girlfriend Tracy shows up to join him at the reunion that really makes him take notice. She totally charms everyone and he begins to see her through their (and new) eyes.
What is nice about Beautiful Girls and makes it so enjoyable to watch is the how the guys and the girls deal with the same issues – love, sex, relationships. We recognize that women have no trouble talking about their feelings. But the guys spend all their time doing exactly the same thing, just with a lot of bravado and posturing – but they are as vulnerable as the women. That's a fresh and interesting take on typical rom-com material.