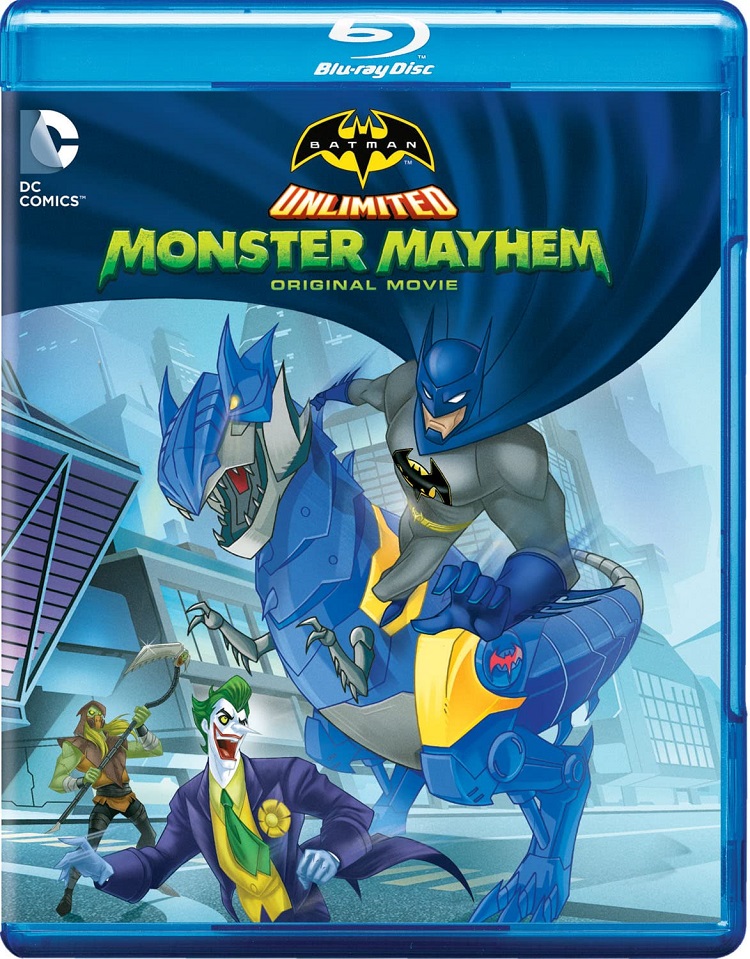 Batman is back for another film in the Unlimited series that is based on a toy line in a semi-futuristic universe. Once again, Green Arrow, Nightwing, and Red Robin come along for the ride but this time a new hero has been added to the mix, Cyborg. And while in the previous film they found themselves up against a group of animal-themed villains, in this latest incarnation they are fighting Silver Banshee, Solomon Grundy, Scarecrow, and Clayface with the Joker as their leader.
The villainous group is collecting random pieces of electronic equipment to allow them to upload a laughing virus to the Internet. First, they start with Gotham City and every electronic gadget within it, including Cyborg. This causes the Caped Crusader and his pals to fight the Bat Mobile, Batman's wolf/motorcycle from the previous film, and Cyborg himself while the Joker uses the distraction to begin uploading the virus to the rest of the world.
The film is presented in 1080p High Definition with a 1.78:1 aspect ratio and a DTS-HD 5.1 Digital Dolby audio track. The video is crisp and bright with a nice clear audio. The use of surround sound was minimal. The Blu-ray combo pack includes the Blu-ray, the DVD, and a Digital HD downloadable copy as well
There are three special featured included:
"Gotham of Tomorrow: Designing a Future World" is a look into how the artists came up with their ideas of how Gotham should look as they tried to find something that was somewhere between our current idea of Gotham and the futuristic look of the Batman Beyond series.
"DC Nation Shorts" is a collection of animated shorts that aired during the commercial breaks of Cartoon Network's DC Nation programming block from several seasons ago.
"From the DC Comic Vault" is the episode "Emperor Joker" from the TV series Batman: The Brave and the Bold, featuring The Joker and Bat-Mite.
Monster Mayhem, is a much more entertaining story than its predecessor, Animal Instincts. Any time there's an episode with the Joker it's usually going to be a much wilder and crazier story. He is the Dark Knight's arch enemy after all and his insanity level pushes the adventure to a different level. There is always something up his sleeve and just as he's about to be defeated he manages to pull a trick out of his hat to escape the Batman.
The only thing a little distracting about the film was that it was very obvious when a possible new toy was added like the Joker's motorcycle built of spare fun-house material and the giant laser-cannon-mounted T-Rex that Batman rode in the virtual world. While it did pop out of the film, it was reasoned into the storyline and actually fit in with the the Joker's fractured persona.