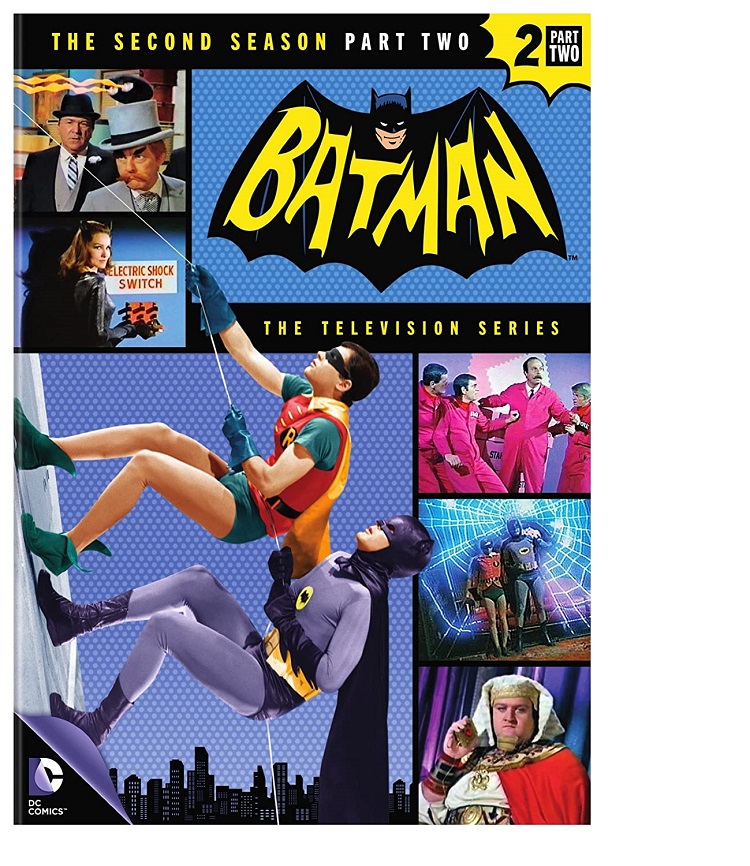 On the off chance someone doesn't know about the iconic Batman TV series from the 1960s (there must be at least one person at any given moment), let me offer a brief explanation of the show. In the city of Gotham, millionaire Bruce Wayne (Adam West) and his young ward, Dick Grayson (Burt Ward), protect the citizenry as costumed superheroes, Batman and Robin, against a colorful collection of criminals as they had done in the pages of DC Comics.
With an emphasis on "comic," the show has a silly sensibility from Bruce/Batman's uberserious goodness to the wacky crimes and traps laid out by the villians. The storylines appear in two- and a couple of three-part episodes, with the first portions ending in cliffhangers as the heroes find themselves in seemingly grave danger. The show's production design is an absolute highlight.
The first of the 30 episodes in this set features the debut of the Puzzler (Maurice Evans), a new Shakespeare-quoting villian created for the series in a storyline re-written when the Riddler was unavailable because Frank Gorshin held out for more money. Later in the season, John Astin played the Riddler (with no reference to the character's change of appearance) during "Batman's Anniversary/A Riddling Controversy." Unfortuantely for Astin, his performance was rather bland and didn't compare to Gorshin's, who returned to the role in the third season.
Batman's Rogues Gallery was further expanded during this half of the season with the addition of the following villians created for the series: Sandman (Michael Rennie), Black Widow (Tallulah Bankhead), and Colonel Gumm (Roger C. Carmel) who took on the Green Hornet and Kato (Van Williams and Bruce Lee) as well as the Caped Crusaders.
Villians returning to Gotham in this collection include Mad Hatter (David Wayne); Marsha, Queen of Diamonds (Carolyn Jones); King Tut (Victor Buono); and Mr. Freeze (played by Eli Wallach, the third and final actor to play the role following George Sanders and Otto Preminger). And attempting multiple capers throughout these episodes are Catwoman (Julie Newmar), the Penguin (Burgess Meredith), and the Joker (Cesar Romero).
As had happened previously, other performers visited Gotham through cameos during the Dynamic Duo's iconic Batclimb, such as Art Linklatter, Edward G. Robinson, Cyril Lord, Andy Devine (as Santa Claus!), and Suzy Knickerbocker, who is notable for being the last to have had the honor for those who pursue trivia.
For any Bat collector who doesn't already have them, and especially if they have the Part One, Batman: The Television Series: The Second Season Part Two is a must-own.