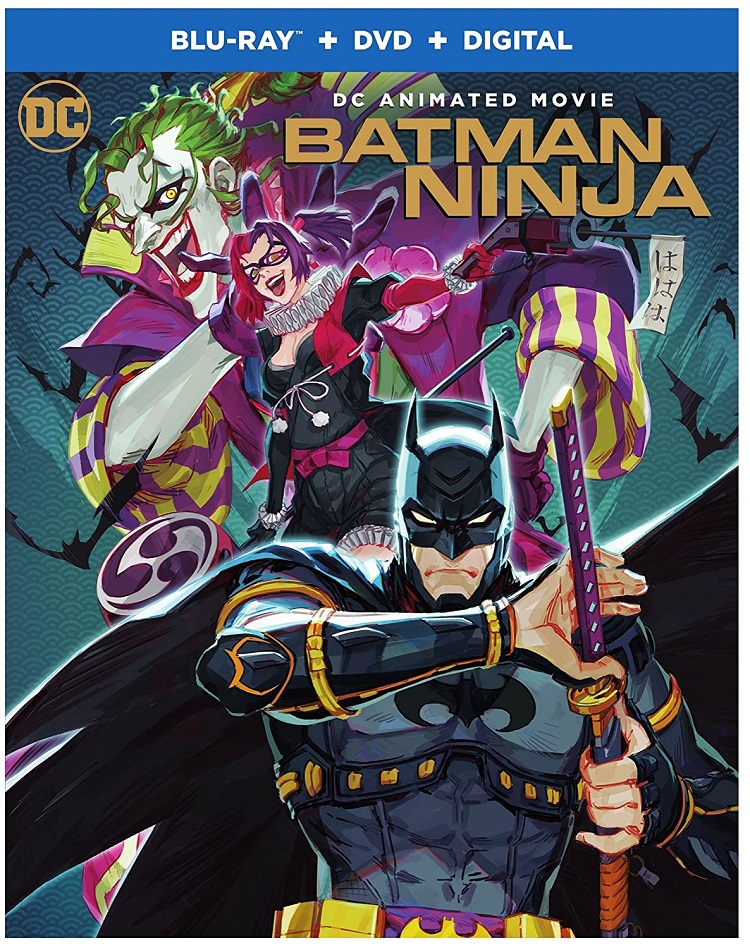 Batman Ninja is truly unique in the DC animated universe, not only because of its radical premise, but because it was actually conceived and created in Japan. Rather than being overseen by the usual U.S. production crew, Warner Bros. hired authentic anime greats and left them alone to craft this inspired interpretation of the Batman mythos, apparently only stepping in afterwards to graft on a U.S. reworking of the script for its American vocal cast recording and home-video release. The resulting product is distinctly Japanese, and yet still entirely familiar thanks to the classic cast of characters.
The far-fetched but entertaining setup finds Gorilla Grodd using a time-displacement machine to transport most of Batman's friends and foes to feudal Japan, instantly separating Batman from his usual reliance on technology. An amusing scene highlights his plight immediately after his arrival, when he drops a smoke bomb to escape oncoming pursuers before realizing that there aren't any skyscrapers anywhere for him to shoot his typical grappling hook, forcing him to flee on foot.
The characters aren't just transported to Japan, they also fully transform into Japanese feudal style, making for some extremely fanciful designs that retain just enough to make them recognizable characters. For example, Bane is a fearsome sumo wrestler, Joker looks like a dandy Dutch colonist, and Robin's hairstyle intentionally references the kid from the classic manga and film series Lone Wolf and Cub.
The baddies each set up shop as feudal lords, somehow quickly seizing control of different parts of Japan and building formidable fortresses. Meanwhile, Batman and Robin spend time finding their allies scattered across the land, including Red Robin, Nightwing, and Catwoman, while simultaneously warding off attacks by their traditional enemies. Batman is forced to figure out how to survive without his tech arsenal, while also finding a way to defeat his enemies and return to modern-day Gotham City. Along the way, he teams up with armies of monkeys and bats, fights giant steam-powered robots, and has a sword duel with Joker.
While the art style is entirely anime, it's shaded in an odd pencil-sketch method that didn't really work for me, making the art seem too loose and unfinished. This approach is exacerbated during a dreamy sequence in the middle where Red Robin confronts Joker and Harley Quinn, shifting to a style so loose it seems like clumsy ballpoint-pen sketches colored with watercolor washes. Thankfully the sound has no issues, with the Blu-ray delivering a fully immersive DTS-HS Master Audio 5.1 aural delight stuffed with surround effects.
The U.S. vocal cast includes returning favorites such as Tara Strong as Harley Quinn and Grey DeLisle as Catwoman, but is hampered by weak star performances from Roger Craig Smith as Batman and Tony Hale as Joker. Hale's performance in particular pales in comparison to the definitive Mark Hamill, coming off as entirely too fey with no underlying menace, especially in the early stages.
The Blu-ray includes three bonus features, headlined by a recording of a 50-minute panel presentation from last year's New York Comic-Con starring the director, character designer, and writers. It's worth watching for details on the origin and production of the film, but suffers a bit from the delay of answers by the Japanese creators having to go through their on-stage English translator. That delay isn't present on the other two subtitled features, which are each roughly 15 minutes long and delve further into the challenges the creators faced in adapting Western characters to Eastern style without shortchanging either side.
It's a wild film, and so deliriously over the top that it's probably best suited as a midnight movie. The film will surely leave many mainstream viewers scratching their heads as it whipsaws from one ridiculous scenario to the next, but viewers with an inherent penchant for anime and its tropes will be rewarded with a thoroughly original blend of East and West.