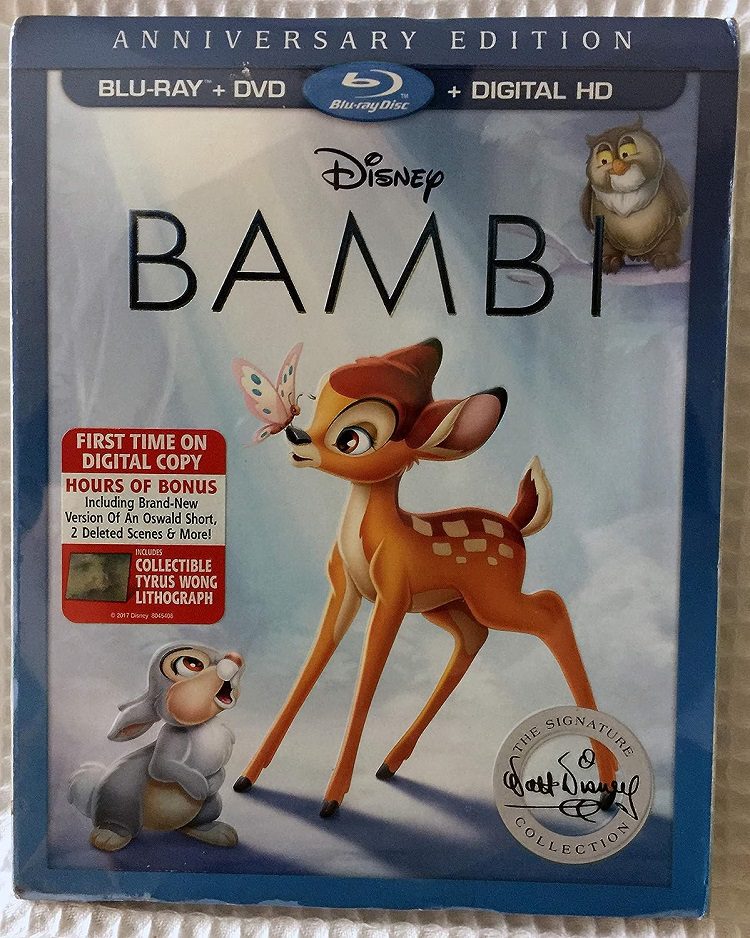 Can you sit down with three children ages seven, nine, and eleven, and watch a 75-year-old animated film without them getting restless? Yes, and no one was more surprised than I. Surprised simply because I had forgotten just how good, and ahead of its time, Bambi was. All of the children found the film "sad", "cute", and "fun", with the ending being their favorite part, and all would definitely watch it again.
I can't recall the last time I saw the brilliant telling of the life, loves, and losses, of the Prince of the Forest and his friends, but I doubt that I was truly able to appreciate the art form when I did. Walt Disney manages to tell a circle of life story long before The Lion King (It's always fun when you review the film, and then find one of your references in the bonus material), and with far less dialog and conventional antagonists. The Academy Award-nominated music by Frank Churchill and Edward H. Plumb seamlessly serves to move the story along without the need for dialog from the characters in a manner that has rarely been seen since. The amazing artwork and storytelling manage to brilliantly give life to the antagonist that is fire, while proving that we don't need to see the antagonist that is man when a story is told well.
This new anniversary release, which by my math is the 75th, though it does not specify which anniversary is being celebrated on the package, hit store shelves on June 6th with just enough new bonus material to make it worth the purchase. Of course, if you're like me and had simply forgotten how good this is and don't own a copy, then all the bonus material, which includes much from previous releases, is new, and it is a must have. There is more than enough material here to keep the entire family entertained for a rainy afternoon.
The children enjoyed the "Oswald the Lucky Rabbit" short far more than I. It was a bit too silly for my tastes, but I probably would have liked it when I was nine. We all enjoyed the aspects of being able to hear Walt talk about the film during "Inside Walt's Story Meetings", and "Bambi Fawn Facts" were both entertaining and informative. I appreciated "The Bambi Effect" more than the children, as they were not as interested in how the artistry and technology of Bambi has impacted the animated films that followed its release and how it continues to impact films today. The deleted scenes as introduced by animator Floyd Norman were a huge highlight. Being able to hear Walt discuss the reasons they were left out of the film was very enjoyable and again, educational.
We didn't know how much great stuff was on this release when we started, and it was getting too late for my young fans, so the rest of the material was left to me. They missed some pretty amazing features that I will have to show them next time, but their absence allowed me to finish my ice cream while I enjoyed more deleted scenes and the deleted song "Twitterpated". "The Making of Bambi: A Prince is Born" is arguably the best bonus feature. The insight of Disney team members Mel Shaw, John Lasseter, and Andreas Deja are riveting.
"Characters: Drawn to Nature" and "Art Design: Impressions of the Forest" are going to make everyone want to put pencil to paper to see how they can do with the iconic scenes and characters.
I loved "Actors: Giving Voice to Animals". This piece left me wanting more than any other simply because actors are great storytellers and there are great stories to be heard here.
"Music: Nature's Symphony" goes deep into the creation of the music that makes the movie all that it is. We also get some insight into the poignant use of silence.
History: Back to the Beginning – This featurette explores works of Felix Salten, who had other efforts that were also made into Disney films, but it also provides much more than expected as we get a lesson on the business of Disney as a whole during the time of Bambi.
Tricks of Our Trade (Excerpt) – Anything with Walt in it is a gem. Here, he shows us a new camera that allows for the multilevel effect we see in the opening sequence of Bambi. We also get Mickey!
Inside the Disney Archives – Takes us…well, I'm sure you can figure out where we're going, and we actually see artwork we've seen before, but it's interesting in this form.
"The Old Mill" Animated Short – This is wonderful film and I can't wait to show it to the kids. I'm curious if they will enjoy it as much as they did Oswald.
The Golden Age – The information here on the artwork, music, and more utilized in Bambi seems a little redundant, but after watching so much, it all begins to get a bit blurry. Should take an intermission or two if you try to watch all the material on this release.
Original Theatrical Trailer – Wow! This is almost laughable. The announcer sounds like he is delivering a news bulletin as he talks about the film. Make sure you watch this.
Recommendation: Yes! There is just too much stuff here to pass up. Be prepared for the kids to run the gambit of emotions, and questions may be raised, but ultimately this is Disney at his best.