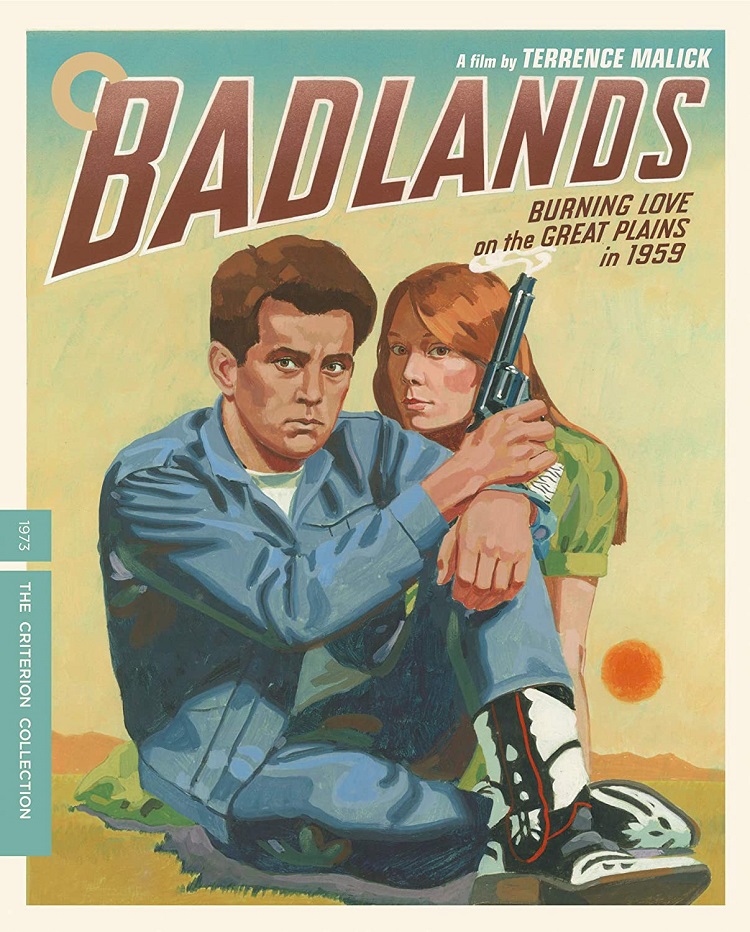 Terrence Malick's debut explores isolation, realism, self-image, and violence with the filmmaker's lyrical elegance, setting the footing for an opus that frustrates, engrosses, and challenges with each new entry. 1973's Badlands may well be the most forthright of his motion pictures, but it is no less vague or inventive. Now available as part of the Criterion Collection, this film marks the entrance of Malick with a statement of boldness and confidence.
Indeed, many of his hallmarks dot the broad American countryside of this movie. The use of voiceover, the romantic approach to dialogue, the exciting cinematography, and the graceful approach to mystifying questions all play distinct roles in unfolding the narrative and laying the foundation. Badlands may find focus in the real-life story of spree killer Charles Starkweather, but Malick's subtlety blurs the lines and creates a fairy tale aura.
Martin Sheen stars as Kit, a garbage collector who imagines himself as someone significant. He can't quite put his finger on it, but he believes he's meant for something more than rummaging through the alleyways of a small South Dakota neighbourhood. He stumbles upon Holly (Sissy Spacek), a 15-year-old girl without much direction. They forge a relationship that quickly becomes romantic despite Kit's being 10 years her senior.
Kit gets it in his head that he is meant to run away with Holly, but this requires him to kill her father (Warren Oates). After this occurs, the couple hits the road to nowhere without much of a plan. They start by forming a makeshift home in the forest, but the police quickly discover the trail and the pair is on the run again. Kit becomes more comfortable with violence, while Holly slowly discovers her unease with the man she loves.
Sheen's Kit is a fascinating character. He desperately wants to leave a mark on the world, so he marks various life events with stones or other pieces of material. When he and Holly make love for the first time, he wants to mark the location with a rock. When he selects a smaller rock, his pragmatic side shines through and we catch one of the first glimpses of the limits to Kit's sentiment.
These limitations naturally serve the narcissistic impulses of a James Dean wannabe well, especially when they dovetail with Holly's eager view of Kit. She is smoky, impetuous, and perhaps even more dangerous than her beau despite the fact that she doesn't take a life. But her passive accompaniment and apparent witlessness (especially pertaining to the murder of her father) reveals a coolness that knits smartly with her green-dressed sensuality.
The couple at the core of Badlands, therefore, leans heavily on image. They aren't ferocious or important lovers and this is no Bonnie and Clyde, but they are drunkenly associated with one another in more than a few ways. They argue and snipe at each other, remaining utterly dependent and utterly expendable all at once. There's little stopping Kit from shooting Holly at a moment's notice, one might say.
Malick, who actually appears briefly in the film, has a clear vision of what he wants. He writes, produces, and directs Badlands, going so far as to take no salary as a director. He even kicked his $25,000 screenplay fee into the budget for the picture, setting the stage for a career marked as much by self-belief as anything else. Malick's longing to tell the story his way is apparent with every sumptuous, beautiful frame.
The DVD release of Badlands comes from a new, restored 4K digital transfer that has been approved by the director. There is a generous amount of bonus features, including a 40-minute retrospective of the picture that features new interviews with Sheen, Spacek and art director Jack Fish. Their passion for the project is apparent, especially from Sheen as he talks about the life-changing role. There are also interviews with associate editor Billy Weber and executive producer Edward Pressman.
Oddly, another bonus feature is a 1993 episode of American Justice that deals with Charles Starkweather. This draws a few comparisons to the tale of Kit and Holly, of course, but Malick's vision seems much broader than mere recreation. The DVD also comes with a booklet that features an essay from filmmaker Michael Almereyda.