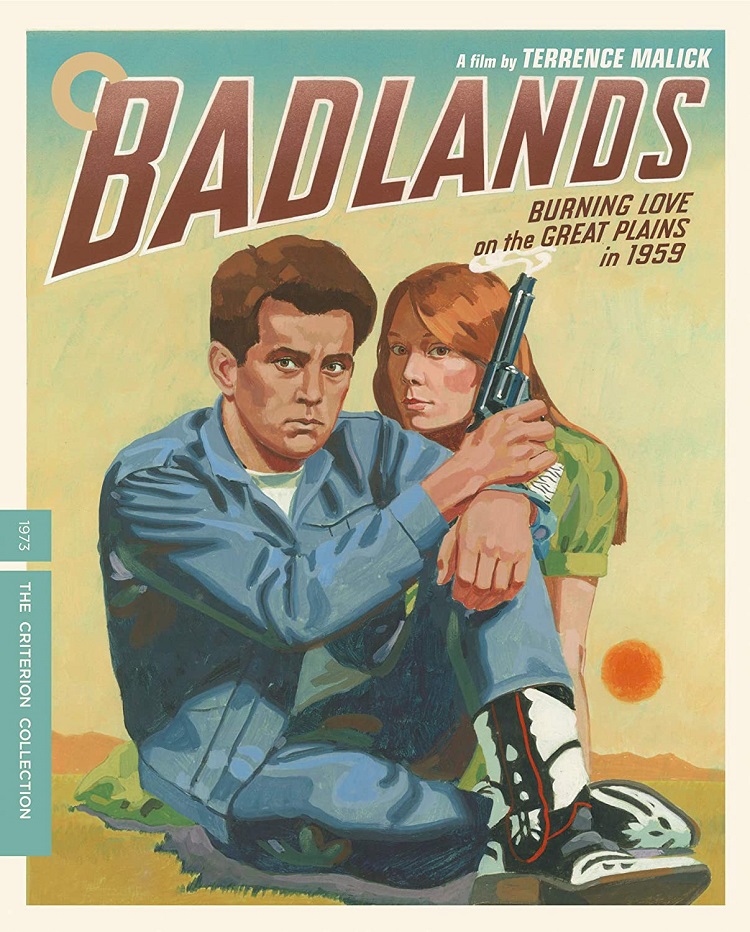 Forty years ago, writer/director Terrence Malick's first feature film announced the arrival of an important new voice. Through the ensuing decades Malick's stature has grown, in large part due to the 20-year break he took that added a reclusive air to his legend, but also due to the increasingly obtuse and inscrutable nature of his output as most recently seen in The Tree of Life. Criterion's new Blu-ray release reveals the genesis of the Malick mystique in a pristine, feature-rich package.
Martin Sheen stars as a rudderless young malcontent named Kit, a rebel without a clue who is drifting through life with no long-term plan. His claim to fame is a passing resemblance to James Dean, and he tries to get by on his looks and charm, but his career largely consists of a failed stint as a garbage man. When he meets and becomes infatuated with a demure and innocent teenage girl Holly (Sissy Spacek), his life perks up for a bit until her father (Warren Oates) forbids their relationship. With no career, no hobbies, and no intention of abandoning his girl, Kit nonchalantly murders Holly's father and takes her on the road, embarking on an interstate murder spree that ends in North Dakota's remote Badlands area. Along the way, Kit and Holly shack up in the woods, talk about their future, enjoy nature's wonders, and try to make a run for the Canadian border.
Malick's interesting approach of juxtaposing Kit's passionless killings with shots of the surrounding natural beauty of the environment foretells his later efforts, revealing work that stands on the strength of its images even more than the somewhat lightweight plot. He also employs extensive voiceover by Spacek describing Kit's ongoing mental state as well as her stance on their future prospects, adding a further layer of disarming sweetness to the horrific events of the film. He crafts fully-formed characters out of the ill-matched lovers, people we may not be able to relate to but can understand their motivations. For their parts, Sheen and Spacek are both outstanding in fully inhabiting the characters and driving home the hopelessness of their situation. The final product is surprisingly timeless, feeling just as fresh and relevant today as it must have upon its original release.
The film was based on a real killing spree that occurred in 1958, but I couldn't help thinking of two other comparable films: Bonnie & Clyde and Wisdom. Bonnie & Clyde are probably the most famous criminal couple of all time, so any film with a similar murderous pair is sure to draw comparison to their movie. As for Wisdom, I kept thinking of it because I couldn't believe that Sheen's son Emilio Estevez was cheeky enough to film a project with such a similar theme to Badlands as his directorial debut. Sure, Wisdom has long ago fallen off the radar of most people, while Badlands has prevailed and achieved classic status, but having never seen Badlands before, Wisdom's similarity was a completely new shock to my system.
The picture quality of the newly restored digital transfer is excellent, with no noticeable jitter, artifacting, debris, or color variance. Colors are somewhat muted, as befitting the Great Plains setting and era, and film grain is noticeable but not objectionable. Sound reproduction is also clean and consistent in uncompressed monaural.
Bonus features are highlighted by an exclusive 40-minute documentary about the film featuring new interviews with Sheen, Spacek and art director Jack Fisk. Separate new interview segments with producer Edward Pressman and associate editor Billy Weber are also informative and further explore the trials and tribulations taken to bring the project to screen. Malick is predictably absent, but did reportedly approve the new, restored 4K digital transfer.