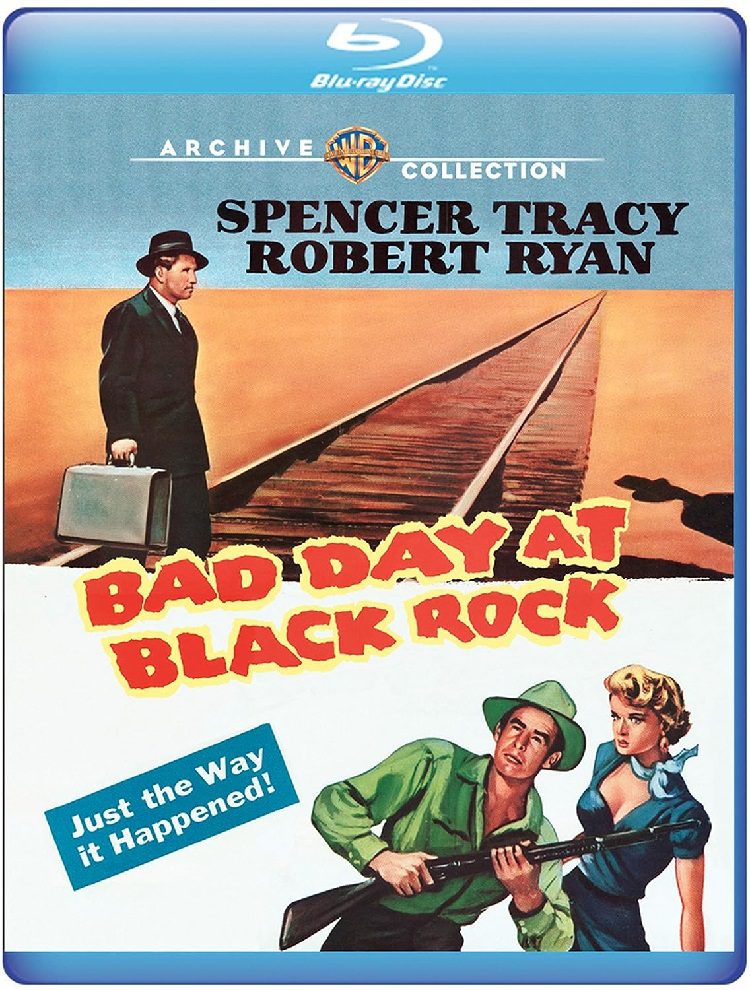 A stranger arrives in a small town, only to discover he isn't wanted. While such a premise may have been quintessential in the storyline of every other classic oater western made in the '30s and '40s ‒ to say nothing of many a hicksploitation thriller that graced grimy screen throughout the '60s and '70s ‒ said diegesis has never been more at home than in John Sturges' 1955 Bad Day at Black Rock. Here, in a performance that would earn him a Best Actor award at the Cannes Film Festival that same year, the one and only Spencer Tracy portrays a well-dressed (but disillusioned) one-armed WWII veteran who drifts into a tiny, remote desert town one fateful day.
From the instance he hops off the train, the few inhabitants of Black Rock prove to be both suspicious and hostile towards the stranger; his disability only seems to unnecessarily encourage their abject behavior, particularly from a gleefully sadistic local played by a ready and willing Ernest Borgnine. But Borgnine's nefariousness is just the tip of the sandblasted rural iceberg: at the core of the corruption is none other than the legendary Robert Ryan, who controls the rest of the community with the tightest of psychological grips. Relentlessly, the residents of Black Rock repeatedly "interrogate" their unwanted guest, constantly reminding him he is not at all welcomed.
Tensions mount as Tracy divulges his reason for visiting, which only adds to the paranoiac fears of Ryan and his men ‒ a dynamic assembling of character actors which includes a marvelously psychopathic Lee Marvin and future Honey West co-star John Ericson. Interestingly, Honey West's famous lead, the lovely Anne Francis, co-stars as Ericson's sister, who finds her loyalties to Ryan's mesmerizing aura of fear and hate in jeopardy once it becomes all too apparent he isn't keen on letting the mysterious stranger leave. Dean Jagger is Ryan's bought-and-paid-for alcoholic sheriff, western icon Walter Brennan is the levelheaded town physician.
From its uncertain opening to its explosive finale, Bad Day at Black Rock clearly paved the way for many a small-town noir that followed in its dusty wake. And every magnificent frame that has only gone to make this movie a bone fide classic since then looks better than ever in this new Blu-ray edition from the Warner Archive Collection. Mastered from a 2k scan of a newly-created interpositive print and meticulously restored to match cinematographer William C. Mellor's vision, the resulting presentation looks like it could have been filmed yesterday. Truly, the image is as beautiful as the movie itself, and the accompanying DTS-HD MA 2.0 audio is also first rate.
Special features for this MGM masterpiece (the first film from the studio to be shot in the newly formed phenomenon known as CinemaScope) are limited to reduxs of the old 2005 Special Edition DVD, which consists of an audio commentary by film professor Dana Polan and the original theatrical trailer for this explosive drama, the latter of which is presented in 1080p just like the feature film itself. Optional English (SDH) subtitles are on-hand for the film, too, and that is really all there is in the way of bonus items for this Warner Archive release. But don't let that dissuade you from adding this groundbreaking precursor to the classic "revenge" genre of film.
Highly Recommended.