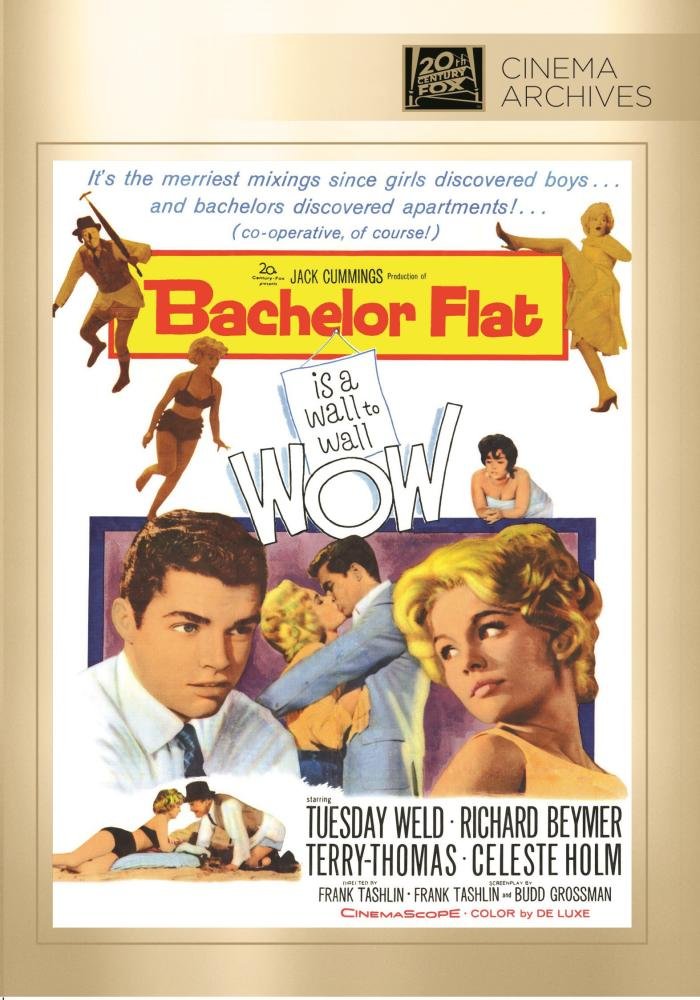 Bachelor Flat is one of those breezy, zany, battle-of the-sexes farces that were cranked out a lot in the 1960s. Although the cast is headed by actress Tuesday Weld, the film belongs to British comedian Terry-Thomas, in a role that seems styled after similar parts played by fellow-Brit David Niven. Thomas plays anthropology Professor Bruce Patterson, teaching at a California university, who is the object of mad crushes by just about every female who lays eyes on him, young and old. Is it his British charm or exotic (to the California girls) accent? Even his neighbor's dog, Jessica the dachshund, is smitten.
Jessica's owner and Thomas's neighbor is Richard Beymer (West Side Story), who plays law student Mike Polaski, who will eventually provide point-counterpoint to Tuesday Weld. A series of misunderstandings, deliberate and otherwise, cast Weld's character of Libby Bushmill in an unflattering light. But rest assured that when her mother Helen, played by Celeste Holm (and who the movie could have benefited greatly from more of her presence), turns up all will be resolved amicably and respectfully. Helen also happens to be the professor's fiancée.
The film, directed by Frank Tashlin, was shot in CinemaScope. The story, which involves a lot of running around and hiding in the titular Malibu flat, doesn't seem to demand a wide screen. But the DVD picture quality is high, and the 87-minute film, with an aspect ratio of 1.33:1, looks great on a large-scale, widescreen high-definition television screen. Apart from a theatrical trailer, there are no extras on the disk. Tashlin, a former animator and gag writer, made a lot of brightly colored splashy comedies in the 1950s and '60s, and Bachelor Flat fits right in with his oeuvre: Girl Can't Help It, Will Success Spoil Rock Hunter?, Rock-A-Bye Baby, The Geisha Boy, Cinderfella, and The Disorderly Orderly. Bachelor Flat is a re-imagining of Tashlin's 1954 film, Susan Slept Here.
Although Tuesday Weld may have been star of the film, her character is shrill and annoying. In a much smaller part, as one of Mike's girlfriends (and one of the professor's legion of admirers), Gladys, Francesca Bellini is almost a cartoon in the scenes she appears in, but she is quite funny. Film buffs will also recognize a certain garment – the iconic white pleated dress worn by Marilyn Monroe over a subway grate in The Seven Year Itch. Here actress Roxanne Arlen appears in the same dress, sporting a similar blonde hairdo, but without Marilyn's something extra. Of all the ladies that faint and fawn over Terry Thomas in Bachelor Flat, Jessica the dachshund is pretty much the film's most appealing character. Her scenes involving an over-sized dinosaur bone on Malibu Beach, as well as Terry-Thomas's attempts to steer clear of his female fans, provide the real laughs.