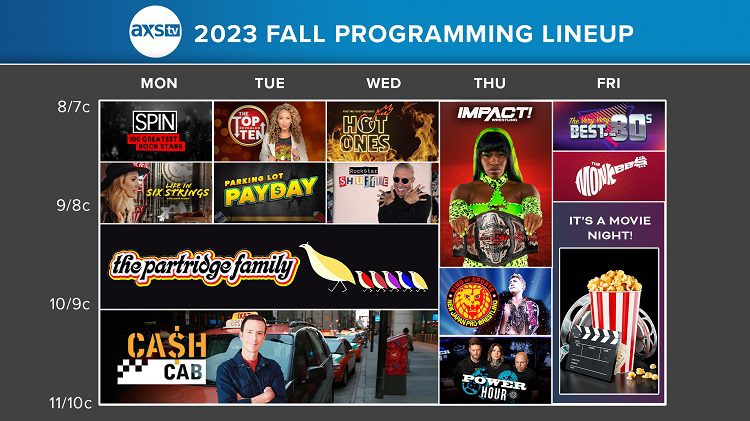 AXS TV unveils its Fall Programming Lineup complete with all-new original series and returning favorites—headlined by the Network's partnership with legendary music outlet SPIN Magazine on the fresh listicle series SPIN 100 Greatest Rock Stars, premiering Monday, October 2 at 8pE/5pP. The roster also includes the all-new original music series Life In Six Strings With Kylie Olsson, as well as new seasons of Parking Lot Payday, The Top Ten Revealed, The Very Very Best Of The 80s, Rockstar Shuffle, and more.
Highlights of the upcoming Fall Schedule include:
Monday, October 2
8pm – SPIN 100 Greatest Rock Stars (New Original) – 12 Episodes – AXS TV's Fall Lineup kicks off on Monday, October 2 with the Network's landmark collaboration with SPIN Magazine on SPIN 100 Greatest Rock Stars—a star-studded countdown of the 100 greatest rockers, based on the legendary "100 Greatest Rock Stars Since That Was A Thing" feature curated by SPIN founder Bob Guccione Jr. and originally published in 2021. The series presents a comprehensive tour of the epic list specially updated for 2023—putting the spotlight on appearances and commentary by an impressive roster of icons and experts includiing Joel McHale, Dee Snider, Stewart Copeland, Carnie Wilson, Steve Vai, Roy Orbison Jr., David Archuleta, Kenny Aronoff, Bruno Major, Bob Mould, Shawn Stockman, and UK music journalist Kylie Olsson, among others.
8:30pm – Life In Six Strings With Kylie Olsson (New Original) – Eight Episodes – Music journalist, author and guitar novice Kylie Olsson joins up with some of the greatest six-string virtuosos in music, as guitar masterminds Steve Vai, Mick Mars, Nuno Bettencourt, and more, invite her into their homes to delve into the instrument's incredible impact on their lives. The series gives viewers a candid glimpse into where each artist is from—both sonically and geographically—detailing how their unique origins have informed their music. Along the way, she gleans some of their priceless tips and tricks to guide her on her own journey to learn how to play the guitar.
9pm – The Partridge Family (New Acquisition) – "C'mon Get Happy" as one of pop culture's most beloved broods makes its debut on AXS TV, in this popular classic series starring Shirley Jones, David Cassidy, and Danny Bonaduce.
10pm – Cash Cab Canada – AXS TV continues airing the acclaimed Canadian version of Cash Cab, as host Adam Growe takes unsuspecting patrons on the ride of a lifetime, giving them the chance to answer trivia questions for cash prizes while en route to their destination.
Tuesday, October 3
8pm – The Top Ten Revealed – 12 New Episodes – The hit countdown series returns as host Katie Daryl joins a rotating panel of rock and metal trailblazers including Sebastian Bach, Lita Ford, Stephen Pearcy, Nancy Wilson, Gina Schock, Gilby Clarke, Rikki Rockett, Carnie Wilson and many more to determine the top songs from a wide range of eclectic themes and categories.
8:30pm – New Season of Parking Lot Payday – 10 Episodes – Parking Lot Payday returns for Season 2 on a new night and time, and with new host—and AXS TV fan-favorite—Art Mann, who cruises through the Welcome To Rockville and Sonic Temple festivals to give fans a chance to win big by answering rock trivia. Shock pioneer Alice Cooper even gets in on the fun, taking the hotseat in the season premiere.
Wednesday, October 4
8pm – Hot Ones—The sizzling series continues to be a hit for AXS TV, as entertainment's biggest names put their taste buds on the line to talk about their acclaimed careers while sampling hot wings slathered in increasingly-spicy sauces.
8:30pm – Rockstar Shuffle – Eight New Episodes – Rockstar Shuffle continues its inaugural season with a wild blend of fast-paced hijinks and candid moments, giving music lovers a rare look into rock and metal titans such as Bruce Dickinson, Sammy Hagar, Vince Neil, Corey Taylor, Rod Stewart, Billy Idol, and Micky Dolenz, as they share their own priceless stories, showoff their personal collections of music memorabilia, reflect on their most-treasured memories, and so much more.
Thursday, October 5
8pm – IMPACT Wrestling – Pro wrestling powerhouse IMPACT! continues with even more high-stakes matchups and blockbuster drama, as wrestling's top competitors step into the ring each week.
10pm – New Japan Pro-Wrestling – Don't miss the most unforgettable moments from NJPW's biggest events of the year, highlighting global heavyweights Kazuchika Okada, Will Ospreay, SANADA and more.
11pm – The Power Hour – 10 New Episodes – Noted rock experts and enthusiasts Matt Pinfield, Josh Bernstein, and Caity Babs present a comprehensive breakdown of the scene's latest news, buzzworthy videos, and more, featuring exclusive interviews with some of the genre's most influential acts.
Friday, October 6
Retro Night continues to be a hit with viewers, putting the spotlight on classic series, concerts, movies, and more from the '60s, '70s, and '80s.
8pm – The Very Very Best Of The 80s – Six New Episodes – Fan-favorite countdown series The Very Very Best Of The 80s opens the night with star-studded retrospectives, as pop culture heroes share their thoughts on the films, music, TV, toys, and more that defined the decade.
8:30pm – The Monkees – AXS TV continues to present all 58 episodes of the groundbreaking music sitcom The Monkees, broadcast in 4k.
9pm – Retro Movie – Cult classics take over the small screen in this special block celebrating beloved big screen hits from across the decades.
Special Events
Retro Binge – AXS TV turns back the clock with this all-new daytime block, putting the spotlight on a vintage lineup that includes every episode of the hit music sitcoms The Monkees and The Partridge Family, as well as nostalgia-fueled retrospectives The Very Very Best Of The 80s and A Year In Music—airing Monday through Friday at 1pE, starting October 2.
AXS TV NOW FAST CHANNEL
Starting in October, AXS TV Now presents movie premieres every Monday at 7:30pE. The roster includes:
10/2 – Wolfman's Got Nards – A love letter to the cult classic creature feature The Monster Squad, examining its enduring impact and influence through exclusive interviews with the cast and crew, as well as the legendary genre stars and filmmakers that it inspired.
10/9 – Antidote – MMA powerhouse Randy Couture faces his toughest fight yet, as he takes on a Mayan legend come to life in this jungle thriller.
10/16 – Attack of the Southern Fried Zombies – A pilot leads a motley crew of survivors through a deadly wasteland, after an experimental chemical turns the residents of Charleston, MS into bloodthirsty zombies in this sidesplitting horror comedy.
10/23 – Death of a Vlogger – An upstart vlogger gets more than he bargained for, when his viral video of an alleged haunting puts him face-to-face with the dark side of the internet. But is it real or just a clever stunt?
10/30 – Killbird – Stranded in the back country of Oregon, a young woman with a secret engages in a tense power struggle with a reclusive conspiracy theorist with a secret of his own.
Friday, October 6 (7:30pmET) – 7 Guardians of the Tomb – An animal expert finds that some things are better left buried, when the search for her brother leads to an ancient emperor's final resting place—guarded by hordes of venomous spiders. Starring Kelsey Grammer, Kellan Lutz, and Li Bingbing.
Additionally, AXS TV Now opens up the AXS TV vault each week, with themed blocks highlighting some of the Network's most popular series from its extensive content library. Highlights include MOCKpocalypse Mondays; as well as episodes of Music's Greatest Mysteries each Tuesday; acclaimed celebrity sitdown series The Big Interview With Dan Rather every Wednesday; the hilarious hijinks of Tom Green Live on Thursdays; intimate performances by some of music's biggest names on At Home And Social every Friday; an intoxicating trip through the world of drinking culture on Drinking Made Easy on Saturdays; and star-studded stand-up on Gotham Comedy Live each Sunday.