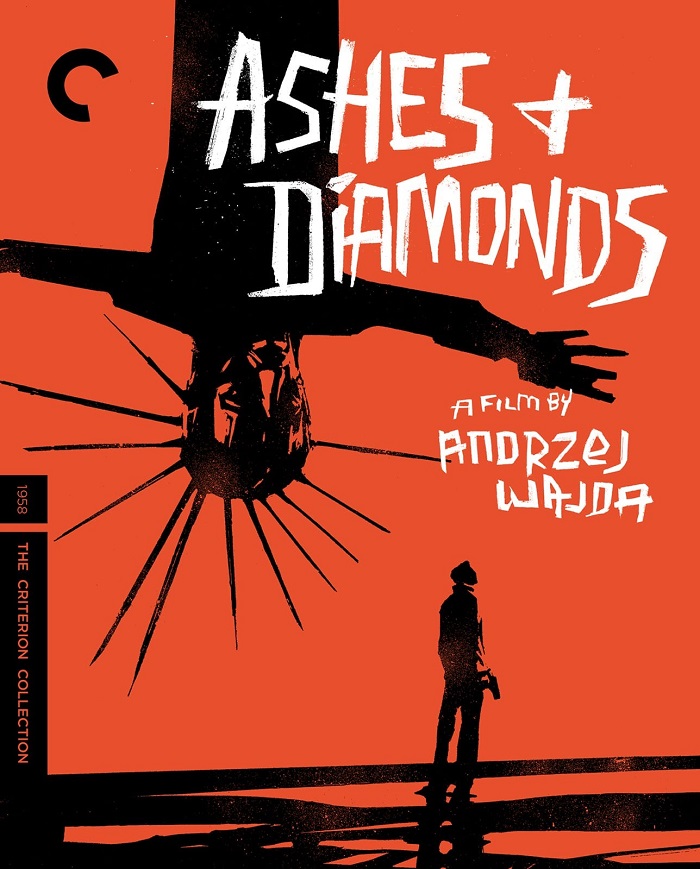 When it comes to war, there is the always the complicated struggle between fulfilling a sense of duty, or rebelling against it. A person who has a mission that must always be the top focus, regardless of what they personally think or feel, is of course one of the most dominating aspects of films about the Resistance. Director Andrzej Wajda's 1958 masterpiece Ashes and Diamonds, is one of cinema's all-time portraits of this theme.
Maciek (Zbigniew Cybulski), a young Resistance fighter, is ordered to assassinate a Communist district leader on World War II's last day. He is good at what he does, which is killing the enemy. However, he begins to question his allegiance, especially when he meets a beautiful barmaid (Ewa Krzyżewska) whose desire for a better, more normal life mirrors his own. He basically wonders if the cause is worth risking his life for, which eventually leads to tragic circumstances for the two of them.
What makes this film age better than its contemporaries is it compares the dreamed freedoms of one single individual with the fate of an entire country. This means that those dreams don't really mean a hill of beans to the rest of society, especially one rocked by war and history. The latter (for better or worse) always wins in the end. That's the sad part.
The film is also a testament to how a film can truly be great when you get a lead actor who completely radiates charisma and magnetism. Cybulski was known as 'the Polish James Dean'. He had a promising career ahead of him that ended tragically when he was killed by a moving train when he was just 40 years old. Ashes and Diamonds was his crowning achievement, and rightly so.
Originally available in Wajda's A Generation trilogy as a box set from Criterion, it makes perfect sense that Ashes is now available in a standalone release (it is still considered the finest of the trilogy after all). Most of the supplements are the same, including an audio commentary by film scholar Annette Insdorf; Andrzej Wajda: On "Ashes and Diamonds," a 2005 program featuring director Andrzej Wajda, second director Janusz Morgenstern, and film critic Jerzy Plazewski; and archival newsreel footage on the making of the film. However, there is a new video essay by Insdorf that is included on this Blu-ray that isn't available in the DVD box set.
If you don't already own the box set from years ago, then this release is definitely a must have for any respecting film lover's collection. Trust me, the film is a masterpiece and one of the greatest ever made. Read Mat Brewster's review.
Other releases:
The Cat o'Nine Tails (Arrow 4K): A new Blu-ray release of Argento's underrated 1971 classic about a reporter (James Franciscus) and a retired, blind journalist (the great Karl Malden) who investigate a series of murders, and in doing so, become targets of the killer themselves.
Two Evil Eyes (Blue Underground 4K): A new Blu-ray release of the 1990 Romero/Argento anthology, starring Adrienne Barbeau, Harvey Keitel, and E.G. Marshall, in a pair of creepy chillers inspired by the tales of Edgar Allan Poe.
Prince of the City (Warner Archive): Sidney Lumet's 1981 crime epic starring Treat Williams as a NYC narcotics detective reluctantly agreeing to cooperate with a special commission trailing police corruption. In typical fashion, the whole thing is way out of his league, and finds no one he can trust.
Cannibal Man (Severin): A grisly 1972 video nasty where a butcher accidentally kills a taxi driver. As his guilt and insanity grows, so does the body count, where no one is safe, not even those closest to him.