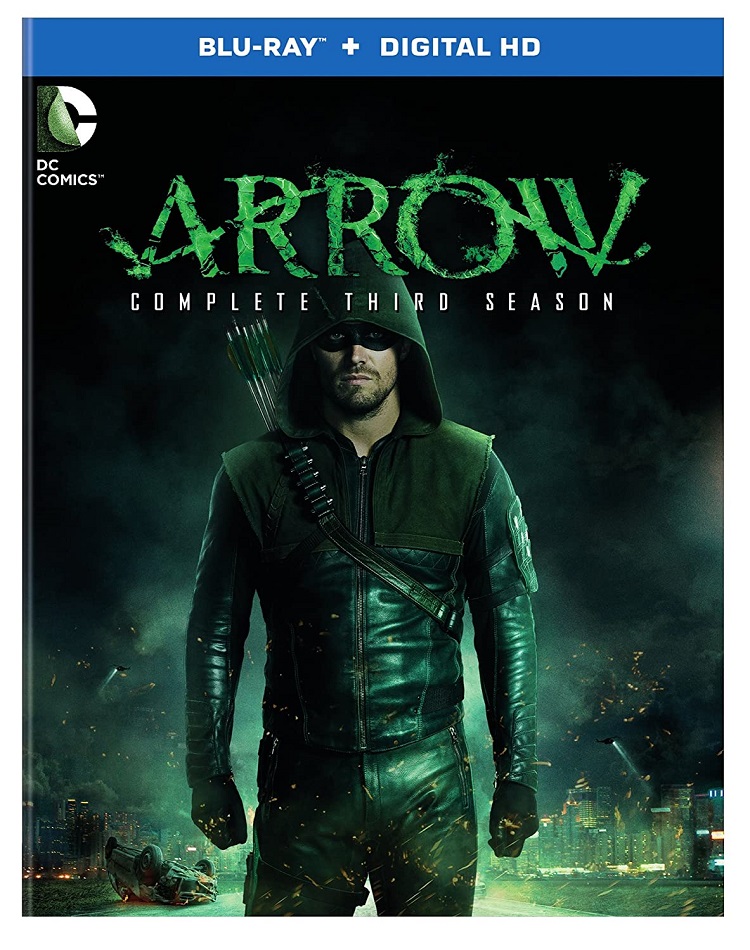 The third season of the CW's hit series, Arrow, found the title character (Stephen Amell), adding to his team of heroes to defend Starling City. Old relationships were rekindled and characters thought to be dead turned out to be very much alive. In addition, the show spawned a spinoff in The Flash.
Season three begins with "The Calm," and finds Arrow in a much better position with the Starling City police after defeating Deathstroke (Manu Bennett). Police Captain Lance (Paul Blackthorne) has called off the anti-vigilante squad that had previously not taken too well to Arrow and the costumed types. This, of course, doesn't stop the vigilantes from going after Arrow however as the new Vertigo, Werner Zyttle (Peter Stormare), attacks Arrow and Roy Harper (Colton Haynes), who manage to thwart his efforts with the assistance of Black Canary/Sara Lance (Caity Lotz).
Meanwhile, Ray Palmer (Brandon Routh) has purchased Arrow/Oliver Queen's company, Queen Consolidated. He plans to rebuild the city and rename it Star City, its name in the comic books. Palmer pines for Felicity Smoak (Emily Bett Richards), though she ends up going out on a first date with Queen. Smoak ends up working for Palmer and eventually takes on an executive assistant, Gerry Conway (David Kaye). In a cool nod to comic geeks, Conway is named after the writer of the same name, who also created Smoak. The episode ends with Sara's death from thrown arrows, a mystery that haunts the characters throughout the season.
In "Sara," Queen returns to his base to find Sara's dead body. He wasn't always a hardened character. We flash back to his five years away, when he was in Hong Kong, working for Amanda Waller. There he was tested, asked to kill his friend, Tommy Merlyn (Colin Donnel), who had come there looking for him. Not wanting to kill him, he kidnaps Tommy instead. Arrow follows a lead from Smoak and John Diggle (David Ramsey) as to Sara's killer and gets to Simon Lacroix (Matt Ward) though that turns out to be a dead end. Arrow wonders why his sister Thea (Willa Holland) has not returned his calls, unaware that her ex-boyfriend Harper had received a letter from her explaining her disappearance. The show does a fine job of juggling many plots, from Thea's disappearance and what she has been doing during this time, to the mystery of Sara's killer to Laurel Lance (Katie Cassidy) not being able to tell her father about what happened to her sister Sara.
The episode "Corto Maltese" reveals what Thea has been up to in her absence as she has asked her father, Malcolm Merlyn (John Barrowman), to teach her how not to get hurt. He helps her learn to defend herself and to manage her pain, both of which will come into play during the season. In spite of Harper's letter asking him not to go after Thea, he, Diggle, and Queen travel to Corto Maltese to track her down, with Queen convincing his sister to return to Starling City. Merlyn willingly allows her to leave, knowing this will not be the last he sees of her. Laurel reaches a turning point after an attempt to go after an abusive Alcohol Anonymous woman's boyfriend lands her in the hospital. She will later train at a local gym with boxer Ted Grant (J.R. Ramirez) after Queen refuses to train her.
A theme throughout the show is that Queen's quest to defend Starling City is his alone and he is very reluctant to put anyone he cares about in harm's way, though they end up supporting him regardless. Amell does an excellent job of playing the loner, not unlike Batman, thinking he can do everything himself. It is only through his friends' efforts that he finally realizes that he needs them.
Thea decides to buy a nightclub in "The Magician," an episode that finds League of Assassins member Nyssa al Ghul (Katrina Law) coming to Starling City to find Sara, who is also her ex lover. After learning of her death, she reveals to Queen that Merlyn is still alive and that Sara had come to Starling City to track him down. Merlyn meets with Queen and assures him he only returned to protect his daughter and Queen offers protection to Merlyn from the League of Assassins, incurring Nyssa's wrath. We also learn more of Queen's dark side in a flashback where he commits his first assassination, a move he immediately regrets. Queen wrestles with these demons throughout the show, trying to reconcile the horrible things he has done with the hero he is now. The show does a good job is portraying Queen's attempt at this balance.
Arrow saw a spinoff in The Flash and the episode "The Brave and the Bold" is the second of a two-part story crossing both shows. Barry Allen/The Flash (Grant Gustin), Dr. Caitlin Snow (Danielle Panabaker) and Cisco Ramon (Carlos Valdes) arrive in Starling City to help analyze the DNA on the arrows used to kill Sara while the trio helps Arrow track down Digger Harkness (Nick Tarabay), who has attempted to kill Queen with boomerangs. The episode is filled with many comic references, with Ramon referring to Arrow's base as the Arrow Cave for instance. The lighthearted nature of the Flash characters provide some much needed comic relief for the otherwise dark Arrow universe. Watching Flash and Arrow argue over their crime fighting methods is worth the price of admission alone.
The season ends with many questions. Ra's al Ghul (Matt Nable) is dead, but his successor may come as a surprise. Queen, who previously thought it was his mission alone to save Starling City, realizes he has a great support team in place and rethinks his role in it and with Felicity. It took Queen a long time, but he has grown to trust those in his inner circle and not try to do everything himself. There is a new Red Arrow as well as Black Canary and Palmer, who at this point is now the Atom, is working on a way to miniaturize his robotic suit. It is a wild ride for sure, filled with many unexpected twists. The cast works well together and the season four opener should be an interesting one with all the questions raised in the season three finale, "My Name Is Oliver Queen."
The Blu-ray is presented in 1080p High Definition 16×9 1.78:1 and looks great. The scenes are dark, as much of the show is set at night, but everything is clear and contrasted nicely against the blacks. Audio options include DTS-HD Master Audio 5.1 and Dolby Digital 2.0. The discs include commentaries with executive producers Marc Guggenheim and Wendy Mericle, a gag reel, unaired scenes and a feature about the costumes, among other bonus features.
The third season of Arrow finds many questions answered with many new ones raised. It is a well-acted show and the finale brought up many exciting possibilities for new story directions in season four. The show stays true enough to the comics to please geeks while not requiring much, if any, prior knowledge of the books for casual fans. Worth a look.