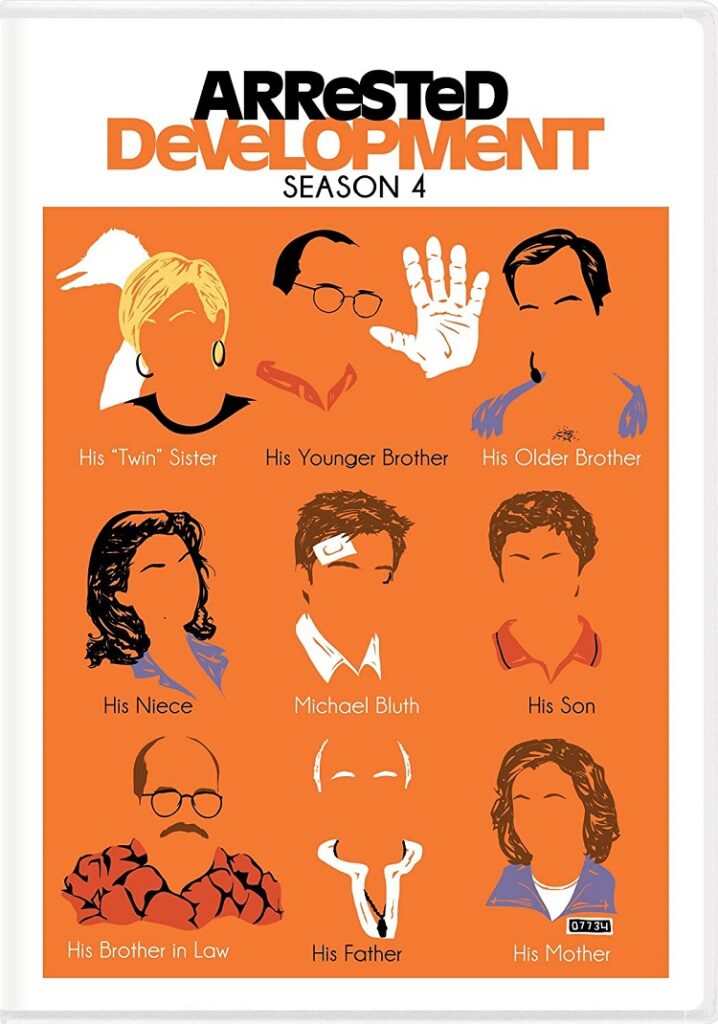 So often when writing this series I have to admit that I haven't seen the things that I pick, or even the ones I highlight. I rarely make it to the movie theater anymore and since I cut the cord at home, I inevitably have to wait until TV series come out on DVD before I get a chance to watch them. Sadly, I now have to admit that even though Arrested Development: Season 4 has been out for some time and that I've had a subscription to Netflix on which I could watch it and that I'm a huge fan of the show, I've still not sat down with it.
When Netflix announced that it was picking up the cancelled FOX comedy, the Internet was overjoyed. While the show had suffered from low ratings while it originally aired, it had picked up a large cult following and was primed for new episodes. It was just about all I heard about in the months leading up to the new season. It was practically all I thought about. Like most, I had found the show after it had already been canceled. I binge-watched it on Hulu on my parent's computer. Then bought the DVDs and binge-watched again. It is a show designed to be binge-watched, then watched again. And again.
The buzz about the new season grew to enormous proportions. Then it came out and almost immediately everyone stopped talking about it. The reactions were very mixed – with some loving it, others hating it, but mostly everyone seemed to think it was just kind of ok. There was a collective shrug as if to say "that's it?" and then everybody moved on.
Creator/showrunner Mitch Hurwitz got rather ambitious with the new season, which was likely part of the problem. Unlike traditional TV, which doles its shows out one episode at a time over weeks and months, Netflix drops an entire season in one fell swoop. Toying with this idea, Hurwitz developed the fourth season in a non-linear fashion, allowing each episode to focus on a single character telling a single story from their perspective. Then he told the same story from the perspective of another character and so on and so forth until the story had been told from 15 different perspectives. That's a cool idea, but apparently it caused difficulties in the first few episodes as some of the pay off doesn't occur until later.
At the time, I was living somewhere with lousy internet and wasn't able to stream it. I could have grabbed it via other means, but for various reasons I declined. I did catch the first episode or two while visiting my parents and had the same sort of let down that seemed to effect everyone. When I finally got good internet again, I had essentially forgotten about it. I'd see it in my queue and think I should watch it but the mood never seemed right and the urgency was long gone.
And yet, those first three seasons were so good and the general consensus of the fourth seems to have improved of late, and now that it's out on DVD it seems the time to give it a real shot. I started rewatching the first season again last night and I think I'll fly through it over the next couple of weeks so that I can come to the fourth season primed and ready to go.
Also out this week that looks interesting:
The Americans: Season 2: This slow burning Cold-War era spy show has garnered loads of critical praise.
Intruders: Season One: A fun little paranormal thriller from Glen Morgan (X-Files, Millennium.) I don't expect it will hold up all that well but it was fun to watch. Read my full review.
Eclipse Series 41: Kinoshita and World War II (Criterion Collection): A collection of five films (Port of Flowers, The Living Magoroku, Jubilation Street, Army and Mornign for the Osone Family) from a hugely popular Japanese director whose hardly known here in the States. I know I'd never heard of him. But I like Japanese cinema and these films come from a time of war when film was highly censored and often not much more than propaganda so I'm interested in what Criterion sees in them.
Tootsie (Criterion Collection): I saw this in college for the first (and only time) because my girlfriend didn't like my taste in movies and wanted to show me what a real comedy was like. I'm not sure if it was spite or my actual feelings but I didn't really care for it. I should probably give it another chance one of these days.
Extant: The Complete First Season: Steven Spielberg produced this science fiction show starring Halle Berry who returns from a 13-month solo mission in space pregnant. I've not heard anything good or bad about this, but that's a premise I can get behind.
Cowboy Bebop: The Complete Series: I'm very much an anime newbie, but I've always heard great things bout this series.
Teenage Mutant Ninja Turtles (2014): It's kind of amazing that this ridiculous concept remains so popular and continues to show up in various forms.
The Maze Runner: YA novels continue to make it to the big screen. This looks kind of ridiculous, but I'm sort-of a sucker for this sort of thing.
Grumpy Cat's Worst Christmas Ever: Is this the first movie based on an Internet meme? I'm actually one of the few people in the world who doesn't care a thing about cat videos. Still, it has Aubrey Plaza in it and that's enough to make me mention it.
This is Where I Leave You: A dramedy starring Tina Fey, Jason Bateman, Timothy Olyphant, and Jane Fonda. That's a good cast which is why I'm talking about it, but I've heard nothing else about it.
Skeleton Twins: I just this moment realized Bill Hader plays one of the midwives on The Mindy Project which makes me even more interested in this film. It stars Hader and Kristen Wiig as estranged twins who are drawn together after a ten year absence when they both try to commit suicide. Apparently its all played straight despite most of the actors coming from comedy backgrounds. It played the festival circuit to much acclaim and now I'm ready to give it a shot.
Peter Pan Live!: Normally I wouldn't pay attention to this sort of thing, but the wife wanted to watch it with the daughter and I have to admit I put down the iPad more than once to see what was going on. Its not exactly good, but its fun in a family sort of way and Christopher Walken is fun as Captain Hook.